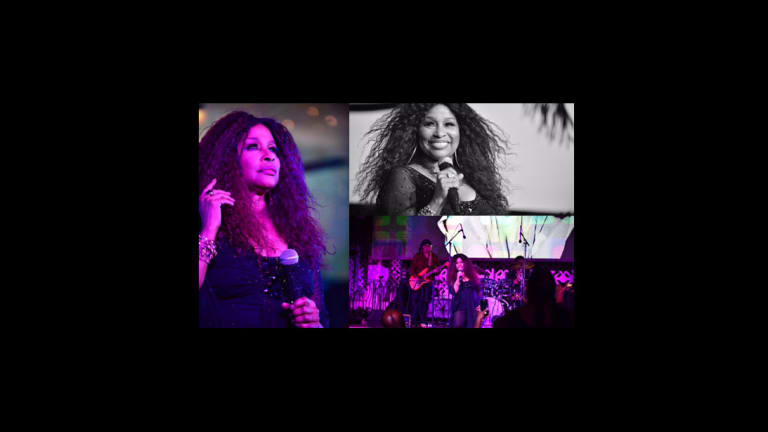 Chaka Khan is a Woman of Fire
Chaka Khan graced the stage at The Historic Hampton House for its outdoor Under-the-Stars Supper Club Concert Series "From BeBop to HipHop."
By Wayne Anderson, The Historic Hampton House director of public relations
For almost five decades, Yvette Marie Stevens, better known as Chaka Khan, has embodied the ideal of an accomplished artist, free of restraint and fear of her consequences.
Chaka, which means "woman of fire," is known as an accomplished songwriter, actor, author, and entrepreneur, but she is also an activist. Now 68, Chaka has lived a rich life that models a different kind of dream, one in which she gets to gracefully reflect on a career that includes her struggles with addiction and recovery and learning to rely on her faith to help her stay clean. But mostly, it was her relationship with avant-garde music icon Prince and his death that crystallized her newfound inspiration of sobriety.
As a teen growing up in Chicago, Chaka was exposed to the Black Panther Party. By age 14, she was a member of the organization and acquired her new name Chaka Adunne AduffeYemoja Hodarhi Karifi. After dropping out of high school, she focused aiding underprivileged youth and the complimentary breakfast initiative provided by the Black Panther Party, splitting her time and energy as a musician.
Chaka was divorced from her first husband Hassan Khan by age 19. In 1972, the Chicago band Rufus discovered her in a local nightclub. The meeting was timely, because Rufus was in a position to sign with ABC Records in 1973, which secured the future of Rufus & Chaka Khan.
With what would seemingly be an uninterrupted success story, the band would produce six gold and platinum records over four quick years. But like any lead talent in a band, it was just a matter of time before Chaka would step out as a solo artist as she arguably would surpass her past with her debut record called "I'm Every Woman," written by Ashford & Simpson.
Perusing her musical history, you are quickly reminded of her 22 albums, 10 Grammy Awards, $70 million-record sales, and two lifetime achievement awards.
"I'm honored, and you may not know that I love Jazz," said Khan. "I've had the pleasure to work with some of the legends in music that I'm most inspired by. Icons like Ella Fitzgerald, Sarah Vaughn, Nat King Cole, Duke Ellington, Frank Sinatra, Josephine Baker, Aretha Franklin, Stevie Wonder, and Nina Simone, who have all played at the Hampton House. What a true delight to be a part of such rich history, as I join these legends and help bring back the sizzle to this iconic jewel, The Historic Hampton House."
While the final song of her performance during the Hampton House's "From BeBop 2 HipHop" concert series "Ain't Nobody," played with the warmth of the blue sky overhead, Chaka was greeted with a standing ovation. She remained with the audience in their rapture, forever knowing that her performance was a necessity for both the crowd and herself, as she's now able to say, "I too played at The Historic Hampton House."