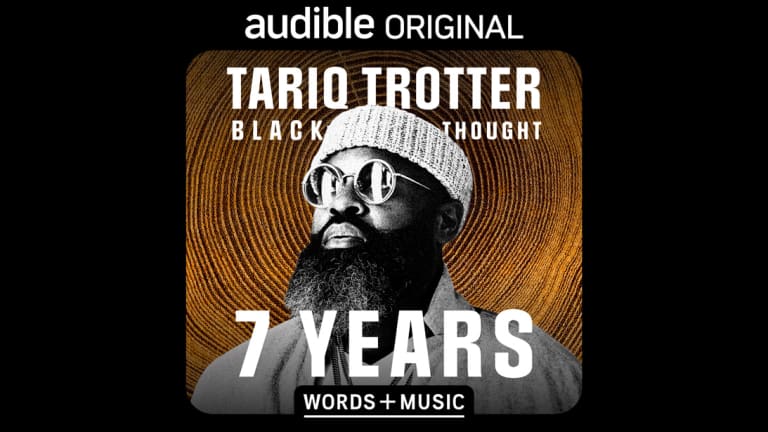 Heard on the Street: Black Thought Reveals How He Became Politically Aware
On the newly released 7 Years, the latest Audible's Words + Music, Tariq "Black Thought" Trotter discusses how he became politically aware at an early age.
"It was at age seven, that I became aware of the effects of fear mongering in politics for the first time. I remember vividly when Ronald Reagan got shot in 1981, though they let us out of school early they brought TVs into the classroom and showed the news footage over and over again on a loop. I didn't think the President could get shot. I remember the feeling of going home that day like, 'Yo, shit. Are they gonna be shooting on the way home from school? Is it just like popping outside right now. I mean, since they shot the President, I guess, all bets are off.' I better understood what that meant, about the way people felt about the government and about politics and about Presidents. Even though looking back now, the assassination attempt on Reagan wound up as more of a fluke, than it was politically motivated. But it was more the imagery that we saw that day in real time, almost the same thing that I remember in '85 with MOVE in Philadelphia. When police bombed a city block to root out the Black liberation group, MOVE, the police killed 11 people. They burned down 65 houses, and the news footage drilled that imagery and drilled that story so relentlessly, that it became, I mean it was, it was terrifying. The MOVE shit was happening in a completely different part of the city, right, they were in West Philly, I was in South Philly but, you know, to me, that felt like they were gonna be MOVE members outside of my backyard, when I went out that day, like after watching the news. Those were some of my earliest memories of really feeling the fear that we've all now, at this point, become accustomed to. We live with it now. That sort of dictates how we feel about a lot of shit, and how we move through life, but as a young person, that awareness really stuck with me, and I will feel all that discomfort later, too, around the world."
— Tariq "Black Thought" Trotter discusses, on 7 Years, becoming politically aware, specifically using fear mongering for political gain, following the assassination attempt on former President Ronald Reagan and the 1985 MOVE bombing in Philadelphia. 7 Years is the latest original from Audible's Words + Music series in which influential artists, like Black Thought, detail personal accounts of their lives over a musical score. The Roots co-founder examines his life and career in seven-year increments, discussing his tumultuous childhood, facing off with the justice system that was stacked against him, and adapting to the multiplatinum Roots' commercial success in mainstream America. As one of today's most prolific rappers, Black Thought mixes his complex rhymes with intent insight on 7 Years, which is now available exclusively in the U.S. on Audible. Listen to the above excerpt and Black Thought discussing drug culture in the 1970s and '80s below.