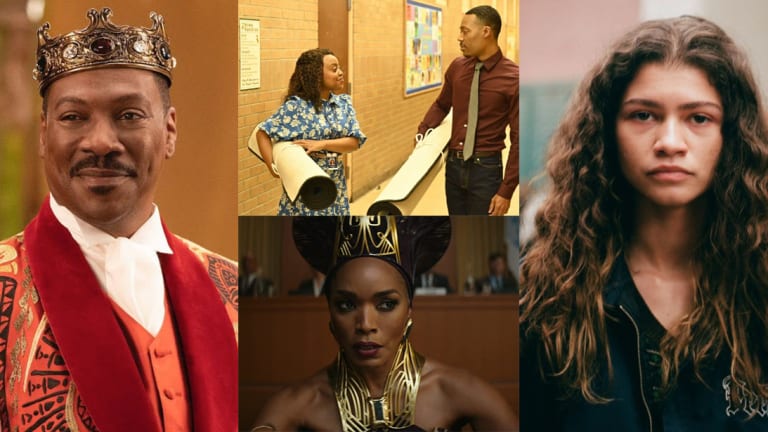 Big Wins and Honors at the 80th Golden Globes
Eddie Murphy's achievements in entertainment, along with performances from Angela Bassett, Zendaya, and others, were highlighted at the 80th Golden Globes.
The Golden Globes returned to the air last night, January 10th, after a 2021 Los Angeles Times report revealed that the Hollywood Foreign Press Association had no Black members out of its 87, which prompted a boycott of last year's ceremony that led to NBC opting not to televise it. This year's ceremony was a star-studded affair with Steven Spielberg's The Fabelmans and Martin McDonagh's The Banshees of Inisherin receiving top honors, while Quinta Brunson's Abbott Elementary sitcom, Zendaya, and Angela Bassett took home awards. In addition, the HFPA celebrated Eddie Murphy with the Cecil B. DeMille Award.
Host Jerrod Carmichael kicked off the 80th Golden Globes, which were held at the Beverly Hilton hotel in Beverly Hills, by addressing the elephant in the room – the issues that caused much of the entertainment industry to boycott and pushed the awards ceremony off air. 
"I am your host, Jerrod Carmichael," the Rothaniel comedian said. "And I'll tell you why I'm here. I'm here 'cause I'm Black.
"I won't say they were a racist organization, but they didn't have a single Black member until George Floyd died. So do with that information what you will."
Bassett won Best Supporting Actress for her performance as Ramonda in the Ryan Coogler-directed sequel Black Panther: Wakanda Forever. 
The likely Oscar frontrunner referenced the death of Black Panther star Chadwick Boseman when accepting her award, "Weeping may come in the evening, but joy comes in the morning."
Abbott Elementary was the lead TV nominee and won three awards, including Best Comedy Series. Brunson, the public school sitcom's creator and star won Best actress in a Comedy Series, and Tyler James Williams's supporting role was also celebrated.
"It has resonated with the world in a way that I couldn't even have imagined it would have," said Brunson, with a laugh, while thanking the studios that supported her idea. "But let's be real. I did imagine it. That's why I sold it to you."
Zendaya's critically acclaimed performance as Rue Bennett in HBO's Euphoria earned her the Golden Globe for Best Actress in a Drama TV Series. Last year, the honor went to Pose's Michaela Jaé Rodriguez, but the boycott didn't allow her to fully experience the honor. Pose creator Ryan Murphy highlighted Rodriguez's performance and her being the first trans actress to win the category during his tribute.
The HFPA diversified its members and changed some of its operations following the 2021 report and subsequent pledge to reform. It now counts six Black members among its rank of 96. There are also 103 nonmember voters.
When accepting the Cecil B. DeMille Award, Murphy revealed the secret to longevity in the entertainment industry and referenced another awards show scandal, "Pay your taxes, mind your business, and keep Will Smith's wife's name out of your (expletive) mouth!"