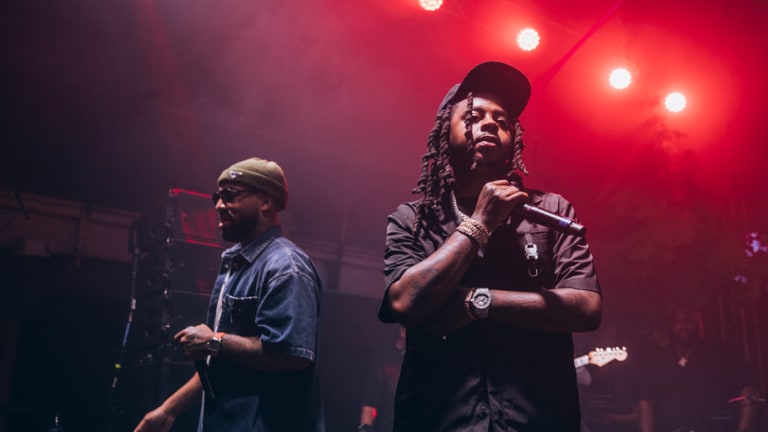 Babyface Ray & Larry June Bring the Heat to Red Bull's SoundClash in Motor City
The Red Bull Soundclash in Detroit not only featured a lyrical battle between Babyface Ray and Larry June, but also a joint performance with the MCs.
It's no secret that Detroit is synonymous with musical brilliance, as it's the birthplace of Motown itself. That being said, it makes all the sense in the world for mega-brand Red Bull to host the first of its fall SoundClash events in the Motor City. On October 15, Detroit hosted the Red Bull SoundClash event, an electrifying showdown between two of the biggest names in music. Those names in question? Detroit's own Babyface Ray and San Francisco native Larry June. Taking place at the Russell Industrial Center, a Motor City landmark, the live event hosted a whopping 1,800 fans, selling out the show entirely. With an abundance of bright-eyed attendees intent on supporting the two artists, it's no wonder that the ensuing energy reflected that — pure excitement, to be exact.
While packing out a massive venue is no small feat, the real accomplishment lies in an artist's ability to put on a show-stopping performance. It should come as no surprise that Babyface Ray's act was accessorized with all the trimmings definitive of a dynamic performer. From bringing out some of his equally talented comrades, including Icewear Vezzo, Baby Money, and Lucki, to his fiery setlist that included the smash hit "Paperwork Party," it's clear why he's amassed so much success. That star power was only amplified in a room full of his comrades and industry peers who were, undoubtedly, present to support the hometown hero. That same pandemonium that followed each one of Babyface Ray's performances wasn't too far behind for his competitor, Larry June.
It's one thing for a Hip-Hop artist to receive an overflow of support from their hometown. (Selling out venues would likely not be an issue, given the incredible backing they receive from folks in their cities.) However, it's an entirely different scenario when these artists are able to receive that same admiration in outside environments. That's exactly what happened as Larry June continuously graced the stage to perform some of his greatest hits. June's stage persona and energy proved what most had known all along — his stage presence rivals that of his music, both featuring crisp attention to detail that was made evident throughout the entire night. His setlist included Detroit musical legends Payroll Giovanni and Slum Village, an ode to the Motor City to make the event even more magical. One major night highlight occurred when June took the stage for one final time — with Babyface Ray.
For fans of both artists, it can be hard to discern who reigned victorious, but there's something that can be agreed upon — the sheer excitement in witnessing both artists take the stage together. The two lyrical peers and buddies put on a show-stopping rendition of their joint single "Extra of Um" from June's latest album, Spaceships on the Blade, exhilarating fans once more through the night. While the two showcased their immense artistic prowess through the night, the unity in said performance illuminated the truth in the adage, "there is power in numbers." As the quality of their sound is something to be praised (as it should), there's more to be said of the overall production of the event itself.
Whether it was the uproarious applause of each artist's individual performances or the featured guests, the debut of Red Bull's SoundClash this fall, which was hosted by Detroit internet personality TayCrispyy, kicked off with a bang. As the artists made their way to San Francisco for the second stop on November 3, one shouldn't be surprised by the presence of the same brilliance, camaraderie, showmanship, and enthusiasm that took place in Detroit.
For more information on future SoundClash events, click here.