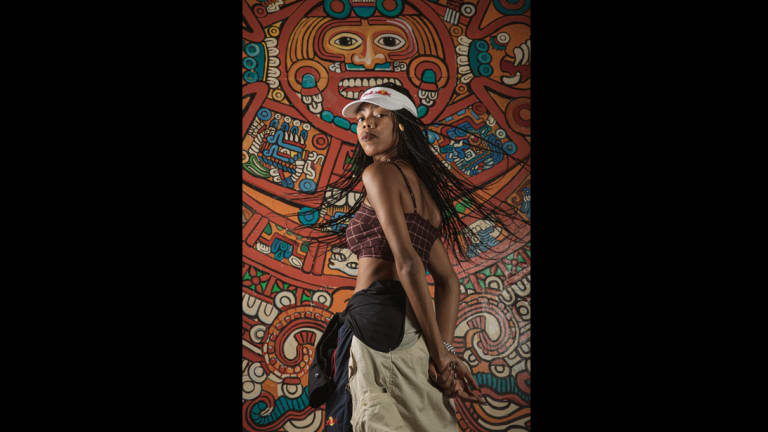 Angyil McNeal Will Rep the U.S. at the Red Bull Dance Your Style World Finals
Angyil McNeal's high energy, skill, and ability to shape and position her body made her a force to be reckoned with at the Red Bull Dance Your Style Finals USA.
On Saturday, October 23rd, Angela "Angyil" McNeal popped, locked, twisted, and stepped her way to win the Red Bull Dance Your Style Finals USA at the Howard Theater in Washington, D.C. She will go on to represent the U.S. at the Red Bull Dance Your Style World Finals in Johannesburg, South Africa in December.
Red Bull transformed the historic Howard Theater into a dance battle arena and kicked off the weekend with a pre-final qualifier on Friday, October 22nd, that afforded the final runners-up from each of the U.S. qualifiers (Boston, Chicago, Los Angeles, Atlanta, Memphis, and Miami) and a lineup of wildcards one last opportunity to compete in the national finals that concluded the next day on Saturday, October 23rd. Musician and Virginia-native Ase and chef/Hip-Hop educator Guerilla Will hosted the Red Bull Dance Your Style Finals USA, while the DMV's DJ Domo spun timeless classics and mainstream hits that repeatedly got the audience and the dancers, alike, on their feet all night. In addition to the highly-entertaining dance battles, Red Bull treated spectators to special performances by Queen P of Beat Ya Feet Academy, TT the Artist, Yo Shellz, Slick Moddy, Ladies of Hip-Hop, the female dance collective THECouncil, and more.
Angyil, pronounced "Angel," represented Kansas City, Missouri among the lineup of wildcards, which also included Oakland-based Hip-Hop dancer Krow the God; self-proclaimed queen of waacking Princess Lockerooo; and footwork master Lord Finesse, competing during the Red Bull Dance Your Style Finals USA. The audience voted Angyil the winner of the pre-final and she went on to compete during the 16-round finals on Saturday. Angyil went head-to-head and toe-to-toe with international popper Dassy Lee for the truly unforgettable freestyle battle. After a dazzling display from both competitors, it was clear that the crowd would send Angyil to Johannesburg to represent the USA in the Red Bull Dance Your Style World Finals on December 4th and 5th.
Angyil has a genre-defying style of popping and even broke out some ballet positions during one of the rounds of the finals. The classically trained ballerina discovered her love of dance at a young age and found refuge from problems at home and in her neighborhood at the dance studio. After moving to the Bronx with her dance mentor for a ballet internship with the world-renowned Alvin Ailey American Dance Theater, she realized that ballet didn't hold her entire interest. Instead, Angyil was drawn to the "showtime" Hip-Hop dancers who are known to perform in the New York subway. It was their rawness and freedom, as well as her love of Hip-Hop from rappers like Nas; Busta Rhymes; and Jay-Z, that drew Angyil to loosen her tight hair bun and hang up her leotards in favor of baggy pants and sneakers so she could be comfortable popping.
"I chose popping and Hip-Hop because of the music," says Angyil in a release. "I fell in love with the music first. When I was a little girl that's all my mom would listen to and I was accustomed to hearing the music."
She has won dance battles and competitions all over the world, including the prestigious Notorious IBE competition in the Netherlands. She also earned the title of Freestyler of the Year at the World of Dance Awards in 2017 and competed on NBC's popular competition show World of Dance. In addition, Angyil was the runner-up at the Red Bull Dance Your Style World Finals in 2019. She is revered for her skill and energy, as well as serving face while being able to shape, twist, and shift her body from extremely wide stances to tucked positions.
"I feel so inspired right now," said Angyil after the U.S. finals. "Winning Red Bull Dance Your Style USA inspires me to surpass any level that I have ever reached in my life with anything. I'm so motivated."
Fans can watch the livestream of the Red Bull Dance Your Style World Finals on Caffeine.com on December 4th and 5th.