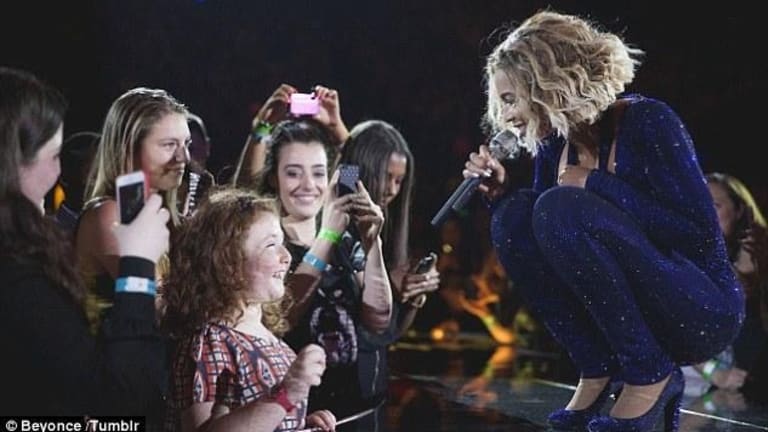 8 Epic Celebrity and Fan Performances
It's always exciting as a concert-goer to see your favorite artists invite a fan onstage to perform with them.
Will they be awesome? Will they completely freak out?
See what happened when these eight artists invited some lucky fans onstage to jam out with them:
Rihanna
Rihanna shares her mic with fan TJ during her performance of "Four Five Seconds" in Cincinnati at her ANTI World Tour and to her surprise, he has mind blowing pipes.
John Mayer
A young fan named Austin was holding up a sign at a show of John Mayer's in Philadelphia that read "Can I please play Belief with you?" John invited Austin up onstage, strapped a guitar on him and let him live out his dream. Not only did Austin get to play the song with John, he also got to keep the guitar.
Seal
On the street in Beirut, Seal stopped for an impromptu session with fellow artist Peter Chouchani. And after the experience of a lifetime, Seal outdid himself by inviting Peter to open for his show.
Demi Lovato
During her Neon Lights Tour at a show in Omaha, Demi invited a young fan named Bri onstage with her to sing "Let It Go" from the Frozen soundtrack, which Demi sings at the end of the film. Demi gave her a mic and they belted out the tune together.
Beyonce
At one concert, Beyonce shares the mic with a fan during her performance of "Halo" at her Formation tour and is blown away by her incredible voice.
Paramore
Diehard Paramore fan Will met the band at a meet and greet before their show, sharing with them that he knew how to play all of their songs on guitar. Clearly impressed, frontwoman Hayley responded by letting him play guitar during "Misery Business" at the beginning of their set.
Adele
Adele invited fan Jamie-Grace onstage to sing "Remedy" and "Can't Help Falling In Love" with her during a show in Los Angeles. Adele, visibly delighted by her voice and taken aback by her talent, told her to "sing some more. sing anything you want." (Jamie-Grace is no amateur, though: she's a Grammy-nominated singer with several hits on the Christian Billboard charts.
Green Day
At a show in Chicago, Green Day frontman Billie Joe Armstrong invited a young fan onstage to play guitar for their performance of "Jesus of Suburbia..." and he definitely killed it.