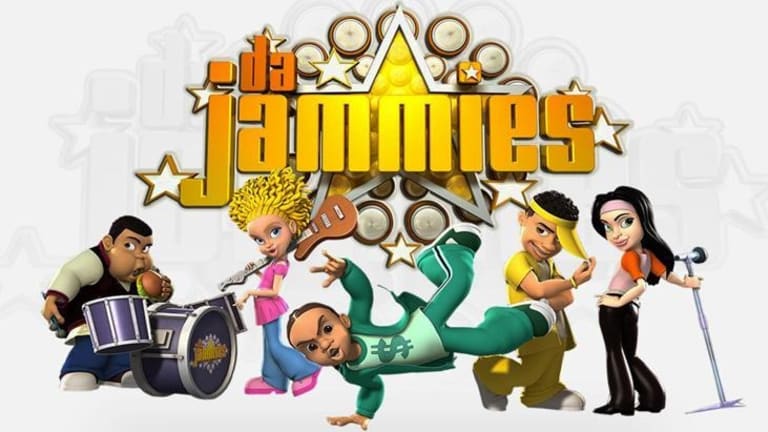 3 Reasons You Should Be Streaming 'Da Jammies'
In honor of Black History Month, UPTOWN presents the animated series Da Jammies.
This music-oriented show for kids is the first cartoon on Netflix created by two Black men: Aulsondro "Novelist" Hamilton (pictured below) and William "Dolla" Chapman II. Da Jammies follows the musical endeavors of five children as their experiences at a middle school for performing arts presents challenging obstacles. Here are three reasons you and your kids should be watching ...
The Creators
Hamilton, who is also known by the Gospel stage name Emcee N.I.C.E., has worked with multiple artists and Grammy Award-winning musicians to produce Hip-Hop Gospel. His repertoire of collabs include: Tupac, Nas, and MC Lyte, among others. And the affinity for music extends into Da Jammies, prompting the cast of five tweens: Dolla (voiced by Chapman II), Novelist (Hamilton), Momo (Alisa Reyes), Lala (Dani Nicolet), and Seven (Anderson Johnson Jr.) to establish their own Hip-Hop group. Novelist is the main character. To add onto Hamilton's impressive history, Disney's first Black animator, Ron Husband, is his uncle.
The Content & Music
Da Jammies is a children's program with a musical twist. In addition to hosting notable African-American actors, such as: Darius McCrary, the late James Avery, Kel Mitchell, Kurtis Blow, and Yolanda "YoYo" Whitmaker, the moral themes behind Da Jammies concern common issues children face daily. Bullying, self-esteem, obesity, and the like, all make their appearance in some fashion, presenting the perfect opportunity to discuss said issues with children. Lastly, the music of the show emulates the likes of Jay Z or 50 Cent, but for a younger audience.
Unique Factor
In short, there isn't another cartoon on the market that identifies specifically with Hip-Hop- and R&B-oriented-themes. Da Jammies breaks the typical mold of its contemporaries in favor of a mixed cast that reflects the values of Hip-Hop you'd expect Hamilton and Chaplain to perpetuate. If you're a fan of music, have kids, or both, the show may be to your liking.
Da Jammies is available on Netflix, Kid Genius TV, Comcast, Xfinity, Amazon Prime, Roku, and AppleTV.
​