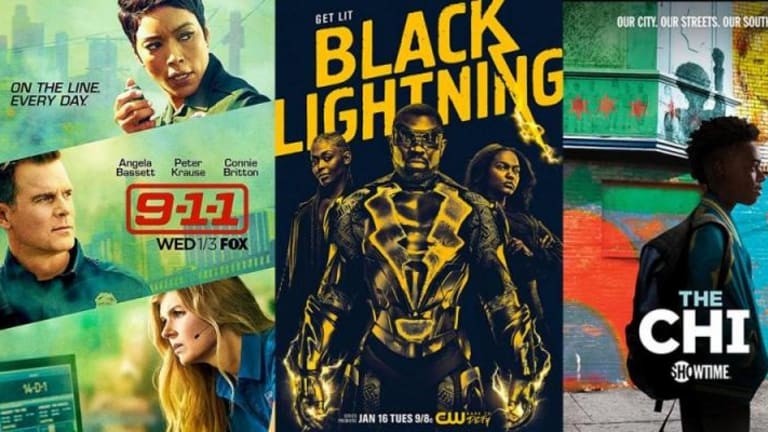 10 Must-Watch Shows of Winter 2018
10 Must-Watch Shows of Winter 2018
Since Mother Nature, Old Man Winter, Jack Frost, and whoever else enjoys the cold aren't giving us a break this winter, we bet you're spending more and more time at home where it's warm and toasty. To keep cabin fever at bay, we suggest you binge-watch or stream these 10 TV shows, featuring Cress Williams, who you might recognize from Living Single, Angela Bassett, who returns to TV in 9-1-1, and more.
Black Lightning
The CW is continuing its trend of shows based on DC Comics superheroes with Black Lightning, a vigilante with the ability to control electricity. The show follows Jefferson Pierce (Cress Williams), a retired superhero who, to his family's dismay, takes reprises his Black Lightning persona to protect his neighborhood from a gang, The 100. We'll see the show stand alone, separate from the other DC-based series that call The CW home, which illustrates just how intent the show creators are on giving it a voice and attitude of its own.
Black Lightning airs Tuesdays at 9 p.m. on The CW.
Mindhunter
What is being called "Netflix's most binge-worthy show yet" by some, this crime drama set in the 1970s follows two FBI agents who expand criminal science by delving into the minds of imprisoned serial killers, interviewing them for insight regarding current cases and criminal psychology. The series stars Jonathan Groff and Holt McCallany as agents Ford and Tench respectively.
Mindhunter is currently available for streaming on Netflix.
Jessica Jones
Marvel's rough and tough private investigator is back for season two of the critically-acclaimed series that won fans over with its combination of both the superhero and neo-noir detective genres. Season one gave Marvel fanatics and critics what they've been craving in a female protagonist, with the sarcastic superhuman who is just as flawed as the people she investigates and twice as powerful. The show is a must for anyone seeking binge-worthy Netflix content as we wait to see if season two can carry the charm and momentum left off from the first.
Season 2 of Jessica Jones premieres of Netflix Thursday, March 8th.
The Chi
The anticipation for Showtime's newest hour-long drama had been building since it was first announced that Chicago's very own Lena Waithe was on board as writer and show creator. Waithe who has been thrust into the spotlight recently after winning her 2017 Emmy Award for Outstanding Writing for a Comedy Series is set to work with another Chicago product, rapper, actor, and series producer Common.
Living on the south side of Chicago is no picnic. The series takes us through the daily grind of an ensemble cast led by performances of Jason Mitchell, Ntare Mwine, Jacob Latimore, and Alex Hibbert, as they become linked by coincidence while attempting to navigate the hardships of growing up and trials of one of Chicago's toughest neighborhoods.
The Chi airs Sundays at 10 p.m. on Showtime.
Atlanta
The team of Atlanta has intricately fused the traditional formulaic tropes of situational comedy with compelling character arcs guided by misadventures that seem to not only entertain, but also capture the essence of the everyday struggle with a certain seriousness that elevates the form. This show is grounded by witty dialogue that constantly questions the status quo and exposes the recurring theme that the pursuit of happiness is lined with unnecessary and unfair obstacles.
While fans of the critically-acclaimed series still have no idea what the "Robbin' Season" will have in store for our characters, we can only imagine that things will pick up where we left off with Earn Marks (Donald Glover), Alfred "Paper Boi" Miles (Brian Tyree Henry), and Darius (Lakeith Standfield) maneuvering their way through the Atlanta music scene, all while Earn attempts to find balance with his on-again-off-again girlfriend Van (Zazie Beetz). Assuming the writing team will continue to push the envelope stylistically, the best of Atlanta is yet to come.
Atlanta Robbin' Season premieres Thursday, March 1 at 10 p.m. on FX. Season one is available for streaming on Hulu.
Grown–ish
Black-ish star YaraShahidi's new spinoff Grown-ish has gotten off to a hot start already being picked up for a second season. The series follows the eldest Johnson offspring, Zoey, as she leaves the nest and ventures off on her "coming-of-age" journey at college. With Trevor Jackson, Francia Raisa, and Black-ish co-star Deon Cole, Grown-ish holds it own as a fresh comedy that gives a depiction of the millennial college student experience that complements the themes of its predecessor similar to what A Different World did for The Cosby Show roughly 30 years ago.
Grown-ish airs Wednesdays at 8 p.m. of Freeform.
Unsolved: The Murders of Tupac and the Notorious B.I.G.

These days murder mysteries are a dime a dozen on Investigation Discovery. The enticing promise of satisfaction that comes with solving the puzzle and finding the culprit, these shows provide viewers with a unique sense of catharsis. When you couple that with the fact that shows based of true crimes that garnered national TV attention have become the latest anthology craze (i.e. FX's American Crime Story and NBC's Law & Order: True Crime) this latest dramatization has promise.
The series will give us insight into the murder investigations of two of hip-hop's most polarizing figures, Tupac Shakur and Christopher Wallace better known by his stage name The Notorious B.I.G., who were brutally gunned down in separate incidents long before their prime. Both murders remain unsolved to this day. Were they related? Was it an inside job? Music fans will hope to get the answers to these and many more questions that have been plaguing their minds for over 20 years

Unsolved: The Murders of Tupac and the Notorious B.I.G. debuts on Tuesday, February 27th, on USA Networks.
This Is Us
The beauty of the This Is Us is that it showcases likable characters, each with flaws and emotions that lead to their respective conflicts as they forge their way through life. This family drama that has taken the nation by storm follows the story of the Pearson family throughout the generations, intertwining emotional narratives from the present day lives of siblings Kevin, Kate, and Randall with enlightening stories from their childhood and adolescence with their parents Jack and Rebecca.
The fresh and savvy writing is only second to the emotion conveyed by the actors when executing on screen. The show features a stellar cast driven by Milo Ventimiglia and Sterling K. Brown, who star as Jack and Randall respectively, the latter of which is fresh off another set of awards garnering a Golden Globe and Screen Actors Guild award for his performances on the show. With season two well underway, you'll definitely want to be caught up with the lovable Pearsons in time for the special episode following Super Bowl LII.
This Is Us airs Tuesdays at 9 p.m. on NBC and is available for streaming on Hulu.
9–1–1
You may recognize the names Ryan Murphy and Brad Falchuk as the creators of notable series such as Glee and American Horror Story or from their roles as executive producers of the anthology series, American Crime Story, which saw a successful first season depicting and detailing widely popularized O.J. Simpson murder case.
Their latest offering is a Los Angeles-based procedural drama that explores the lives of first responders – police officers, paramedics, firefighters, and dispatchers – as they juggle intense, high-pressure work situations, all while keeping the pieces of their personal lives in tact. Though the genre has seemingly been stuffed with an assortment of Law & Order- or CSI-type shows sprinkled throughout your daily TV programming for the past decade, the fact that Angela Bassett is leading this ensemble cast, paired with the promise of the show's premise, leaves me approaching this show with an open mind.
9-1-1 airs Wednesdays at 9 p.m. on Fox.
Black Mirror
If nobody close to you has exposed you to Black Mirror by now, then you need new friends. This series of social commentary in the form of futuristic parables is welcomed in a digital era where society is quick to make advances at any cost. The British science fiction anthology focuses on the negative effects of technological dependency, with a critical tone that is both satisfyingly dark and satirical, evoking comparisons to Rod Sterling's The Twilight Zone.
Black Mirror is currently available for streaming on Netflix.