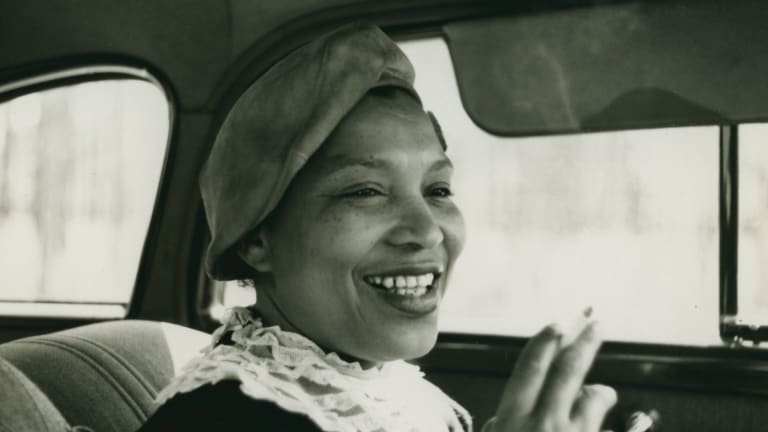 'Zora Neale Hurston: Claiming a Space' Explores Her Cultural Anthropology Work
Zora Neale Hurston: Claiming a Space filmmaker Tracy Heather Strain says she felt a "great responsibility" when telling the cultural anthropologist's story.
By Malcolm Rashaad Banks
Zora Neale Hurston is a legendary and immortal figure in the pantheon of great American writers and anthropologists. Many can point to Hurston's still-dynamic Their Eyes Were Watching God as a certified classic that has stood the test of time. Yet, Hurston's accomplishments in anthropology fieldwork are lesser known but equally impactful in her ascension amongst the most significant literary figures in American history.
A trailblazer ahead of her time, Hurston was the first African-American student to graduate from Barnard College, the women's college associated with Columbia University, where she studied anthropology. It's through this period of her life that Zora Neale Hurston: Claiming a Space, a brand new American Experience documentary debuting on PBS and streaming on Jan. 17, 2023, primarily focuses its attention.
Hurston possessed an unmatched and keen ability to capture the voice and essence of rural Black Americans in the Deep South and turn that into a captivating collection of stories. Layered and detailed with intense research, her anthropological studies led her to interview 86-year-old Cudjoe Lewis, the last known survivor of the transatlantic slave trade. Through a series of conversations and encounters, she learned of Lewis's capture in West Africa, his nightmarish experience traveling across the Atlantic Ocean, and his enslavement in Alabama. Hurston would go on to author Barracoon: The Story of the Last "Black Cargo", a written account of Lewis and Hurston's dialogue that was released 87 years after Hurston wrote it on May 8, 2018. Lewis's story is just one of many she used as inspiration to turn her studies into dynamic literature.
Hurston is a critically important figure in early 20th Century America who moved to the beat of her drum, even in a society that wouldn't fully embrace all she had to offer. Like many Black women who still face unnecessary hurdles in society today, Hurston endured and refused to comply with the gender- and race-based biases that were meant to contain her. The wave of emotions you will feel when viewing Zora Neale Hurston: Claiming a Space is real, especially since there remains generations-old hurdles, despite the changes implemented since Hurston's time.
"Sometimes, when you're ahead of your time, you're also an outlier," said Lee D. Baker, a professor of Cultural Anthropology, Sociology, and African and African American Studies at Duke University. "You're marginalized and seen as sometimes a little crazy. But, in many respects, people that are ahead of their time are geniuses, and indeed she was a genius."
UPTOWN spoke with Tracy Heather Strain, the acclaimed filmmaker, writer, and director of Zora Neale Hurston: Claiming a Space, to discuss how the documentary came together, her thoughts on Hurston's legacy, and what viewers can expect when it airs on PBS.
When did you first become interested in the life and work of Zora Neale Hurston?
Tracy Heather Strain: I was interested in Zora Neale Hurston for a long time because I didn't know much about her. She was on my list to figure out who she was and what she was about and to read Their Eyes Were Watching God. But it wasn't until American Experience contacted me and asked me if I was interested in making a film about her that I realized the opportunity I wanted was coming to me. And that's why I did it, because they asked me and I felt honored by it and a great responsibility. Here you have this revered figure, whom I get a daily Google alert about. (Hurston) is talked about all the time now. I gathered a team of people to help me on this 11-month journey, which is faster than we often make films like this, to bring her story focused on the connection to anthropology. I think that's an aspect of her story that is little known, and for the few things I knew about her, her anthropology was not one of them that I knew a lot about.
Knowing everything you know now, why is 2023 the right time to tell Hurston's story?
Tracy Heather Strain: 2023 is the right time to tell this story because Zora Neale Hurston is in the zeitgeist. In 2018, Barracoon: The Story of the Last "Black Cargo" [...] focused on the life of Cudjoe Lewis, considered one of the last enslaved Africans from what might be the last slave ship, Clotilda, is told. Zora Neale Hurston told it. She wanted to have it published in 1931. No one would do it. It got published in 2018. Two years later, You Don't Know Us Negroes was published. (It is) a collection of her essays, some published and some previously unpublished. I think that now this film coming out in 2023, it's another interval that will help a lot of people in a general audience become introduced to her. It's a wonderful time, and hopefully, people might turn to those books and read them or maybe listen to Ruby Dee reading Their Eyes Were Watching God. It's beautiful. I also think it's important as we think about gatekeeping and who has the right to tell whose story. Zora Neale Hurston was first in battle with this idea that (she) should be able to go down South and collect folklore, collect stories from (her) people, and be the one to also interpret those stories, as opposed to potentially being someone who was gathering the stories for other people to analyze and interpret. We (included) this in the documentary. Hurston wanted to go down and do this work in the Negro way, not in the white man's way, which I found so interesting that she just flat out said it that way in an application.
Were there challenges in putting together a documentary that focuses on such an important figure? Is there any added pressure that comes with that, as opposed to a documentary on a different topic that isn't revolving around a figure who accomplished a great deal?
Tracy Heather Strain: Of course! I take all my work very seriously, but yes, when someone says, "Please, we'd like you to make a film for national broadcast on Zora Neale Hurston," there is a kind of pressure. I worked very hard, though, not to let it get to me. I decided to approach the project the way I approach other projects, start with the research and start learning everything I possibly could about Zora Neale Hurston with the help of a team of people. I take advice, pre-interview people, seek experts to help me figure things out, and then try to find a compelling story. In this case, the task was to tell a biographical story, a story of anthropology, and then a story that shows how anthropology connects with what is known – her literary output.
It was a process of going from reading lots of material, books and articles, and journal articles and interpreting them. Some of them were highly analytic and academic in nature, and I had to translate them for myself and then retranslate them for others, within the context of the story, to determine how much context to put into the film. For example, you need to understand anthropology to understand Franz Boas's significance. This major figure becomes a mentor to Zora Neale Hurston. If you don't understand how he changed anthropology, the story doesn't quite work the same way. Then, (figure out) how to do it, so it doesn't feel like I'm giving people a sudden history lesson. I faced some challenges in telling this story, which was fun. Working with the animator to visualize different things and the composer was fun. I'd never worked with the animator or the composer before, so it was fun to work with new people and to try to come together creatively to have those aspects of the story work for the film.
From a filmmaker's lens, were there any pieces of information or things you wanted to find, but, as a result of telling a story of someone born in the late 1800s, perhaps certain information was lost?
Tracy Heather Strain: When Zora Neale Hurston writes to Franz Boas, and you can see the letter in the film, she talks about she has 95,000 words, but she also mentions that she has 600 photographs in that letter. I'd love to know where those 600 photographs are. Sometimes, I like to imagine some other photos and imagery in the film, "Maybe this was Zora Neale Hurston." I don't know. I don't know if they got lost, (or) if they got burned. I have no idea what happened to them. Still, I wish we had those images because I feel with the motion picture footage that we have, that we shot, I feel like we see beautiful connections between the filmmaker and the subjects. So I imagine the still photographs are very similar and probably would add to our appreciation of Southern Black life.
Regarding school-aged children, who may not be familiar with Hurston and her work, why should they tune into this documentary?
Tracy Heather Strain: I think school-aged (children) should watch this documentary about Zora Neale Hurston because it's important for them to know who she was, first and foremost. I think everybody should know, no matter what you look like and your background. She's an important American person and historical figure. She was a writer and she was an anthropologist. In terms of students who think they're interested in creative work, she's a good role model because she shows that creative work just doesn't come out of thin air. It's the result of hard work, and people work to refine it. The work that comes out that's good always goes through a process, an intense process of refinement, and usually, the creator has doubts along the way. It's often a challenge, not to say that's always a good thing, but it's the way it seems. And I think young people need to understand that it takes hard work and that things don't happen instantaneously.
Sometimes it looks like people are overnight successes. Still, every time they interview one of those people who are perceived as an overnight success, they tell you how long they've been developing their skills. I think that's a really important lesson that needs to continue to be hammered into young people's heads. I feel like there's so much anxiety with young people now about, oh, they haven't done this, they haven't done that. But it takes time. I'm not making these films as a young person, and I probably couldn't have made this film when I was a lot younger. I've made various films about race and the African American experience, and I can draw on those experiences to craft something like this film and the film I did on Lorraine Hansberry.
What was your favorite part of this process? Whether it's a portion of the documentary itself or perhaps something from production or post-production.
Tracy Heather Strain: I'm always someone who loves the research phase because all possibilities are still open. But I'll tell you my favorite part of the documentary. My favorite is the "Their Eyes Were Watching God" section. With the help of the editors, I [could] select portions of her work, and they helped me visualize it. The composer wrote the music and the animator made moves that exemplify her literary side, the results of her ethnographic research and her imagination, and the beauty of her language.
It came together in a way that I still find this emotional. I hope other people feel that way as well. In our office, it's our favorite portion of the film. The music, I feel, just hits in the right way. Lee D. Baker, one of the anthropologists in the film, describes Their Eyes Were Watching God as being thick in description. They call it a thick description, so you can see this ethnography, the results of her ethnographic work, the paying attention to lives, and how she describes the end of the workday, and they found the right pictures. That's my favorite part of the film.
Watching Zora Neale Hurston: Claiming a Space, you realize Hurston, with all of her brilliance, still had to persevere through so many hurdles and obstacles being a groundbreaking, confident, and intellectual Black woman. It is hard not to question how much America has changed regarding giving Black women proper respect and fairness. What are your thoughts?
Tracy Heather Strain: I think that I agree that some things have changed in our society, but I also agree that African American women, Black women, have faced challenges that seem very similar to the ones that Zora Neale Hurston faced. I started listening to a podcast called Zora's Daughters, and I heard these young anthropologists that are graduate students, and one I think is a Ph.D. candidate, talk about issues that they face in contemporary society that are very similar to those that Zora Neale Hurston faced related to her anthropology.
I see some of the things that Zora Neale Hurston faced in what I know about my own experience and the other experiences of African American women who want to make documentaries. I see it in the Academy. I'm a member of different groups that discuss things that happen within the Academy. And so some of those things are similar to what Zora Neale Hurston faced, and it's unfortunate. I think it's easy for us to be labeled as difficult and people who feel confident and know their minds. It's not often well received, even to this day. So, I try to imagine what it would've been like for Zora Neale Hurston in the '20s, having this big Southern personality.
How do you think your documentary will ultimately contribute to our understanding of Hurston and her legacy?
Tracy Heather Strain: It's hard for me to say. I can only talk about what I wish, and I hope it is part of a broadening appreciation for Zora Neale Hurston. I hope this documentary spurs outreach and public engagement and impact, that it impacts people's lives, whether we're talking about students or creative people, anthropologists, or other people within academia. I know she's inspired me, and now I've decided after working on this that when I face adversity, I will try to be like Zora Neale Hurston and do my best to let it roll off and find another way to make things happen.
Because I think it's very easy to be afraid to try new things, afraid to get down on yourself, or just be down and angry when something doesn't happen, it doesn't go your way. But Zora Neale Hurston continued to pick herself up because, in her mind, her goal was, "I'm going to bring the stories of African Americans and the richness and the beauty of their stories and their customs to the public." She wanted to help change the perspective of Black people in society.