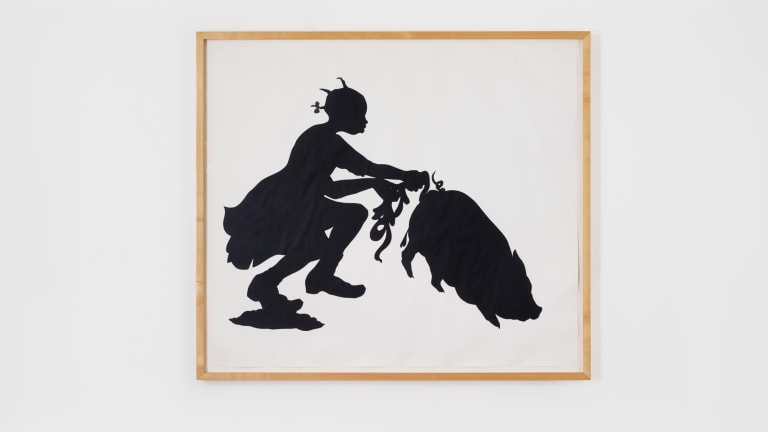 On Saturday, Feb. 8th, Lehman College Art Gallery(250 Bedford Park Blvd. West) in the Bronx will begin its 2020 season with the opening of Young, Gifted and Black, an exhibition highlighting 47 artists of African descent with 50 of their contemporary works in various media.
The 50 pieces of art are from the private collection of Bernard Lumpkin and his husband Carmine Boccuzzi. After long talks with his father about family history, identity, and racial activism, Lumpkin began collecting art a decade ago with a focus on emerging artists. Young, Gifted and Black is the first standalone showing of the now-traveling exhibit in New York City, and the opening coincides with Black History Month.
Lehman's commitment to diversity and its reputation of producing socially active graduates is what drew Lumpkin to the college to show Young, Gifted and Black.
"The exhibition fits the mission of Lehman College," Lumpkin said in press materials. "That's what drew my attention to hosting the first New York City show at their gallery."
Writer and critic Antwaun Sargent and artist Matt Wycoff from The Lumpkin-Boccuzzi Family Collection of Contemporary Art curated Young, Gifted and Black. It features works from Kerry James Marshall, Kara Walker, and Mickalene Thomas, as well as artists on-the-rise, like Allison Janae Hamilton, Paul Sepuya, Cy Gavin; and still emerging: Wilmer Wilson IV, Arcmanoro Niles, and Sable Elyse Smith (full artists list below). The paintings, sculptures, drawings, portraiture, multimedia, and metalworks explore themes of race, class, politics, and human dignity.
"African American artists are enjoying a surge of unprecedented influence with their work being highly-sought after by both private collectors and museum curators around the world," said Lehman College Art Gallery Executive Director Bartholomew Bland in press materials. "The show will help art lovers discover groundbreaking new artists and re-examine the early works of those more established, like Mickalene Thomas, Kerry James Marshall and Kara Walker; it captures a very exciting moment."
Young, Gifted and Black will be on view from February 8th through May 2nd at Lehman College's free art gallery. Bland and the gallery staff are planning a series of complimentary programs around the exhibit, like show talks with artists for Lehman students and local K-12 students.
"Education is an integral component of the Gallery's programming and provides the basis of community outreach—from young students to senior citizens," Bland said in press materials.
Lumpkin hopes his collection will inspire a new generation of not only artists but also art educators and entrepreneurs in the business side of the arts.
"There are so many ways to participate in this field," Lumpkin said in press materials. "There are art dealers, advisors, collectors, non-profit organizations, art historians, critics, writers, curators. All of these areas need fresh faces and need new talent. Diversity is good for all of art."
FEATURED ARTISTS inYoung, Gifted and Black:
Derrick Adams, Tunji Adeniyi-Jones, Sadie Barnette, Kevin Bealey, Nayland Blake, Jordan Casteel, Jonathan Lyndon Chase, Caitlin Cherry, Bethany Collins, Cy Gavin, Alteronce Gumby, Allison Janae Hamilton, David Hammons, Kenyatta A. C. Hinkle, Lonnie Holley, Tomashi Jackson, Angie Jennings, Rashid Johnson, Deana Lawson, Glenn Ligon, Eric N. Mack, Kerry James Marshall, Troy Michie, Wardell Milan, Narcissister, Arcmanoro Niles, Clifford Owens, Jennifer Packer, Adam Pendleton, Christina Quarles, Andy Robert, Latoya Ruby-Frazier, Jacolby Satterwhite, Paul Mpagi Sepuya, Gerald Sheffield, Lorna Simpson, Sable Elyse Smith, Vaughn Spann, Henry Taylor, Chanel Chiffon Thomas, Mickalene Thomas, William Villalongo, Kara Walker, Nari Ward, D'Angelo Lovell Williams, Wilmer Wilson IV, and Lynette Yiadom-Boakye.
ABOUT THE LEHMAN COLLEGE ART GALLERY:
Always free to the public, Lehman College Art Gallery has been serving the interests of our diverse audience from the Bronx and greater New York City since 1984. The gallery specializes in thematic group exhibitions that bring together famous artists with emerging talents. Education is an integral component of the Gallery's programming and provides the basis of community outreach—from young students to senior citizens.