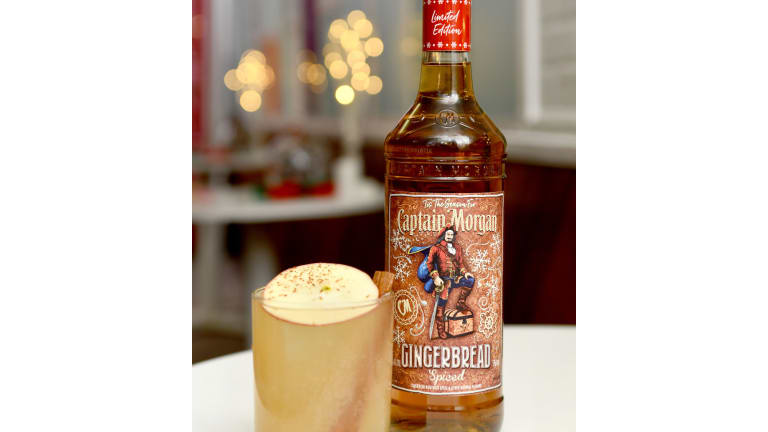 'Tis the Season for Captain Morgan Gingerbread Spice
Captain Morgan Gingerbread Spiced rum will add seasonal fun to all your holiday festivities.
Pumpkin spice is so last season. (Don't try to act like you didn't see pumpkin-flavored everything last August.) As we look forward to winter on Dec. 21st and get into the holiday swing, we need another, more festive spice to charm our palates. Here's Captain Morgan to the rescue with a new gingerbread-flavored rum.
The Captain Morgan Gingerbread Spiced rum will transport you and yours back to your fondest holiday memories with just a sip. It's like sweet and warm gingerbread in a glass. But if ice cream is more your thing, then you're going to appreciate Captain Morgan doubling-down on the sweet treats for the holidays.
"The holidays are the time of the year we all gather for a good time with friends and family, and Captain Morgan Gingerbread Spiced captures a really special flavor that adds a little seasonal fun to those get-togethers," said Christina Choi, DIAGEO senior vice president, rum, gin, and tequila, in press material.
The rum brand has partnered with Big Gay Ice Cream, in New York's Greenwich Village and Philadelphia, on a uniquely-named ice cream sandwich featuring Captain Morgan Gingerbread Spiced — the Captain Morgan Gingerbread Spiced "Merry Morgan" Trucker. The "Merry Morgan" is available after 5 p.m. until December 26th.
"Big Gay Ice Cream is such an iconic shop that stands for inclusive fun, and we're so happy to be partnering with them," continued Choi. "Our 'Merry Morgan' Ice Cream Truckers are a great way to cap off a fun day out with your crew."
Can't make it to New York nor Philadelphia? Captain Morgan Gingerbread Spiced rum is available across the country for a limited time, at a suggested retail price of $14.99. Have some responsible holiday fun with the easy-to-craft cocktail Captain's Sleigh Ride Cider: 1.5 oz. of Captain Morgan Gingerbread Spiced and 6 oz. of fresh apple cider mixed in a mug and garnished with a cinnamon stick or fresh apple.