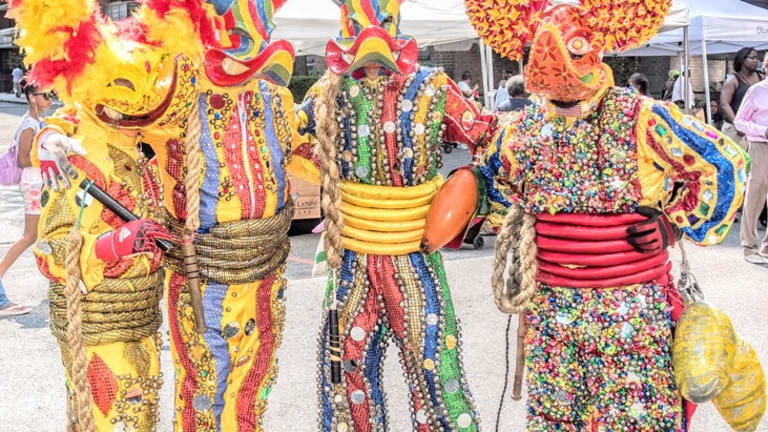 The History and Future of Harlem Week
Many people don't actually know the month-long festival Harlem Week came about and why it has lasted for 44 years.
With more than 2 million people attending, it's safe to say that Harlem Week is the premier arts and cultural celebration of the summer on the East Coast. But many people don't actually know how the festival came about and why it has lasted for 44 years.
​
​
Harlem Week kicked off this year a few days ago, July 29th, but lasts for four weeks, concluding on Aug. 25th. There will be more than 100 food, music, art, health/wellness, fashion, business/tech, sports (tennis, basketball, swimming, track & field), and family events during the 44th annual festival month. It should be no surprise that music has always played an important role in highlighting Harlem and its residents' importance within the African Diaspora. The first event in 1974, then-Harlem Day, featured the musical genius of Dizzy Gillespie, Tito Puente, Joe Cuba, Nancy Wilson, Gloria Lynne, Max Roach, OrnetteColeman, Tony Bennett, and Lloyd Williams. Other notable Harlemiteguests included Rev. Wyatt T. Walker, OssieDavis, Ruby Dee, and James Baldwin. According to press materials, these people were "supporting the goal of The Greater Harlem Chamber of Commerce to combat the negative image which then prevailed at the time in all urban 'Inner-city' communities throughout the nation."
​
​
But how did this festival that started as a day celebration grow into Harlem Week, which today spans a month? UPTOWN caught up with two influential New Yorkers who were involved with Harlem Week since its inception and have been influential in growing the celebration over the past 44 years, Chairman Lloyd Williams and 1st Vice ChairmanVoza Rivers.
Why did you find it necessary to help organize Harlem Day in 1974? New York, in general, was a tough town back then.
Lloyd Williams: Urban America was, at this time, in a massive state of decay throughout the nation. The Community of Harlem suffered mightily during this time. With that in mind, key elected officials led by Percy Sutton [and] cultural icons led by Ossie Davis, Max Roach, and TitoPuente, asked that we work with them to create a one day celebration to promote the many positives of Harlem to Harlemites, so as to lift their spirits.
How did Harlem Day grow into Harlem Week?
Voza Rivers: We were asked to do Harlem Day again in 1975 and it gradually increased to weekend events, then to a full week, and continued to expand to approximately one month, although we still call it Harlem Week.
What does it mean to you that it has lasted for 44 years?
Voza Rivers: It suggests that it has been successful and that the need to continue remains**.**
​
​
What do you see as the future of Harlem Week?
Lloyd Williams: That is to be determined by those who will continue the Harlem Week mission in the upcoming years.
Do you fear gentrification will affect the festival?
Lloyd Williams: [Since] the festival is of an international nature, it has room for various cultures and diversity, but we must make sure that the pureness of the mission of Harlem Week, which is to serve the interests of the [African] Diaspora, is not lost.
What Harlem Week event do you look forward to most every year?
Lloyd Williams: The NYCSenior Citizens Day and the NYCChildren's Festival are my favorite events because they salute history and the past, and give visions for the future.
​
​
For more information on the fashion shows, concerts, farmer's markets, auto show, Harlem Restaurant Week, and more that make up Harlem Week, check out the events schedule.
[Images: Harlem Week]
​