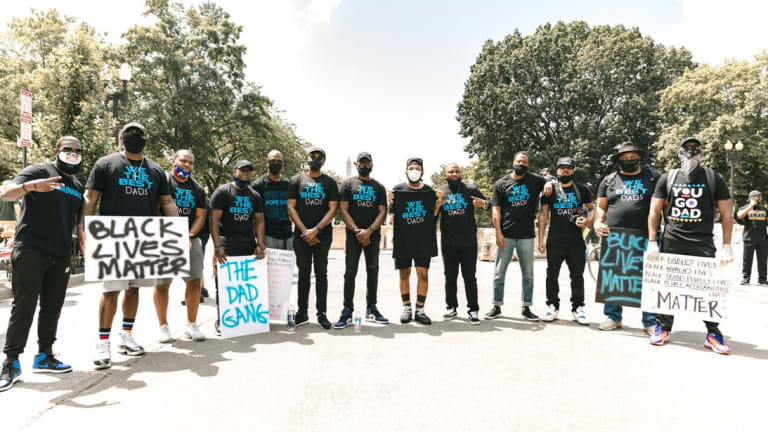 The Dad Gang's Annual 'March of Dads' Celebrates Black Fathers
CÎROC VS and Fat Joe have linked with The Dad Gang to celebrate Black fathers through the "March of Dads" and the Random Acts of Dadness organization.
The Dad Gang's second annual "March of Dads" will take place in Brooklyn, New York on Father's Day, June 20, 2021. CÎROC VS and Fat Joe will join the conscious community of dads who are changing the way the world views Black fatherhood and their families at the event.
The March of Dads begins at 10 a.m. at Grand Army Plaza with opening remarks from Brooklyn Borough President Eric Adams, who is currently running in the Democratic mayoral primary, and will progress to the Brooklyn Museum. Fat Joe will also speak before the march kicks off and will present The Dad Gang with a check donation from CÎROC VS Fine French Brandy. The donation will go to Random Acts of Dadness to continue The Dad Gang's mission to celebrate Black fatherhood daily.
Sean Williams, a father of three, was inspired to found The Dad Gang after an encounter with a woman at a grocery store in a predominantly white area of Long Island, New York. "The woman approached me and said it was so good to see that I stuck around," he told CBS New York. "It was not a compliment … That whole stereotype about Black dads being missing in action and MIA, it's not the normal." 
Williams started by highlighting Black fathers and their #dadgoals on social media, and then The Dad Gang began hosting in-person events like Strolling with the Homies, reports CBS New York. The Dad Gang started the nonprofit Random Acts of Dadness in early 2020. The benevolent organization has helped dads with financial support during the pandemic.
On Saturday, June 19th, which is also Juneteenth, Random Acts of Dadness will be handing out at least 200 strollers in locations in Brooklyn, Queens, and the Bronx.
To register for The Dad Gang Stroller Giveaway and the "March of Dads," head to TheDadGang.com.