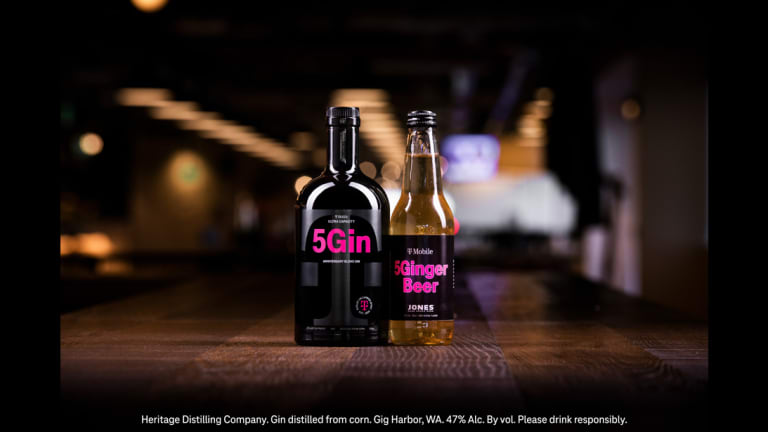 T-Mobile Has Bottled the 'Un-Carrier Spirit'
To celebrate bringing its 5G network to millions upon millions of people, T-Mobile is releasing the Ultra Capacity 5Gin and Extended Range 5Ginger Beer.
To celebrate reaching its goal of covering 300 million people with Extended Range 5G early and bringing Ultra Capacity 5G to 150 million people, unconventional mobile company T-Mobile has bottled the "Un-carrier spirit" into the Ultra Capacity 5Gin and the non-alcoholic Extended Range 5Ginger Beer.
When T-Mobile and Sprint came together, they built the country's largest, fastest, and most reliable 5G network. Ultra Capacity 5G has an average download speed of 325 Mbps with peaks of 1 Gbps, according to a release, in areas with a high population, whereas Extended Range 5G brings the network to rural and remote areas. Between the two, the mobile carrier covers 1.6 million square miles, which is more than AT&T and Verizon. Now that Ultra Capacity 5G has reached 150 million people, T-Mobile has set a new goal to reach 200 million people by the end of the year. To commemorate the fast-paced connectivity, which has been very critical in the past year, T-Mobile is merging technology with mixology for cocktails and mocktails that are perfect for the summer.
T-Mobile teamed up with Heritage Distilling Company, a craft distiller that is predominantly owned by women and located in the Pacific Northwest, to create the Ultra Capacity 5Gin. Heritage used its award-winning Elk Rider Gin, which is crafted through "a special field-to-flask distillation process" and is known for its distinctive combination of botanicals, for the T-Mobile spirit. 5Gin is available for $30 per premium black bottle, not including taxes and shipping.
With #5GforAll in mind, T-Mobile partnered with the Pacific Northwest's Jones Soda Co. to release the Extended Range 5Ginger Beer, which is a non-alcoholic beverage that is refreshing on its own or as the base for a mocktail or cocktail. $10 (plus the cost of shipping and taxes) gets you a six-pack of the T-Mobile ginger beer.
Both the Ultra Capacity 5Gin and Extended Range 5Ginger Beer will be available at T-Mobile5Gin.com tomorrow, June 24th, at noon PT. They're expected to sell out, so you'll want to act fast! In the meantime, whet your appetite with these cocktail and mocktail recipes so you're prepared when it's 5Gin o'clock.