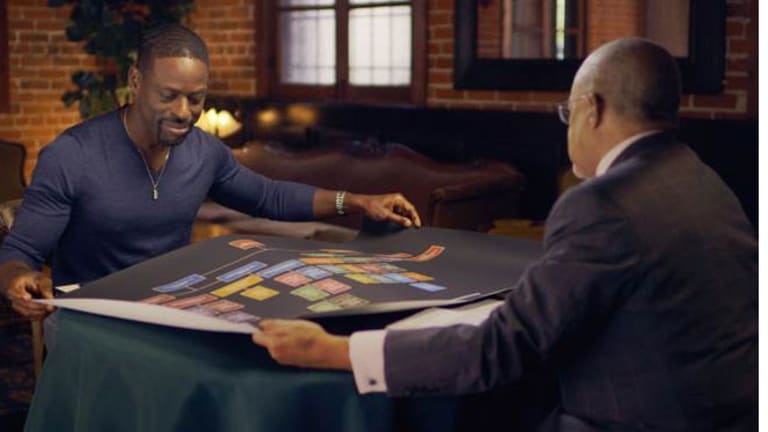 Sterling K. Brown Learns African Ancestry During 'Finding Your Roots' Episode
This Is Us actor Sterling K. Brown chokes up while learning where the parents of his ancestor Jesse were born.
I really enjoy learning about history, especially Black History, but often found myself disappointed when tuning into Henry Louis Gates Jr.'s Finding Your Roots on PBS because the family histories of the Black-American celebrities often stopped at enslavement in the Americas, or chronicled the achievements of their ancestors' enslavers and their white descendants. I know we come from queens, kings, scholars, inventors, warriors, politicians, explorers, and more, but history is preserved and written by those who seize power, and finding factual documentation about people who were deemed subhuman by the Western World is extremely difficult, but not impossible, as the Finding Your Roots team proved for actor Sterling K. Brown.
During last night's emotional episode, that also featured comedian Sasheer Zamata and musician Jon Batiste, Gates revealed to Brown that the research team traced his lineage all the way back to Africa. His fifth great-grandmother and grandfather were born on the continent. It is extremely rare to reveal native-born Africans on the family trees of Black Americans. The specific location in Africa isn't known, but it is still quite a feat to document that Brown is of recent African descent.
The actor who starred in Black Panther as N'Jobu, a Wakandan traitor whose death is the catalyst for the film's plot, was understandably emotional while learning about his African ancestry. He begins to cry before reading aloud, "Africa," when Gates asks him to read where his ancestor Jesse's parents were born.
"Wow, man," exclaimed Brown. "Wow. That's, uh … That's cool," he continued.
​
Now onto another point I must make: Wouldn't it be cool if Finding Your Roots held a contest to trace the lineage of an average, non-famous American each season?
Finding Your Roots airs Tuesdays on PBS at 8/7c and can be streamed via the PBS Video App.