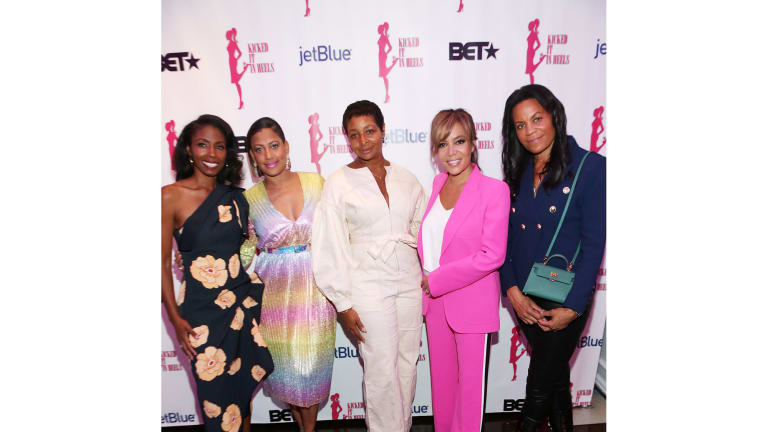 SocietEye: Kicked It In Heels Annual Breast Cancer Fundraiser
Kicked It In Heels aims to support breast cancer survivors and end healthcare disparities in breast cancer diagnoses.
On Wednesday, Oct. 16th, Kicked It In Heels (KIIH) hosted its annual breast cancer fundraiser at Bagatelle in New York. The event aims to promote breast cancer awareness while celebrating survivors. Now in its seventh year, the KIIH cocktail party raised funds to eradicate healthcare disparities in breast cancer and to support workshops focused on wellness, beauty, and fashion for survivors.
This year, KIIH honored Nicole Cosby, a technology marketing executive, at the event that The View co-host and TV personality Sunny Hostin hosted and celebrity spinner Kiss the Deejay kept revelers vibing while enjoying the open bar and passed hors d'oeuvres.
KIIH specifically focuses on breast cancer survivors, specifically, young women and women of color.
"African Americans and other minorities tend to have a worse prognosis and lower survival outcomes compared to caucasians," explained Janna Andrews, M.D., founder of KIIH, in press materials. "Additionally, I felt the support in survivorship was lacking. Thankfully there are more than three million breast cancer survivors, but that means that the need for support is more important than ever. Kicked It In Heels is committed to helping survivors reclaim their lives and find their 'new normal.' Any one who can assist in our mission is so appreciated."
Keep scrolling for more photos from the Kicked It In Heels cocktail party fundraiser, and click here for more information on the organization supporting breast cancer survivors.
​
​
​