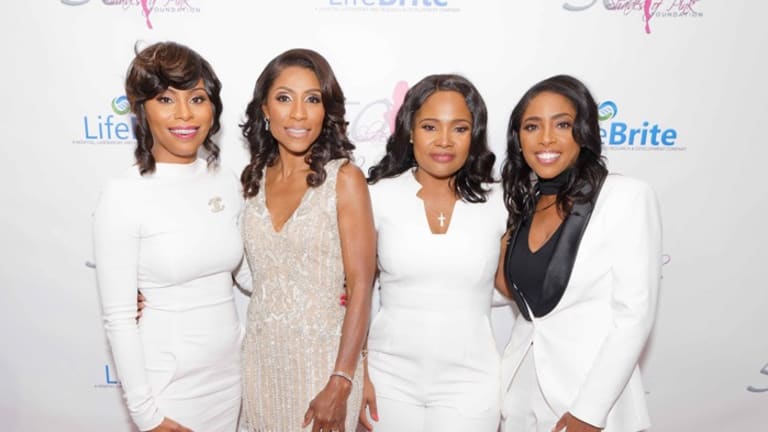 SocietEye: Dr. Jackie Walters's 50 Shades of Pink Foundation Gala
See photos from Dr. Jackie's 50 Shades of Pink Foundation gala and fundraiser, an all-white Winter Wonderland affair.
In honor of Breast Cancer Awareness Month, Dr. Jackie Walters's 50 Shades of Pink Foundation hosted its 6th Annual Gala & Fashion Show, presented by LifeBrite Laboratories, at Atlanta City Hall Atrium on Oct. 14th.
More than 200 guests attended the fundraiser in their finest white outfits for the "Winter Wonderland" theme. Saxophonist Nathanial Lane and DJ Bombshell Boogie provided entertainment, and World-renowned poet Hank Stewart opened the program with a tribute to strong women. Alicia Quarles and Brad James emceed the event in which LifeBrite Laboratories executives shared how cancer has affected their lives and emphasized the importance of genetic testing, a service that LifeBrite Laboratories provides.
AREA dance group began with an elegant dance routine that kicked off the "Pink Warrior" runway presentation led by Dr. Jackie. More than a dozen beautiful models — both cancer survivors and supporters — took to the catwalk in original designs by Bramer Leon Couture, "embodying the foundation's mission of enhancing the emotional and physical well-being of breast cancer patients and their families," according to media materials.
After the runway show, Dr. Jackie, James, and Quarles led an auction to secure donors for the 50 Shades of Pink Gift Basket Program, which provides cancer patients with critical items needed to look and feel well during treatment.
​