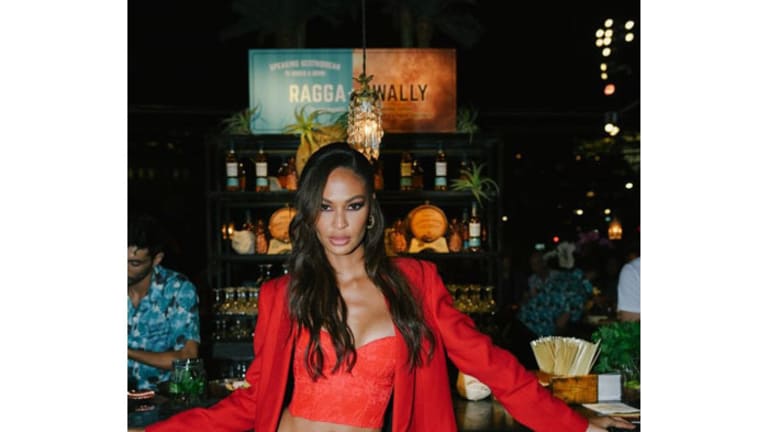 SocietEye: Dewar's + Joan Smalls Launch Caribbean Smooth Scotch Whisky
The Dewar's Scotribbean Experience Pop-Up Bar is open to the public in New York City from Sept. 26th to 28th.
On Sept. 25th, an illustrious crowd joined international supermodel Joan Smalls to celebrate the changing seasons and global launch of Dewar's 8-Year-Old Caribbean Smooth Rum Cask Blended Scotch Whisky, at Gitano Garden of Love in New York. The new premium Scotch whisky, double-aged and finished in rum casks for a tropical smooth finish, showcases the best of Scottish and Caribbean flavors and the harmonious blend of cultures.
Guests were offered an exclusive first taste through The Scotribbean Pop-Up Experience at Gitano Garden of Love. Between refreshing sips of the signature Caribbean Smooth Coconut Highball, and specialty games nearing every corner of the garden, guests were treated to a curated Scottish and Caribbean fusion menu created by Gitano's Chef Yvan Lemoine throughout the evening. In honor of her multi-ethnic heritage (Puerto Rican and West Indian), Smalls shared her family recipe of arroz con gandules, which Chef Yvan served as the night's signature dish. Among the various "Scotribbean" moments, guests were introduced to the new "Scotribbean language," a quirky combination of traditional Scottish and Caribbean slang that was highlighted through games, food, and cocktails.
Officially launching Oct 1, Dewar's Caribbean Smooth is the first in a series of cask extensions from the iconic whisky maker. The brand's Scotribbean Experience, which fuses together both Caribbean and Scottish culture harmoniously, served as the official kick-off to the launch and pop-up bar. Renowned bartenders Iain McPherson (from Scotland) and Nicole Fas (from Puerto Rico) flew in to serve as the bartender duo of the season, embodying two cultures coming together for a truly unique experience.
​
​
​
​
​
​
​
​
​
​
From Sept. 26th to 28th, the Scotribbean Experience will be open to the public at Gitano, where Iain and Nicole will offer complimentary Caribbean Smooth Rum Cask cocktails from 5 to 9 p.m.
Event: The Dewar's Scotribbean Experience Pop-Up Bar
Location: Gitano Garden of Love | 76 Varick St, New York, NY 10013
Dates: Thursday, September 26- Saturday, September 28; three-day bar open to the public from 5-9 p.m.
What: Dewar's invites you to speak 'Scotribbean' and enjoy the last drops of summer with its unique guest pop-up bar, The Scotribbean Experience, launching in NYC at Gitano Garden of Love on September 25. Guests can enjoy the best of Scotland and the Caribbean with guest bartenders Iain McPherson and Nicole Fas who will be mixing the finest craft cocktails with Dewar's Caribbean Smooth, a new whisky launching in October.