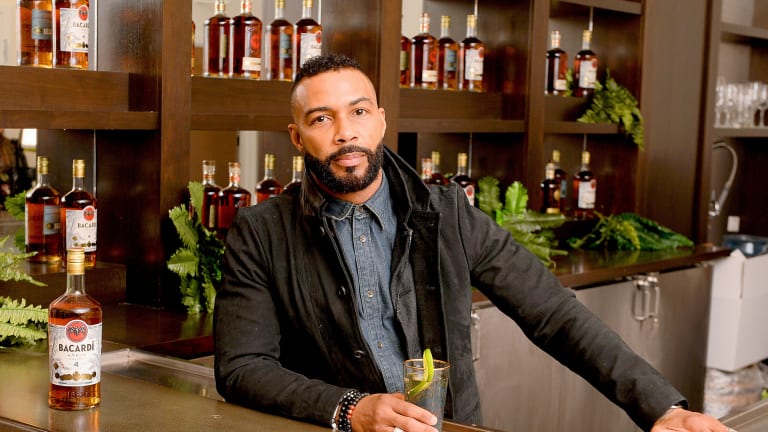 SocietEye: Bacardí & Omari Hardwick Kick Off All-Star Weekend in Chicago
Basketball and rum lovers alike, gathered in the windy city to sip Bacardí Premium Rums, alongside actor Omari Hardwick.
Kicking off All-Star Weekend, Bacardí made its way to the windy city to hold Rum Room: Chicago at Dance Studio on February 13th. This was the final iteration of four national events curated by the Bacardí Rum Society, an exclusive group of distinguished celebrity rum enthusiasts and ambassadors. After making stops in Atlanta, New York, and Miami, the iconic rum brand closed out its premium rum event series with the help of Power heartthrob – Omari Hardwick.
Hardwick helped Bacardí conceptualize and bring the Rum Room: Chicago to life, and further educate consumers on the versatility of rum, while welcoming surprise guests and friends Chance the Rapper, Vic Mensa, and Chicago hometown hero Kami. The rum brand transformed the nightclub into a premium rum oasis, with dedicated rooms championing each of the aged rum expressions, comprised of Bacardí Añejo Cuatro, Bacardí Reserva Ocho, and Bacardí Gran Reserva Diez.
Serving as a living, breathing world of rum, the Bacardí Rum Room created an evening of excitement and discovery that showcased the brand's culture, diverse flavor profile, and set the rum standard. As guests entered the space, they were whisked on a journey of rum exploration and guided from Cuatro to Ocho to the Diez speakeasy experience. Each room featured unique, snap-worthy moments that brought the versatility and enjoyment of the premium portfolio to life.
Guests were invited to indulge in a variety of sensory experiences, like the Cuatro Highball Mixology Bar, where they were able to enhance their cocktail with a bitter of their choice in the Bacardí Añejo Cuatro room. In the Bacardí Reserva Ocho room, the Bacardí bat wing installation had guests snapping photos all evening, as a rum barrel display educated attendees on the meaning of "the angel's share." Guests were also able to channel Hardwick's Power character, Ghost, with the help of a double exposure photo booth experience – while sipping on his bespoke cocktail inspired by the ill-fated character. The Cuatro room also featured a betting table, where guests tried their luck at a game of dice for a chance to win a libation token, redeemable at each bar for a Cuatro, Ocho, or Diez cocktail. Finally, in the Diez speakeasy, Bacardí Global Rum Master David Cid and Bacardí Rum Ambassador Juan Coronado led intimate tastings and rum immersions of Bacardí Gran Reserva Diez in the swanky lounge downstairs.
The Diez speakeasy also featured an artistic collaboration between Chicago-based artist Nikko Washington and art collective WarholKids to offer guests unique and custom designed apparel, as well as sneak peek at their AWS 2020 Capsule Collection, Legends Never Die, in memory of the late NBA star, Kobe Bryant. Additionally, the immersive rum experience paid homage to the late NBA legend by allowing guests to harness their inner-poet and share what moves them through the #PoemforMamba installation. Sharing sentimental thoughts, phrases, or inspirational quotes, guests expressed themselves through Post-It notes that could be added to the dedicated installation throughout the night, to honor all those who tragically lost their lives on January 26th.
The actor — dapperly dressed in a Rag & Bone jacket and a button-down paired with AllSaints jeans and Gucci brogues — talked about his upcoming projects and passions, which include continuing his Poetics podcast, multiple movies in the works, and teasing upcoming music. Poetics invites listeners inside the minds and lyrics of the biggest names in Hip-Hop and culture. Hardwick has hosted a plethora of artists, such as 50 Cent, T.I., Wyclef Jean, and Method Man to share original poems or verse, before diving deep into the stories and history that give their words its meaning.
Hardwick sipped on his signature cocktail, Ghost, before joining bartenders behind the bar to try his hand at mixing his libation for guests. The star closed the night out with an emotional spoken word performance of a poem he wrote to commemorate the legend, Kobe Bryant. Once the spoken word performance concluded, Chance the Rapper grabbed the mic to rave about his dear friend, Hardwick, commending him on his articulate and powerful performance.
The Bacardí Premium Portfolio, which launched in April 2018, is available nationwide at a liquor store near you and on ReserveBar.com. Bacardí will continue educating consumers on the premium quality of rum through its various Rum Room events across the country in the coming year.
​
​
​
​
​
​
​
​