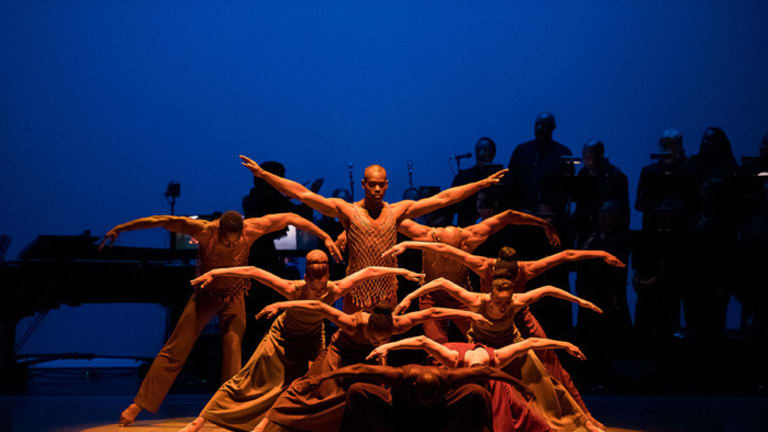 SocietEye: Alvin Ailey 60th Anniversary Opening Night Gala Benefit
Cicely Tyson, Angela Bassett, Carmen de Lavallade, Ledisi, and more helped Alvin Ailey kick off its 2018 Holiday Season.
On Nov. 28th, Alvin Ailey American Dance Theater's 60th anniversary holiday season at New York City Center kicked off with a star-studded Opening Night Gala Benefit performance and party led by Artistic Director Robert Battle, with iconic film stars Angela Bassett and Cicely Tyson as honorary chairs.
Senior Vice President of Diversity, Inclusion and Impact at Prudential Financial Lata Reddy accepted the Ailey Legacy Honor for Prudential's generous support and commitment to Ailey, especially its education and community programs.
The one-night-only program featured tributes to the Company's legendary founder with a specially staged excerpt of Memoria, a work he choreographed as an elegy for a dear friend; a piece d'occasion entitled For Alvin by Robert Battle, set to Nina Simone's Black is the Color; and culminated with Alvin Ailey's masterpiece, Revelations, performed with live musicians and special guest singers Ledisi, Kenny Lattimore, Erica Campbell, and Brandie Sutton (critically-acclaimed Metropolitan Opera soprano). Becoming Ailey, a multimedia piece that celebrates Alvin Ailey and brings his voice and presence back to the stage (created in collaboration with Bob Bonniol and Caryl Glabb of MODE Studios, Inc.), also premiered.
"Alvin Ailey said 'I'm trying to hold up a mirror to society so that people can see how beautiful they are.' In 1958, before the Civil Rights Movement, he "Made a Way Out of No Way" on a trailblazing journey to becoming one of the groundbreaking greats in African American history," stated Robert Battle. "His celebration of the human spirit has lifted us up and brought us together, and his spirit still runs through the veins of this organization."
After the performance, the celebration continued at the New York Midtown Hilton's Grand Ballroom where approximately 900 guests joined Battle, Artistic Director Emerita Judith Jamison, and the stars of Alvin Ailey American Dance Theater for dinner and dancing with live music by the premier band Élan Artists.
Alvin Ailey's 60th Anniversary Holiday Season at City Center culminates on Dec. 30th. Log on to AlvinAiley.org for more information.
​
​
​
​
​
​
​
​
​
​