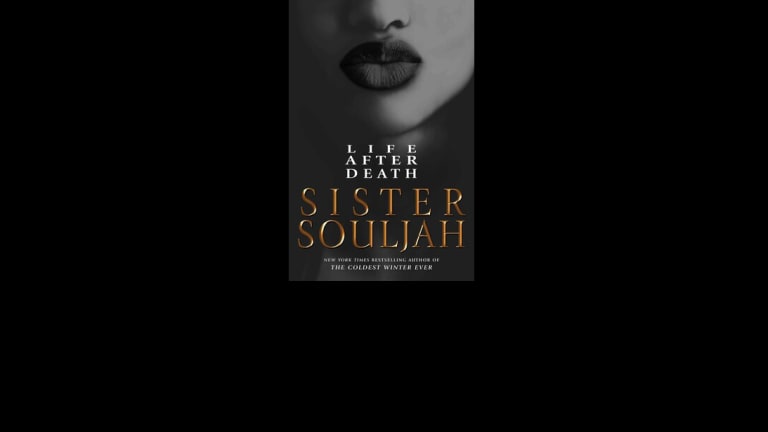 I'm Having a Difficult Time Reading Sister Souljah's 'Life After Death'
The nostalgia for Sister Souljah's The Coldest Winter Ever isn't enough to carry readers through Life After Death, the novel that continues Winter Santiaga's tale.
The highly anticipated follow-up to Sister Souljah's debut novel, The Coldest Winter Ever, was released today, March 2. I've had Life After Death, the book that continues Winter Santiaga's story, in my possession since late December but I've had a difficult time reading it, and that's partly because I'm a different person than I was when I first met the protagonist.
It's been a little more than two decades since The Coldest Winter Ever was published, and I, like most who read the bestseller, wondered what happened to Winter after she was locked up. Life After Death looks back on Winter's incarceration through her anecdotes and reveals what happens after she's released from prison. The eldest daughter of the prominent Brooklyn drug-dealing family is "ready to step back into the spotlight and reclaim her throne," but things don't go as the scheming Winter has planned, because her frenemy Simone is out for revenge. The synopsis of Life After Death provides a bit of foreshadowing: "Will [Simone] blow Winter's head off? Can Winter dodge the bullets? Or will at least one bullet blast Winter into another world? Either way Winter is fearless. Hell is the same as any hood and certainly the Brooklyn hood she grew up in. That's what Winter thinks."
The first page of the book reveals that Winter gets shot dead moments after stepping into freedom, and I found it difficult to care past that point. I literally picked up the book several times in January to continue reading but always stopped at the bottom of page one. In February, I forced myself to keep going and actually got through a few chapters, but that was quite the laborious task. First, Winter is extremely unlikable because she's still materialistic and lacks humility and introspection. These qualities were to be expected when she was a teenager or young adult, but she should've matured at least a little bit after 15 years in prison. Second, Winter serves as the novel's narrator, so she's uncovering her plight at the same time we, the readers, are. However, there's not enough exposition or interaction between her and other characters to care whether Winter is actually dead, in a coma, or experiencing hell, as the synopsis suggests. Third, Souljah chews up a lot of space with prose that can only be described as sermonizing. Nearly the entire 19th page is a diatribe about 1990s Hip-Hop being the best the genre has to offer. Readers of The Coldest Winter Ever, and now Life After Death, are likely a particular age and lived through the '90s. Most of us probably agree that the Rap of our youth is better than today's music, but that sermon, like others, is a speed bump in the tale and impedes its flow.
The Coldest Winter Ever was a page turner because it was like nothing I had read before. It was my introduction to the urban fiction genre, and my friends and I spent many hours discussing it and which actors should play the characters in the movie we just knew would come to fruition. In the two decades since then, I, unlike Winter Santiaga, have matured and so have my tastes in entertainment. I want the stories I consume to go deeper and I want to care how the plot progresses even if I've figured out the general gist.
I think the themes present in Life After Death, glorification of violence; excess; and the drug culture, can be entertaining when handled with some level of nuance. There's a reason fans return to The Wire years and years after the series finale aired in 2008. There's a reason The Real Housewives franchise remains popular after cast members have gone to jail, suffered bitter divorces, and been the subject of scandals. But as I was reading Life After Death, I kept thinking, "Just get to it already." It being whether Winter is really dead, whether she's on a path to redemption, or whether she'll have some vengeance. The reader shouldn't want to rush the story.
If you're unfamiliar with Winter Santiaga's tale, I would suggest reading The Coldest Winter Ever first and Life After Death immediately after. It's too much to ask for the nostalgia for the first novel to carry readers through the second decades later, even if they also read Souljah's dissatisfying novel Midnight: A Gangster Love Story in the meantime like I did. I was really looking forward to diving into Life After Death and enjoying it, but at this point, I think I'm just going to wait for Winter's story to play out on the big screen like Hollywood keeps promising.