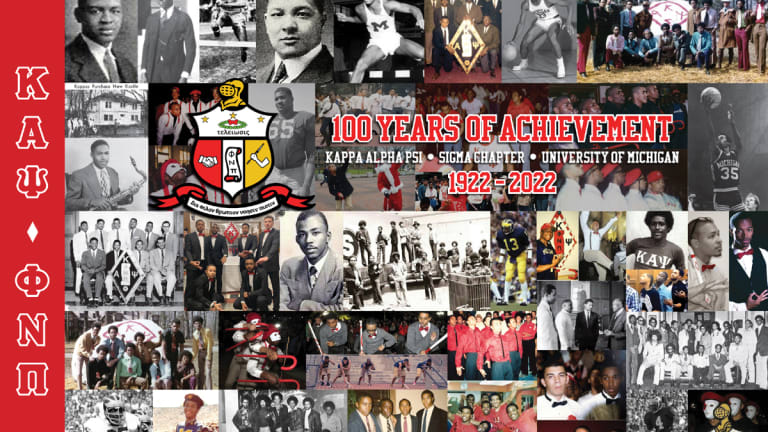 Sigma Chapter of Kappa Alpha Psi Fraternity, Inc. Kicks Off Centennial Celebration
Learn how you can help The Sigma Chapter of Kappa Alpha Psi at the University of Michigan, Ann Arbor celebrate its centennial.
Press release:
The Sigma Chapter of Kappa Alpha Psi at the University of Michigan, Ann Arbor will kick off its centennial celebration with a ribbon cutting ceremony on Friday, February 18, 2022, at 6:00 p.m. EST. The ceremony will take place in the Willis Ward Lounge at the Michigan Union (530 S. State Street, Ann Arbor, MI 48109) and features the unveiling of a photo collage of chapter members from its founding on February 22, 1922, to the present. The ceremony can be viewed live at: https://ummedia01.umnet.umich.edu/kap/kap021822.html. "Our centennial will be a year-long celebration with events occurring over three different weekends. Events will include a gala, luncheon, talent showcase, family picnic, football tailgate and community service outings. Our goal is to offer multiple opportunities for brothers to fellowship and ultimately make this a centennial to remember," stated 1988 initiate Maurice G. Morton, Fundraising and Event Chair. 
In 1954 Sigma Chapter acquired an "official" fraternity house located at 1702 Hill Street (just off "Fraternity Row") making it the first and only African American Greek letter organization to date to own an official house on the University of Michigan campus. Although no longer owned by the fraternity, the house still stands today. The "Night at the Set" Talent Show, which awards scholarship prizes, was established in 1989 and is an annual event that exists today. In 2017, the alumni of Sigma Chapter established the Sigma Chapter Foundation to plan centennial events, provide support for the undergraduate members of the chapter and endow a scholarship. 
"I am honored and humbled to be the chair of the (Kappa Alpha Psi) Sigma Chapter Centennial Program. I have thoroughly enjoyed meeting and reconnecting with brothers from various eras of our illustrious chapter. I would personally like to thank my father, the late Hon. Harold Hood (Sigma 1949), for leading by example and demonstrating throughout his entire life what it means to be a true 'Kappa Man,'" stated 1987 initiate Kevin J. Hood, Centennial Chair. 
Congratulatory videos are being accepted until 2/22/22 at: https://www.tribute.co/the-sigma-chapter-of-kappa-alpha-psi/
For more Sigma Chapter history, centennial events and notable initiates please scan: