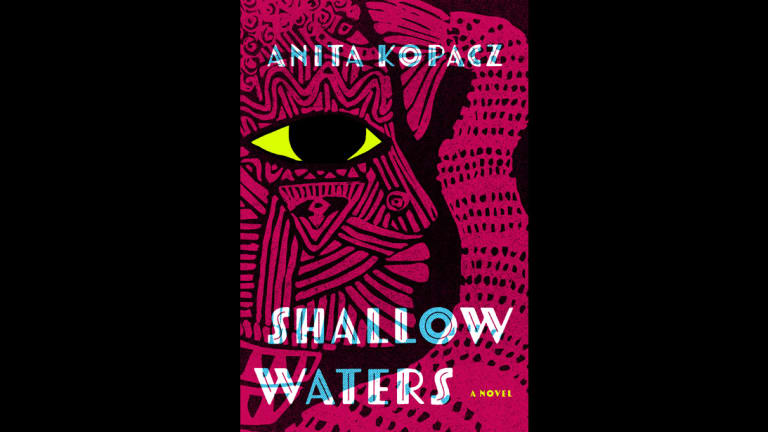 New Novel 'SHALLOW WATERS' Imagines Yemaya's Life, Romance & Discovery of Powers
For her debut novel SHALLOW WATERS, Anita Kopacz uses magical realism to explore the legend of Yemaya, Black identity, and Black Diasporic History.
Through SHALLOW WATERS: A Novel, Anita Kopacz imagines Yoruba deity Yemaya's teenage years, romance with a human, and the discovery of her powers, all against the backdrop of humanity's greatest sin.
Kopacz drew inspiration from the legend of Yemaya for her debut novel. As the story goes, Yemaya, a mermaid and the river goddess, followed her people across the Atlantic Ocean when they were forced onto slave ships and, as a result, she becomes the goddess of the ocean. She represents fertility, love, family, and home because all life begins in the sea. In SHALLOW WATERS, though, Yemaya is a 17-year-old mermaid who knows she's different from the humans but doesn't know exactly what she is. The one thing she is sure of is her inexplicably magnetic connection to Obatala (more on that later).
"I lost Mother and Father before they could explain to me what I was — not fully human, but also not a sea animal like those we swam alongside in the depths each day … My mom would never explain more when I asked about our condition. She would simply smile and say, 'You're special, Yemaya. One day you will know why,'" writes Kopacz in SHALLOW WATERS.
Yemaya is full of curiosity, like most teenagers, and is compelled to learn more about young man Obatala, whose life seems connected to hers in some way. He's also intrigued by her, having only caught glimpses of her, and sacrifices his freedom to save her. As a result, he's captured by slavers. She, in turn, follows the ship of his imprisonment, traveling across the ocean through Middle Passage to the Underground Railroad eventually, in order to rescue him. In the Americas, Yemaya seeks guidance from other travelers, indigenous people, and historical icons like Harriet Tubman and Frederick Douglass. Yemaya's journey is as much mental as physical because along the way she discovers she has miraculous healing abilities, the power to manipulate elements, and a physique that allows her to survive lethal rivers and the darkest depths of the ocean.
In SHALLOW WATERS magical realism, fantasy, and Black History and identity collide. Although there are imagined elements of this work of fiction and it will tickle your own imagination, there is still truth at its core. Kopacz's story of hope, strength, love, and perseverance is an oftentimes suspenseful page-turner and quick read that still manages to be meaty.
SHALLOW WATERS is the first fictional work from Charlamagne Tha God's Black Privilege Publishing, which is a division of Simon & Schuster. Kopacz is an award-winning writer, "spiritual psychologist," former Heart & Soul editor-in-chief, managing editor of BeautyCents, and the sister-in-law of UPTOWN co-founder/co-CEO Brett Wright.
SHALLOW WATERS delights as a late-summer read and will help you mentally escape the doldrums of our present — much like our enslaved ancestors used magical realism to spiritually escape the enslavement of their bodies and minds.