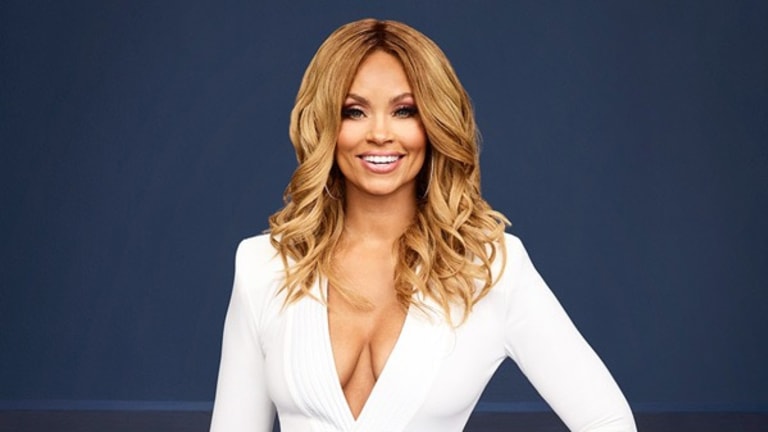 #RHOP's Gizelle Bryant: 'If You Said It, You Gotta Own It'
#RHOP's Gizelle Bryant: 'If You Said It, You Gotta Own It'.
By Annika Harris
Gizelle Bryant hasn't minced words from the moment she appeared on our television screens in 2016 as one of six cast members of The Real Housewives of Potomac, but even though she's opinionated, she has no problem owning what she says and apologizing if necessary. Her outspokenness during the off-season is what gets the drama rolling at the start of season two, which premieres Sunday, April 2nd. Without giving too much away, Gizelle and Charrisse Jackson Jordan are on the outs as a result of something Gizelle said on Watch What Happens Live. However, Gizelle says she was only retaliating for Charrisse indirectly calling her a "whore" during the season one reunion and refusing to own up to it.
RELATED:#RHOP's Charrisse Jackson Jordan Is Finding Her Happy After Divorce, Death & Season 1
Even though drama leads the storytelling on RHOP and we as fans eat it up, there's much more going on in Gizelle's life. The socialite is a mom of three daughters -- 12-year-old Grace and 10-year-old twins Angel and Adore. She's also an entrepreneur gearing up to release her mineral makeup line EveryHue Beauty. I caught up with Gizelle to discuss the newness in her life, the conflict with Charrisse, which Housewives have longevity (considering one of the original Potomac ladies has already quit the show), what "asset" she's looking for in a mate, and more.
UPTOWN:Since season one wrapped, what have you been up to?
Gizelle Bryant: I have been working diligently on my makeup line, EveryHue Beauty. So that is going to launch probably in the next three to four weeks.
U:If I remember correctly, the makeup line was attempting to include a wider range of colors.
Absolutely, it's for women of color but we're not excluding anyone. We'll have a very light color that the average white woman would match her all the way to our darker sister. So it's a great range and we're worked really hard to match skin tones perfectly.
U:Will EveryHue Beauty be available online and in stores also?
We're going to start online so we'll be direct to consumer, which we're excited about because I really want to know exactly who's buying and what the hottest colors are. So I really want to control it a little bit in the beginning. But we are in talks with a couple of department stores. So I'm excited that we haven't even launched yet and they're willing to talk to us.
U:Will it be a full range of makeup in addition to foundation? Can we expect eyeshadows, lipsticks, etc. also?
Yes, we're starting with a tinted moisturizer and we're going to follow up with this tinted highlighter, which I love. Highlighters are like my new favorite go-to; I love them! Then, we'll have brushes and blenders for the face, and then we'll move to lip glosses and traditional eye shadows, blush, and that whole spectrum.
U:Being a mom of three daughters, what does it mean for them to see you starting your own business, even though you're on a reality show also?
It means everything actually. You know, my oldest is 12 and I have twins who are 10. And they're at the age that they really, really look up to me - like their end all, be all role model. And I show them what I'm doing as it relates to business and seeing it from beginning to end. They were with me when I was matching colors. They've been with me through each process, so they're as excited about it as I am. They want to be the ones that get to name the colors, the lipsticks, name the blushes.
Of course, they want them to be named after them. As far as me being on a reality show, that's always a little tricky when it comes to kids because they might hear maybe negative things about their mom or just social media is a beast to deal with. But they've always told me, "Mommy, we just want you to have fun on your show. You're our mom." They're very in tune to separate me as mommy from the show.
U:I saw the first episode of season two, and I know you and Charrisse have some turmoil or conflict. Without giving away too much, do you two resolve the issue as the season goes on? Or does she even admit her wrongdoing? I agree what she said during the reunion was harsh, even though it was an inadvertent dig.
Charrisse and I have been friends for awhile and I want us to remain friends forever. I really want her to be someone who is always in my life. So we're working on it, I will say that. We're working on it.
U:Now dating is a big part of your story on the show. And you mentioned being a little attracted to Teon the dance instructor on the show. Did anything ever come of that?
Uh, no, actually I mentioned him being attractive and possibly hitting on Ashley [Darby]. But for me? No.
U:I've been a fan of theHousewivesfranchise for a long time, and sometimes there's a cast member who sets herself up as the villain of the show. Do you thinkPotomachas a definitive villain, or are you all reacting how you would naturally react?
I think we're very authentic to who we are. A villain? I don't want to give anybody that title, but I will say we're definitely opinionated and some hold back more than others. I don't necessarily hold back. I don't think Ashley holds back. I don't think Karen [Huger] holds back. That can cause others to feel like we're being mean girls, but we're just being honest.
U:Is there any point this season in which you feel like you were being misunderstood and wish you had a do-over?
Yes. But I guess I can't really talk about it because it was later on when we were filming. But there were times when, you know, you're just tired and you've had a long day, and true to form with anyone, things can come out your mouth that you want to take back. But you gotta own it. If you said it, you gotta own it. So I think I had several of those.
U:Speaking of owning it, you mentioned certain male anatomy being too long or too short during the season premiere. What for you is too long or too short?
(laughs) Everyone, I think, likes a long package when they are dating, but you never know what you are going to get "this is girl talk" you never know what you're going to get. But at the end of the day, does it really matter? No. I mean, if you find a wonderful guy, hopefully the package is appropriate.
U:Is there anything you're really excited for the audience to see this season? Do you guys go on a girls' trip as is pretty standard for theHousewivesfranchise?
Mmhmm, we do go on a trip. I can say I'm super excited about my mom. My mom was able to film with me this season. We didn't see her season one, so I'm very excited for the world to see my mom. She has been so influential in my life with me growing up and I see myself in her as I raise my girls. I'm just happy and proud of my mom and who she is, so I'm really happy for the world to see her. And she's funny, and she's classy, and she puts me right in my place.
U:As moms have to do even as we're adults, sometimes. It's interesting because with the exception of Robyn [Dixon], all the other Housewives have daughters. It's interesting to see the relationships you all have with your daughters, and the dynamic with a grandmother coming on will be equally intriguing.
And her relationship with my kids, you'll also see, so that's a pretty special thing. I think she likes them way more than she likes me.
U:Well thinking back to season one a little bit, which Housewives do you think have longevity on the show, considering Katie Rost was let go after just one season?
I don't necessarily think Katie was "let go". She chose not to continue. That's the way I would put it, and we really miss Katie. We still see Katie out and about, or I do. So Katie is missed. I don't know. To be honest with you, just to look at other franchises, obviously people come and go, but I would like for us to stay together for as long as we can because we knew each other prior to the show. And to see one of us go would change the dynamic.
U:Well, I'm very excited to see the rest of the season. Are there any parting words you'd like to leave with theUPTOWNreaders? Anything to amp us up for the new season?
I've said that I felt like season one, you guys got to know us and there was a lot of nice-nasty going on between the girls, but season two is just like nasty. There are some moments that are just like WHOA! So everybody kind of like let loose and let their opinions take over. And everybody just kind of like dug their heels into the sand and held on for dear life, so you'll see a lot of that.
Follow Gizelle Bryant and EveryHue Beauty onTwitterandInstagram. And be sure to tune into The Real Housewives of Potomac season two premiere on Sunday, April 2nd, at 9/8c on Bravo.