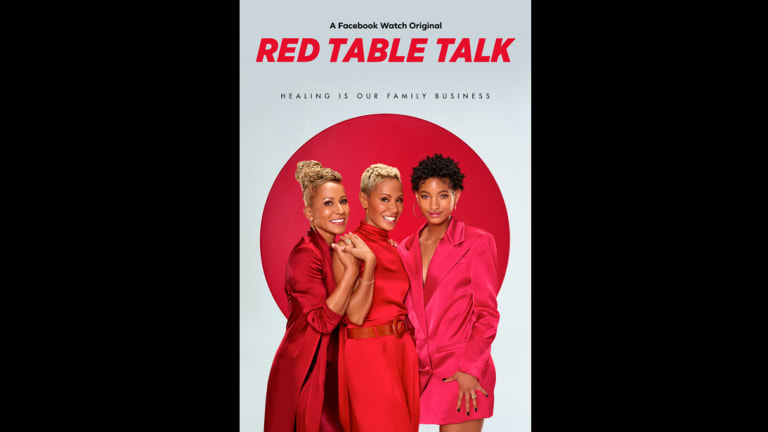 'Red Table Talk' Tackles Narcissism, Gaslighting, and Techniques to Avoid Both
The discussion on Red Table Talk turned to narcissism this week with series favorite Dr. Ramani Durvasula providing a glimpse into the mind of a narcissist.
"Narcissism" and its sibling "gaslighting" are hot-button topics right now with everyone, from the reality TV personality you hate to love to your best friend, claiming to know a narcissist or gaslighter. So naturally, Red Table Talk, the Facebook Watch series in which three generations of women offer "their unique perspectives to real issues affecting real people," had to have a discussion about the trending toxicity.
In the episode "Secrets to Surviving a Narcissist in Your Life," Red Table Talk hosts Jada Pinkett-Smith, Willow Smith, and Adrienne "Gammy" Banfield-Norris took the conversation to Dr. Ramani Durvasula. The renowned clinical psychologist and series fave offered a rare look inside a narcissist's mind and shared techniques for surviving the toxic pattern of behavior that is the cause of many abusive relationships. Jada, Willow, and Gammy also reveal their experiences with narcissism.
The conversation started at the core of narcissistic behavior and Dr. Ramani, as she's affectionately called on Red Table Talk, built it out. In a nutshell, the cause of narcissism is insecurity, Dr. Ramani explained. To the average lay person, that may seem like an oxymoron, but Dr. Ramani's explanation makes sense.
"People who are narcissistic are deeply insecure, and we don't see that part of it ... because they're so insecure and they don't wanna be found out, they cover themselves in all of this grandiosity, entitlement, arrogance," said Dr. Ramani. "But then there is this lack of empathy which to me is the most lethal part of this. They don't care. These are folks who are very controlling. Sometimes they're downright paranoid."
Willow pointed out that a narcissist is "just unaware" of what they're doing, and Dr. Ramani agreed, saying that narcissist doesn't have a grand scheme.
"And that unawareness is what throws people off," explained Dr. Ramani. "People say, 'Are they rubbing their hands together in a back room saying, All right, I'm going. Ready? I'm gonna go gaslight Jada now?'' They're not doing that. They're constantly protecting themselves. Everything they do is self-protection."
Dr. Ramani also explained that a narcissist lacks empathy, even for an ill person in their life. "Narcissistic people view sick people as inconveniences," she said. "They're like, 'You just made my life harder. I don't want to go to the hospital.' And now they have to feel bad for the sick person? Well, that's too much empathy for them."
Dr. Ramani further explained to Willow, who didn't understand how someone can lack compassion for another person because she self-analyzes to "a fault": "Because they're not thinking. There's no self-reflective capacity, Willow. They do not look inward."
Jada revealed that she had to distance herself from a friend whose husband was a narcissist. "Unfortunately, I had to distance myself from my girlfriend and her husband because it was, it was just too brutal to watch," Jada said. "That's why it's so upsetting because, you know, I've seen it. It's awful and it can be so insidious."
While insecurity is at the core of every narcissist, narcissism is at the core of every interpersonally abusive relationship. "Domestic violence folks say, 'Instead of asking why she's not leaving, let's question his [or her] behavior because that's the problem.'"
It may be a person's first inclination to "rescue" a narcissist from their toxic patterns of behavior. Jada revealed that Gammy is in a cycle in which she feels the responsibility to rescue a narcissistic relative. Dr. Ramani cautions against this because it's a futile endeavor.
"The number one thing you should do is really avoid the temptation to rescue [a covert narcissist]," Dr. Ramani warned. "Because a lot of people almost want to jump into shrink mode with them. 'No, no, no, you're really great' or 'Oh, let me see if I can fix this. You don't like this restaurant? We can go find another.' See what I'm saying? A lot of people fall into that rescue-y place."
She continued, "It never stops. You rescue them this one time and then it happens again."
Then Willow recognized that gaslighting is a narcissistic trait, and Gammy wanted Dr. Ramani to define the term.
"Gaslighting is a form of manipulation where you really kind of get power over a person by doubting and invalidating their reality," Dr. Ramani explained. "You deny their reality. And when you deny someone's reality, 90 percent of people are like, 'Maybe they're right. Maybe I didn't say that.' We doubt ourselves. When it happens repeatedly, you feel like you're literally going crazy. You no longer believe yourself. The only person who can really gaslight you is someone who either has some power or who you already trust a little already. That's why family members gaslight. That's why partners gaslight ... Gaslighting is lying, and then twisting the knife further so you feel crazy."
In this day and age of having the capacity to capture every moment of our lives literally in the palm of our hand, many people on the receiving end of a narcissist's toxicity may resort to gathering proof to counter the gaslighting, even if they're not aware they're being gaslighted.
"The first time someone says to me, 'I'm gonna start recording my conversations,' I'm like, 'You're being gaslighted,'" said Dr. Ramani. "It's that simple. Or when you feel the need to show someone, like, 'There's the text,' you are being gaslighted. Because you feel like you need proof. When you feel like you need to bring an evidence base for your feelings, you're being gaslighted."
Watch the full Red Table Talk episode, "Secrets To Surviving A Narcissist In Your Life," on Facebook Watch. And be sure to tune-in every week for a new episode of the hit series in which three generations come to the table to have an unfiltered conversation on topics impacting theirs and their audience's lives.