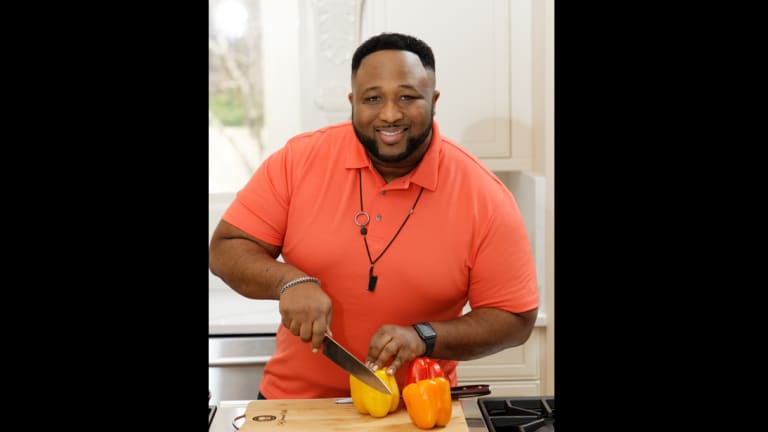 Meet the Chef: Jernard Wells
Get to know Chef Jernard Wells, the featured chef for From BeBop 2 Hip Hop, The Historic Hampton House Museum & Cultural Center's inaugural concert.
By Wayne Anderson, director of public relations for The Historic Hampton House
Let's have a quick chat with Jernard Wells, an award-winning TV personality, celebrity chef, bestselling cookbook author, and the host of New Soul Kitchen and New Soul Kitchen Remix. "The Chef of Love" will also be the featured chef for From BeBop 2 Hip Hop, The Historic Hampton House Museum & Cultural Center's inaugural concert series with Eric Benét.
As a personal fan, I know the primary influence for your love of food started as a child through your father. Did he also inspire you to become a chef, or was someone else a contributor for this passion of yours?
Jernard Wells: My father was also a chef and I actually spent a lot of time with him in the kitchen growing up. So I'd say he definitely had a huge influence on planting my love for cooking along with my mother who is a phenomenal baker.
If you weren't a chef, what other career path would you have chosen?
Jernard Wells: Actually had someone asked me what I would be when I grew up, I would've said I'd be a lawyer. As a matter of fact, when I first enrolled in Rust College, I was a political science major with a focus on pre-law. 
What is your favorite meal to prepare for your family at home, especially while quarantining?
Jernard Wells: That's a loaded question considering the very diverse tastes in my household, LOL. One of my children doesn't eat cheese, one swears they are vegan, and another is a huge meat eater.
What's the greatest obstacle that you've had to overcome to achieve the status of a celebrity chef?
Jernard Wells: I've often had to deal with the assumption that myself and other African-American chefs can only cook fried chicken, ribs, and other Southern comfort foods. SMDH!
Recently you were selected to be a guest celebrity chef for The Historic Hampton House as it debuts its first of a six-part supper club series, From BeBop 2 Hip Hop. The evening features NAACP Image Award-winning R&B star and actor Eric Benét, who will kick off the first event. Many people became aware of the Hampton House because of the critically acclaimed movie One Night In Miami, which was directed by Regina King. During the Jim Crow era of segregation, the venue hosted some of the most prominent Black celebrities of the day in music, sports, and Hollywood, like Sammy Davis Jr.; Nat King Cole; Muhammad Ali; Dr. Martin Luther King Jr.; Aretha Franklin; Malcolm X; and Jackie Robinson, to name a few. At its height, it was a popular destination for African-American travelers. What motivated you to accept this opportunity?
Jernard Wells: I've always been a huge history buff, especially of Black History. To have an opportunity to lend my culinary talents and expertise to launch an amazing supper club series like this for The Historic Hampton House is a privilege and honor for me.
What dishes have you selected to prepare for the dinner guests for this special event?
Jernard Wells: I'll be preparing a pan-seared salmon dish, as well as my award-winning fried chicken and an array of delectable sides.
You are a bestselling author of numerous cookbooks. What was the inspiration behind your most recent cookbook Southern Modified?
Jernard Wells: My co-author Hollywood actress Denise Boutte and I wanted to show people how to cook some of their favorite Southern recipes but modified it to fit today's healthy lifestyle without compromising taste.
You have a line of seasonings and sauces. Where can we purchase them?
Jernard Wells: Yes, my line of seasonings and spices Haute Cuisine are available in various Whole Foods around the country, but the best place to order is at HauteCuisine.store.
More about Chef Jernard Wells: Along with hosting New Soul Kitchen and New Soul Kitchen Remix on CLEO TV, he is a contributor on The Best Things I Ever Ate on Cooking Channel and Food Fantasies on Oprah Winfrey Network. Wells has worked with Tyler Perry, NBA Allstar Brandon Ingram, Paula Deen, and BBD, to name a few. The James Beard House Honored Chef has been featured on Today Show, PEOPLE, Home & Family, Daily Blast Live, Steve Harvey Morning Show, The Doctors, ESSENCE, and HLN. All six of his books and spices are available on HauteCuisine.store. Follow him on Instagram and all social media at @ChefJernard.