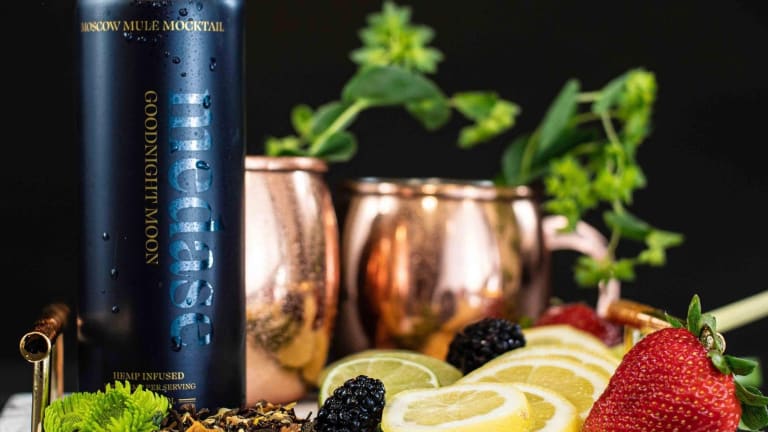 MEDASE Is the New Hemp-Infused Mocktail Filled with Gratitude
MEDASE's hemp-infused margarita and Moscow mule are dream mocktails that allow you to sip while reaping the benefits of CBD.
Entertainment law executive Inga Dyer and mergers and acquisitions executive Monica Cornitcher were challenged with finding an alternative drinking experience that was healthy, reminiscent of the flavors they had come to enjoy, and provided an elevated drinking experience. So, they created what is now known as MEDASE.
The MEDASE Hello Sunshine Mocktail Margarita ($32/four-pack) and the MEDASE Goodnight Moon Mocktail Moscow Mule ($32/four-pack) are all-natural, non-alcoholic, hemp-infused drinks. These plant-based options — sweetened with organic agave, gluten-free, GMO-free, soy-free, and low in calories — contain no artificial chemicals and are curated with the finest ingredients.
"Oftentimes we want the taste of a delicious cocktail without the alcohol," says Dyer and Cornitcher. "Our cocktails offer you the option of the great taste of a margarita or Moscow mule without the effects of alcohol."
The pair knew exactly the type of hemp-infused drink they wanted to produce but needed help to bring it to fruition, which required more than a vision. So when the time arrived to develop their formulation, they were fortunate to connect with another Black woman to create the perfect mix — food scientist and beverage consultant Patrice Newsome. She worked tirelessly with Cornitcher and Dyer for almost a year to curate the perfect mocktail.
"Formulating CBD mocktails with the MEDASE team was an intriguing challenge" says Newsome. "The mocktail space, like CBD, is still new to consumers and scientists. Getting the formula right isn't the easiest but it is fun. I'm so glad to have contributed to this product."
Dyer adds, "Products containing CBD are believed to be useful in treating conditions such as chronic pain, inflammation, migraines, epilepsy, autoimmune diseases, depression, and anxiety. So, you can have your drink and feel its benefits too."
For a distinctly delicious mocktail that elevates the mind, body, and spirit, we say MEDASE.
For premium ingredients lovingly sourced from the earth, we say MEDASE.
For the journey and the celebration of a beautiful life, we say MEDASE.
For simple delights and magical moments, we say MEDASE.
For tribes that share our vibe, we say MEDASE.
MEDASE means ... thank you!