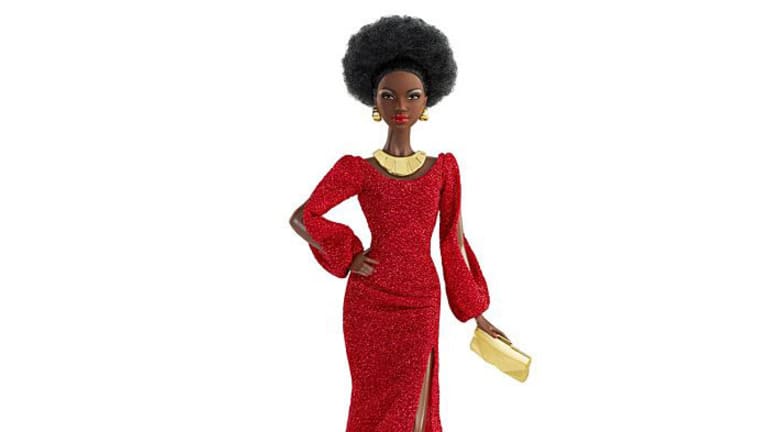 Mattel Releases 40th Anniversary Tribute to Black Barbie Doll
Doll designers Kitty Black Perkins and Bill Greening discuss the original Black Barbie Doll and the 2020 tribute doll.
Mattel, the toy giant that likely played an important role in your childhood, has released a tribute doll to celebrate the 40th anniversary of the release of Black Barbie Doll.
There had been Black dolls in the Mattel line since the 1960s, but it wasn't until 1980 that one of the dolls was named "Barbie." Previously, those Mattel dolls with their melanin popping were just friends of Barbie, like Christie and Francie. The Black Barbie Doll was designed by Kitty Black Perkins, and four decades later, Bill Greening has designed the 40th Anniversary First Black Barbie Doll ($39.99) in honor of Perkins, who was his mentor and friend.
Today, Barbie dolls are available in a myriad of skin tones, hair textures, heights, and body types, but back in the day she was blue-eyed and blonde. Black Barbie Doll with her dark skin and curly Afro changed that, explained Perkins to Barbie Signature.
e a slim silhouette instead of the traditional ballgowns that we usually put the blonde doll in. I wanted her to reflect what the [B]lack culture was, and what was familiar to our [B]lack collectors and children that actually played with Barbie dolls."
She also revealed that she was heavily influenced by Diana Ross and the Supremes and their fashion. "I was just in awe of the way they dressed – the dignity, the fashion, and everything that they would wear was just special to me," said Perkins. In addition, she designed clothes for the doll that she would wear, "[I]f it's not something that I would wear, then I don't think it would be something the children would like, and something the Afro-American parents would embrace."
Before Barbie, of any hue, there were only baby dolls available to girls for play, but Barbie offered imagination and play that wasn't centered around nurturing. Barbie changed the way girls played, and so did Black Barbie.
Perkins explained to Barbie Signature, "I had no idea it was going to be as groundbreaking as it is now, but if you look at the history of Barbie, the reason Barbie is number one is because she was the very first of her kind. When we did Black Barbie, she too became the very first of her kind."
The 40th Anniversary First Black Barbie Doll is Greening's homage to the original Black Barbie. She "wears a flowing, red trumpet-styled gown with cut-away sleeves" and "a sophisticated up-do." Her look is finished off with red "strapped" sandals, golden hoop earrings, a necklace, and a matching clutch.
In 2010, Mattel released a reproduction of the 1980 Black Barbie Doll as part of the My Favorite Barbie series and in celebration of the doll's 30th anniversary.
"We didn't want to do another reproduction, since we had already been there and done that," said Greening to Barbie Signature. "So it felt like this was a good time to pay tribute to the original design but with an updated look to it. And we wanted to make sure that the key elements of the original Black Barbie were in the new design, paying homage to Kitty's original design inspiration."
The 40th Anniversary First Black Barbie Doll will likely be embraced by collectors as the original was accepted by parents, children, and collectors.
"I just have to tell you how happy and pleased I am about the doll," said Perkins. "I was really, really wanting it to be a doll that parents could be proud of, and their daughters and their sons or whoever wanted to play with the doll. I wanted that to be something that would give them some pleasure."
She continued, "Every time I talk to a collector – and when I designed a doll I wasn't really trying to make it a collectible item – the collectors have just embraced it, and I've been asked to speak at different functions because of the doll. And I tell you, I had no idea of the gravity that this doll would bring. I'm just so, so pleased and so elated."
Not only did Black Barbie "raise the bar on Black dolls," but she also ushered in the opportunity to do other skin tones at Mattel, according to Perkins.
"[T]hat's when the opportunity opened to do the different skin colors, the different hair textures, just a different play pattern all together," explained Perkins. "She could do anything. She was a rock star and all of that. I feel that was an influence on how we do our [B]lack Barbie dolls now, and how we're now making Barbie dolls that have different sizes and shapes and it's not all just one figure. I think that's a good thing, because children can look at the doll and choose the one that is more like themselves, and they understand that. I think it's easier to play with a doll that way."