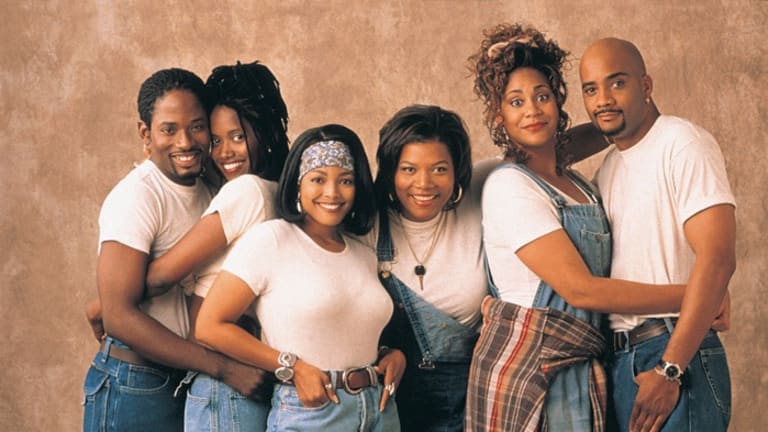 'Living Single' Cast Reunites for 25th Anniversary of the Impactful, Hit Series
TVOne is planning a mega celebration for the silver anniversary of the still-relevant hit show Living Single.
One of the most tragic things I've come to realize about my childhood is that many of the television series I loved don't translate well in the 21st Century. Living Single, however, is still quite entertaining 25 years later fortunately.
I've tuned into both The Cosby Show (pre-trial and conviction) and A Different World and was not entertained, even though I loved these shows (especially the Lisa Bonet years) when I was younger. And I don't think it's an age thing because I love watching Grown-ish despite having earned my degrees years ago. Instead, these shows and many from the 1980s and '90s don't resonate in today's world. Living Single is different.
I tuned into the series starring Queen Latifah, Kim Coles, Kim Fields, TC Carson, John Hinton, and Erika Alexander last week on Hulu. I began with episode one, expecting to doze off in boredom. But the show is still comedic gold, and I was too busy laughing to sleep. I also enjoyed seeing all the fashion these dynamic women partook because the '90s are back in vogue. Also, I can totally relate to them as New Yorkers. In 2018, we're still worried about gentrification, building a career, living our dreams, and finding love.
That's why I'm excited to share that TVOne is celebrating Living Single's silver anniversary with a mega marathon kicking off tomorrow, Friday, Aug. 24th at 7 p.m. EST and ending on Sunday, Aug. 26th at 5 a.m. EST. The marathon will begin and end with the pilot and series finale, all 118 episodes in sequential order.
To tease the marathon, the network caught up with Fields who played Regine, Coles who played Synclaire, TC Carson who played Kyle, and John Hinton who played everyone's favorite handyman, Overton. They discussed the show's anniversary and whether a reboot is in the works. And Fields opened up about how important it is for a cast to have chemistry. Check out the videos below.
Living SingleTurns 25: Is A Reboot Coming?
Kim Fields Says Casts Chemistry Is "Lighting In A Bottle"