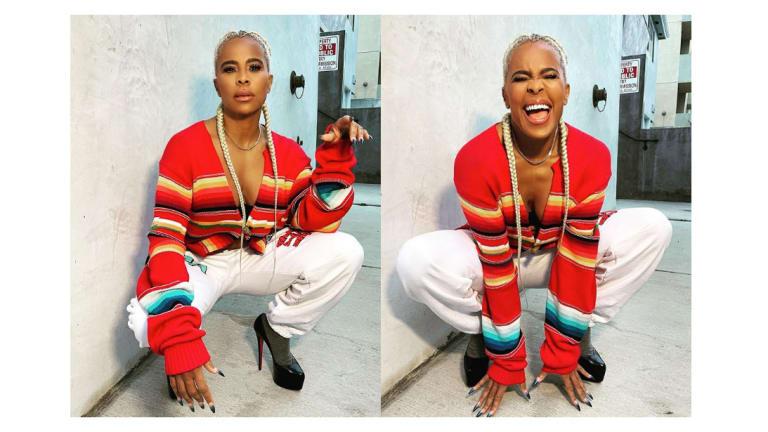 Heard on the Street: Laurieann Gibson Explains the Power Behind 'Boomkack' Catchphrase
Choreographer and creative director Laurieann Gibson says her "boomkack" catchphrase is a mantra she's used throughout her career.
"I always wanted to be dance and I always wanted people to feel something when they thought of me. That's what motivates me. So, boomkack. It's a feeling. It's your heart and your soul connecting. It's your 'why.' Boomkack. When that 'thing' is telling you that you can't, it's a feeling. It's 'fight back.' It's you becoming the best version of yourself because sometimes you wake up and your thoughts are like, 'I can't do this. I'm fooling myself. She's better than me.' And you just gotta be like, 'Boomkack on that sh-t! What I'm gonna do is tell that thought to leave this arena immediately because it's trying to take me down.' It's the inspiration for changing the narrative. When I wake up and I'm like, 'Oh my God … Why don't people know what I am? Why is it so difficult for people to understand?' And I'm like, 'Boomkack! Imma just keep rolling. Imma just keep pressing. Here we go. From the top! Back to the studio!' I talk to myself like that because I refuse to let that thought be the reason I didn't chase my dreams."
— Laurieann Gibson, the Emmy-nominated creative director and choreographer behind some of your favorite acts, reveals the power behind her "boomkack" catchphrase, in an interview with MadameNoire to promote her new book Dance Your Dance: 8 Steps to Unleash Your Passion and Live Your Dream. Those who've watched Gibson on shows like Making the Band might assume that "boomkack" is simply a way for dancers to emphasize the final beat in an 8-count. However, Gibson says her signature phrase is much more than that and has become her mantra, a rallying cry and force. And if you're wondering, she says she's trademarked "boomkack" or is looking into doing so. Gibson also divulged that she recently sold a scripted series based on her life. But this isn't the first time Hollywood has looked to Gibson for inspiration. The film Honey, starring Jessica Alba, was based on her early career. Gibson appeared in the movie and choreographed it, and told MadameNoire that teaching Alba the moves was "challenging, beyond comprehension." In the rest of the interview, Gibson discusses how her faith impacted her career and her motivational book Dance Your Dance, which she co-wrote with Mark Dagostino and is available now.