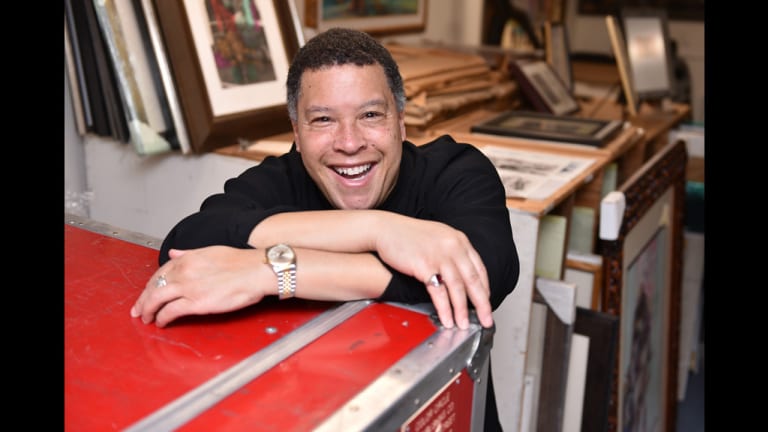 Karl McLaurin: The Great Connector
After three decades as a marketing, political, and corporate strategist, Karl McLaurin sets his sights on the art world.
Written by Tiffany Parrish
Spend 15 minutes with Karl McLaurin and you realize that he's an indefatigable people person. While friends refer to the Brooklyn-born, Boston-raised networker as the unofficial mayor of Martha's Vineyard, clients describe him as a killer businessman with an authentic creative spirit. This made him a natural fit for former Massachusetts Governor Deval Patrick's administration, where McLaurin served as director of marketing, and was known for his unique ability to create buzz-generating, community-based partnerships between the public and private sectors.
"With a nationwide roster of A-list professional and personal contacts, Karl connects the right people with each other or with the right organizations," says one California-based client. "Whether it's for business or just to help a friend, that's Karl. It's what he does."
True to form, McLaurin thought of an idea while lounging in the Boston studio of good friend and critically-acclaimed artist Paul Goodnight, whose clients include Samuel L. Jackson, Lionel Richie, and Hill Harper. McLaurin's company Oak Hill Consulting Partners would expand its focus to include representing artists whose work he loves — ranging from Goodnight to urban muralist Percy Fortini-Wright and contemporary painter Larry Pierce. Thanks to the prompting of Goodnight, McLaurin is now marrying his decades of marketing experience with his love of art. In addition to selling his favorite artists' work on OakHillConsultingPartners.com, McLaurin specializes in unique projects, events, and collaborations. Art enthusiasts and those in-the-know are now quick to call McLaurin, often for one of three things: They are seeking diverse artists on the rise to round out their personal or corporate collections; want to commission a contemporary artist to create a specific, often large-scale mural or installation; or are hosting a private event at or tour of an artist's studio.
What began as a passion project is now a burgeoning business, serving as a lesson to us all: Follow your heart and success will come.
For more information and upcoming events, go to OakHillConsultingPartners.com.
​