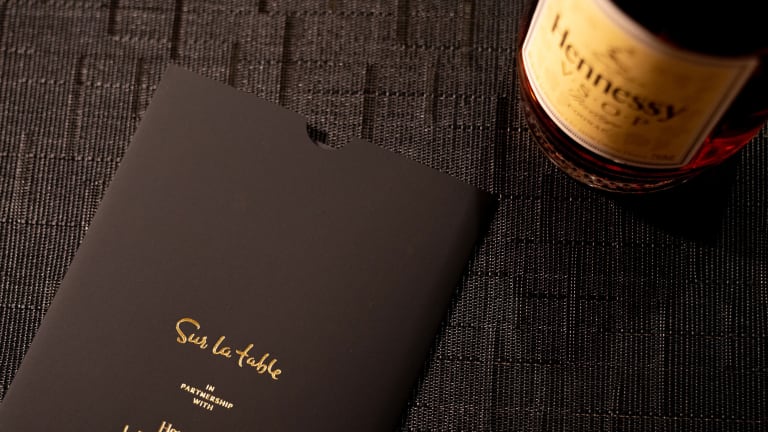 It's Time to Embark on Hennessy's Le Voyage X Sur La Table
Le Voyage X Sur La Table, a VIP cognac pairing master class, will embark to several cities across the United States.
If you're the type of person who not only enjoys a glass of the brown and a delicious meal, but also wants to be educated on why you're enjoying a particular pairing, then Hennessy Cognac's Le Voyage X Sur La Table is for you.
For 2019, Hennessy partnered with Sur La Table to take its Le Voyage, the world-renowned cognac maker's Consumer Education Program, to another level by offering a masterclass in cocktail making and food pairing, at one of Sur La Table's more than 80 instructional kitchens. (Yes, the store that sells every and anything you may want for your kitchen is also the "largest non-professional cooking school in the U.S.," offering a range of classes from baking French bread and making homemade pasta.)
Guests will explore Hennessy's rich history, superior craftsmanship, and savoir-faire (or finesse in cognac-making) for which the brand is known, by tasting and discussing Hennessy V.S.O.P Privilège, the cognac inspired by one the brand created at the request of the future King of England (wish it a happy 200th birthday!), and Hennessy X.O, the first "extra old" cognac that was created by Master Blender Maurice Hennessy in 1870. In addition, attendees will craft classic cocktails like the French 75, Sazerac, and Sidecar. You're probably not aware, but Hennessy has strong ties to American cocktail history and culture, as it was the original base spirit in the cocktails above. And that's just a taste of the vast and fascinating history guests will learn from Hennessy's team of mixologists and brand ambassadors as they embark on Le Voyage.
Each class begins with a pre-prepared starter and a Hennessy mixologist leading participants in a hands-on tutorial in making a cognac cocktail, while exploring the tasting notes of V.S.O.P Privilège and X.O. During a recent preview, guests were treated to creamy truffle risotto while crafting a French 75, which was a wonderful pairing because the effervescence and refreshing quality of the cocktail cut through the creaminess and decadence of the risotto.
For the main course, a Sur La Table chef takes over the presentation and invites consumers into the kitchen to prepare their entree, gnocchi with butternut squash, pancetta, and sage. (Yes, vegetarian is available.) The entree is also paired with a cocktail, perhaps a Sazerac, that guests mix themselves while learning why the entree and the cocktail are a good match. Since no meal is complete without dessert, the Sur La Table staff prepares salted caramel créme brûlée to pair with X.O on a rock — a very beautiful, crystal clear rock you'll regret not noticing.
Now, if you're unfamiliar with Hennessy X.O, you might be wondering why it's not used as the base for another cocktail during Le Voyage, and the answer is that it's enough on its own. Think of X.O as a liquid oxymoron: It's "smooth yet complex, delicate but strong, [and] bold yet subtle."
Hennessy Le Voyage X Sur La Table will be offered at select locations, including but not limited to New York; Miami; and Atlanta, through January 2020. Log on here to book your "ticket" to Le Voyage.