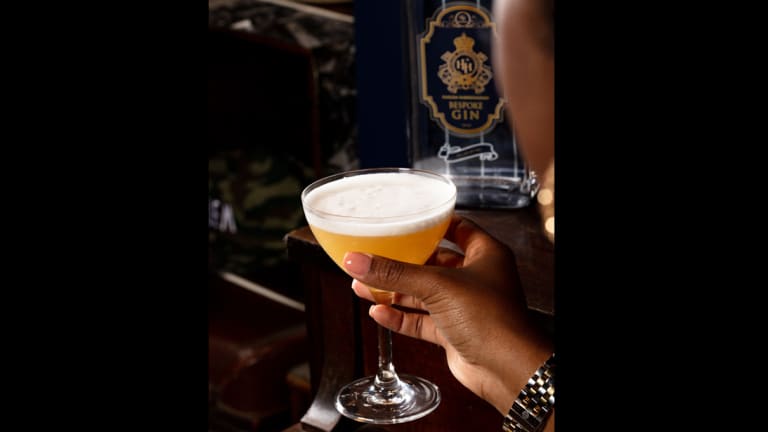 Introducing the Black-Owned HH Bespoke Spirits
The taste of Harlem's own HH Bespoke Spirits holds up well whether it's mixed into a cocktail or served on the rocks.
By Malcolm Rashaad Banks
Sharene Wood took her decades-long experience and success with custom fashion design and styling brand 5001 Flavors and the boutique Harlem Haberdashery and entered the spirits industry with HH Bespoke Spirits. It should come as no surprise, then, that HH Bespoke Spirits has also enjoyed prosperity. Let's get to know Woods and the Harlem-based liquor brand.
HH Bespoke Spirits has rum, gin, and vodka in its portfolio. The taste of each liquor holds up strongly, and each spirit mixes well for a classic cocktail yet is exceptional on the rocks. Its presentation has also helped to make HH Bespoke Spirits one of the most memorable and stylish on the market. And yes, we meant "stylish." The presentation even captures the attention of non-drinkers as the bottles lend themselves well to home decor. Wood aims for decades of success with HH Bespoke Spirits, and the combination of quality, presentation, and consumer dedication already makes it a winner.
UPTOWN spoke with Wood about her entrepreneurial experience, owning the former home of Malcolm X, why she and the Harlem Haberdashery family decided to launch HH BeSpoke Spirits, how fashion influences the liquor brand, and more.
Where did the idea for HH Bespoke Spirits originate? Please share some of your history with us.
Sharene Wood: In 1992, my husband and I started a custom clothing company called 5001 Flavors, which is still in existence today as a custom clothing company that makes and designs custom clothes for artists, entertainers, and various personalities in the entertainment industry. I started working with Uptown Records. Heavy D and The Boyz was one of our first album covers. So we've worked with who's who in the last 29 years. We're about to celebrate our 30th year in business next year. Still very current, working with DJ Khaled, Daddy Yankee, and Lady Gaga. We started, and I want to say in fashion. It's a consulting business, so it's not exactly fashion but more service, fashion, entertainment, and sports. Roughly 10 years ago, we decided that we wanted to branch out from beyond the exclusive realm, like dealing with celebrities, and realize our customer base has grown into people who are not celebrities but want to have their red carpet moment. So Harlem Haberdashery was born. It's an actual retail space, a brick and mortar at 245 Lenox Ave, allowing us to have the same design sensibility in a retail space. We have small production runs, but we still dress our clients like our celebrity clients. We knew we wanted to be a lifestyle brand at Harlem Haberdashery and expand beyond retail to have our goods in other stores and international distribution, and different wholesale markets. We were trying to figure out the categories that encompass Harlem Haberdashery and that brand aesthetic that we set up. We brought in multiple generations of our family now that they're older. We have one hundred percent of in-house house and family designs in the store. We don't carry a lot of other designers. For us, clothes were a category we wanted to expand. Still, because we had a brand aesthetic and had a specific look at Harlem Haberdashery, we knew that we could grow into home, beauty, and furniture. It was a lifestyle brand we were building, and it just so happened that the first category that took off was the Spirit brand. HH BeSpoke Spirits and Beverages is a brand expansion of Harlem Haberdashery, a great expansion of 5001 Flavors. We do bill it as created by the designers of 5001 Flavors and Harlem Haberdashery. It's about building a transferable legacy of wealth and business opportunity. We are family-run and operate all of our businesses and work together to promote what we call the parent brands. My brother has his brand; my son has his brand. It's about a fashion collective that we're building at Harlem Haberdashery, and we all work to promote the spirit brand because we have a lovely picture of the family here. It's still an opportunity for us to talk about our lifestyle brand. The bottles have a heavy fashion influence between the colorway and the background. We wanted to create a personality for each product. You can see that there's a fashion swatch feel when you look at the back of the bottle. Even if you don't drink, you can see the bottle from a fashion standpoint and appreciate it. We've gotten awards because of this distinction. We take great pride in that esthetic that we carried over from Harlem Haberdashery. HH BeSpoke Spirits is just playing on our love for Harlem. The same principles that we love at Harlem Haberdashery we emphasize here: tradition, family legacy, and heritage.
You own the former house of Malcolm X. That's fascinating in so many ways. Can you explain how that came to be?
Sharene Wood: 245 Lenox is a building that I always walked past over the years. I grew up in Harlem, so I'm very familiar with the area. It was vacant for years, and a tree ran from the basement to the roof. So I'd watch that building deteriorate, come back to life, get designated as a landmark, and get redone. It's really beautiful. So it was the perfect place for us to start our business. I didn't realize it was the home of Malcolm X previously, but after research and talking to the landlord, it was part of its landmark designation. We are from Harlem and had a working space around the corner in a family brownstone for 5001 Flavors. When I knew that we wanted to expand into a retail brick and mortar, I knew I wanted to stay in Harlem, and I knew I wanted to be on Lenox. For me, it had so many great memories. So it was significant for my husband and me to be here. We're very proud of our former residents and being in this location.
What makes HH Bespoke Spirits unique?
Sharene Wood: My family and I worked with our manufacturer to create three products, rum, gin, and vodka. We did three products because we wanted to have enough products to make most of the classic cocktails for our drink program. We worked with the manufacturer to identify a taste profile. The gin has many specific products to the northeast, including peach plum, rosehip, cranberries, and is delicious. The rum is a young-aged amber rum, has a double-barreled aging process in New American Oak and then once-used Bourbon barrels that create a tremendous double profile. The vodka works excellent in all classic cocktails. Our goal was to start at a place where we can go into the market with three products that we were proud to sell separately and together. Most retailers carry all three products and promote them as a collection, just like our fashion collection. They look great on the shelves by themselves, but they work very well independently. So we have many people gifting them, even though they say they don't drink or the gift recipient doesn't drink, but they're so fantastic and look great on any bar. So we're proud to sell them, together or individually.
What's your favorite cocktail to mix using the portfolio?
Sharene Wood: Surprisingly, my favorite drink might just be the gin and tonic. I love our gin, and I never like gin separately. I always like it in a mixed cocktail. But my favorite drink is gin and ginger beer. I love it so much. I wouldn't say I like a lot of complicated ingredients. I love to taste the product. I love a lot of our products just on the rocks, not mixed, so I can really taste them. I would say gin and tonic or gin and ginger beer are my favorites.
Do you plan on expanding beyond rum, gin, and vodka?
Sharene Wood: I would love to expand, but I think for us, after three years in the industry, we have to strategize more and increase our network and distribution before we can expand to another product. I would love to say that I knew as much as I did about the industry when I joined. I think if I had known what I know now, it probably would have been an industry I did not enter. It's a whole different industry as a completely different set of industry professionals you have to deal with consistently. It's a different distribution change than fashion. Especially for Black spirit makers, there's not much access to capital and resources and strategic partnerships, so it's tough. But that never stopped me and never stopped the people before me. And so, I didn't know what a challenge it would be. I just know that I love the product. I know that I stood behind it. I know that we're committed to quality and being consistent. So I knew there was a customer out there. It's just that I had to get to the customer. I didn't realize that the industry is controlled very heavily by larger companies and their budgets. Small makers have a hard time competing with that. There's not a lot of brown and Black people in the industry. So it's a hard sell all the time. So not only do you have a great product, you have to have great contacts and great strategic partners. That's what I'm learning is the obstacle. But we're happy to be here and happy to keep working. I just wish we had a little bit of a push, but I'm proud of the words that we got. We are critically acclaimed, and we have awards and great customers. We're always looking to increase our retail retailers, get into more national chains. We would love to get into the hospitality space with casinos. We are a certified minority business. So we're looking to get into businesses that want to work with different certified minority certified businesses. And we're looking to increase that supply chain opportunity. We are looking to scale up and get into other areas and various venues, casinos, etc.
What's it like being a Black woman owner of a spirit brand and building a company in this industry?
Sharene Wood: It's challenging, it's difficult, and the obstacles that we have to overcome are challenging, but we're here, and we're stepping over them every day.
Where do you see the company five, 10, or 15 years?
Sharene Wood: I would love to see HH BeSpoke Spirits in every major city, state, venue, and international presence. I would love to know that we have scaled into every market possible. I would love to say that we have more products. We have expanded to the beverages portion of our name because we have brought a bottled Alkaline water product named Marvelous Waters into our portfolio. A family member had the water and was already in the market, so we partnered up, and now that's part of our portfolio. These are all products that we know that our consumers need, love, and consume. We want to be in every major category where our consumers are.