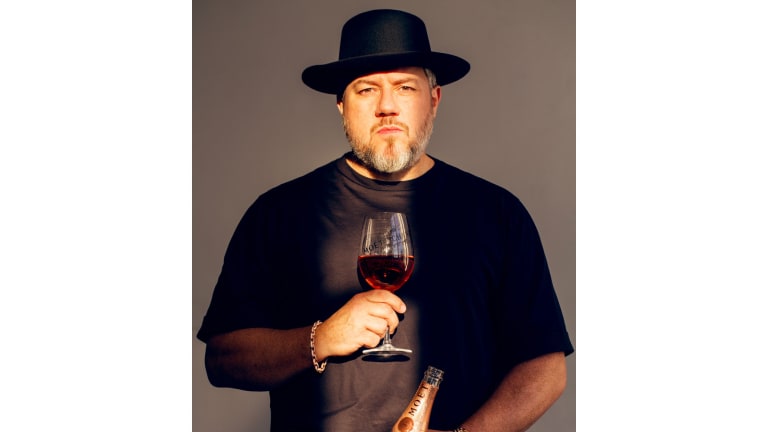 Introducing Moët & Chandon's Nectar of the Culture Partnership
Through their partnership, photog Jonathan Mannion will help Moët highlight the next generation of pioneers in culture.
On Oct. 15th, Moët & Chandon announced its partnership with iconic cultural photographer Jonathan Mannion and launched their collaboration project Nectar of the Culture. The new annual brand program aims to celebrate "the people, places, and moments that push culture forward."
If you're unfamiliar with Mannion's name, you're certainly familiar with his work. He is considered a "singular sensation in Hip-Hop," having documented the "Golden Era" of Hip-Hop through editorials for Vibe, Complex, and The Fader; advertisements for Beats by Dre, Cadillac, and Hennessy; and more than 300 album covers featuring Jay-Z, Aaliyah, DJ Khaled, and more. Mannion has photographed over 500 of the most important rappers, actors, athletes, artists, designers, and inspirers of his era. He definitely has his finger on the pulse of the culture, and will work with Moët & Chandon to highlight the next generation, affectionately dubbed the "Rose Gold Era," of tastemakers, pioneers who are changing the game in their respective fields — music, fashion, innovation, entrepreneurship, and community outreach — and helping to shape the culture that will then impact the next generation.
Nectar of the Culture will celebrate pioneers in key cities across the nation, including Chicago, Atlanta, Miami, Los Angeles, and New York. Speaking of the Big Apple, Mannion turned his lens first on Queens-born fashion designer LaQuan Smith to document his legacy with a new portrait In addition, Moët & Chandon will celebrate the pioneers with events in their honor.
To celebrate the partnership with Mannion and the Nectar of the Culture, Moët & Chandon has released limited-edition, custom-designed bottle of Moët & Chandon Nectar Impérial Rosé ($59.99), the U.S.'s top-selling rosé champagne. This bottle is fully rose gold, but the "demi-sec champagne renowned for its radiant color, intense fruitiness, and seductive palate" inside will continue to delight fans. The bottle is available at select retail locations nationwide and on Clos19.com.
"I've had the privilege of capturing pioneers during the Golden Era of Hip-Hop who are now known as industry legends," said Mannion, in press materials. "I've seen first-hand how Moët & Chandon has been an iconic symbol in the culture. We honor this lineage from then to now with a new class of creative thinkers, in what I like to think of as the Rose Gold Era. With Moët, I raise my glass to the next generation of visionaries who define it."