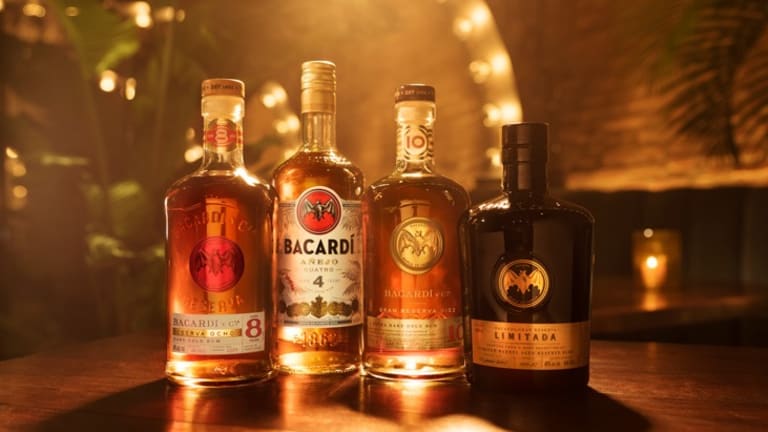 Introducing Bacardi's Impressive Premium Rum Portfolio
Bacardi is changing the image of rum and introducing consumers to the more complex, sophisticated side of rum.
Luxury is a trend that has been sweeping the spirits industry with enthusiasts trading up for more premium and exceptional experiences. We've seen it with cognac and whiskey, and now Bacardi is getting into the game, offering four premium rums. Yes, that sounds like an oxymoron because most people can't get past the idea of rum being mixed in tropical drinks, but Bacardi is changing the image of rum and introducing consumers to the more complex, sophisticated side of rum.
"Bacardi remains a family brand and as pioneers in the rum industry for generations, we not only have the ingredients, history and heritage to usher in the new wave of premium rums – we have a responsibility to do so." said Ned Duggan, vice president, brand managing director for BACARDÍrum, in a press statement. "Sharing the passion and craftsmanship behind our products is deeply personal and we're excited to be able to share the versatility and enjoyabilityof our new premium rums with consumers."
You're likely already familiar with BacardiReserva Limitada and Reserva Ocho, a private family blend that recently underwent a redesign and repackaging. BacardiAñejo Cuatro and BacardiGran Reserva Diez were recently launched as part of the new premium portfolio. Here's how Bacardi describes the differences between the four rums:
BacardiAñejo Cuatro ($19.99): Barrel-aged for a minimum of four years, making it ideal for elevated cocktails such as ElPresidente and Cuatro Mismo. Bacardi Añejo Cuatro has a beautiful golden apricot hue and boasts notes of mild vanilla, toasted oak, clove, and honey. Its profile is driven by oak contribution and highlights the smoothness throughout the aging process.
BacardiReserva Ocho ($29.99): Based-off of the original recipe from the family reserve created in 1862, Bacardi Reserva Ocho is barrel-aged for a minimum of eight years with a rich, velvety body, best enjoyed neat/on the rocks or in an Ocho Old Fashioned. Bacardi Reserva Ocho has a rich golden color and has warming notes of butterscotch, nutmeg, and dried apricots. The longer aging process sparks an additional layer of complex flavors from the barrel.
BacardiGran Reserva Diez ($39.99): A master blender's reserve barrel-aged for a minimum of 10 years and best served neat or on the rocks. Bacardi Gran Reserva Diez has a dark golden hue and boasts bright notes of banana, pear, and tropical melon balanced with caramelized vanilla and oak.
BacardiGran Reserva Limitada ($100): An extremely rare, limited release, which is barrel-aged for an average of 12 years for a rich and expressive taste that is best enjoyed neat.
Each one of Bacardi's premium rums, which are aged between four and 12 years, fits into any spirits enthusiast's lifestyle. The Añejo Cuatro works in a large-batch of cocktails or punch for a BBQor beach outing. The Bacardi Reserva Ocho has lounging with a cocktail written all over it. And both Bacardi Gran Reserva Diez and Gran Reserva Limitada go hand-in-hand with a cigar.