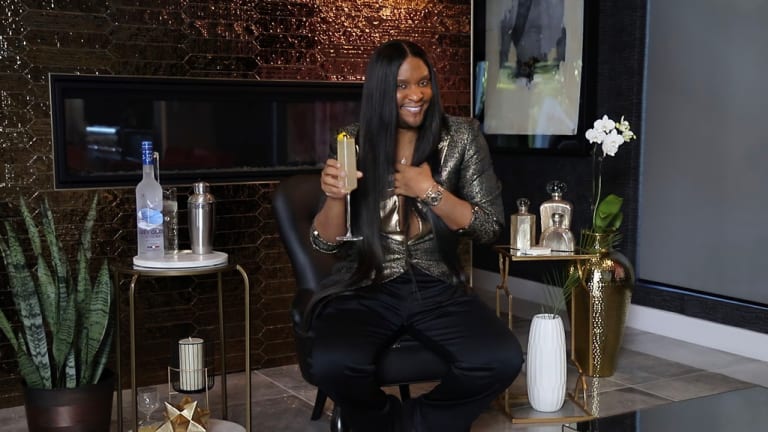 'Image Architect' Law Roach Roasts 2020 in 'Grey Goose Holiday Best' [RECIPE]
Watch celebrity stylist Law Roach roast 2020 and toast 2021 with a signature Grey Goose cocktail.
While toasting to 2021 with a Grey Goose cocktail, celebrity stylist Law Roach also roasted 2020 during "Grey Goose Holiday Best" series.
The "image architect" and host of HBO's Legendary, who has crafted the styles of Zendaya, Kerry Washington, and others within Hollywood's elite, pokes fun at the U.S. election and laments not being able to attend the canceled Met Gala and any vogue balls with friends in 2020. In addition, Law gave the "Holiday Best" viewers a preview of his New Year's Eve look and shared that he'd be rocking a vintage tuxedo sans shirt and shoes because, he says, "2020 has taught us not to care." Watch the video above and here.
The 2020 Roastmaster welcomed 2021 with the signature drink of the evening, the Grey Goose Sparks Fly. Peep the recipe:
Grey Goose Sparks Fly
Ingredients:
1 oz. Grey Goose Vodka
1/2 oz. St-Germain Elderflower Liqueur
1/4 oz. Lemon juice
2 oz. Champagne
Garnish: Edible flowers
Method: Fill a cocktail shaker filled with ice and add Grey Goose Vodka, St-Germain, and lemon juice. Shake well and strain into a champagne glass. Top with chilled champagne and garnish with edible flowers.
"Grey Goose Holiday Best" series was launched to help viewers make the most of the unusual holiday season 2020 ushered in, by reimagining traditions and creating new ones — with Grey Goose on the bar cart and in the glass, of course. The series launched with Jay Ellis of Insecure recreating his mother's chicken and dumplings dish. The second episode featured another Insecure darling, Emmy-nominated comedian and actor Yvonne Orji, who got into the holiday spirit — hilariously, of course — with a gift from Santa.
Last year was certainly one we'll never forget, but fortunately, we had Law, Ellis, Orji, and Grey Goose to make sparks fly.