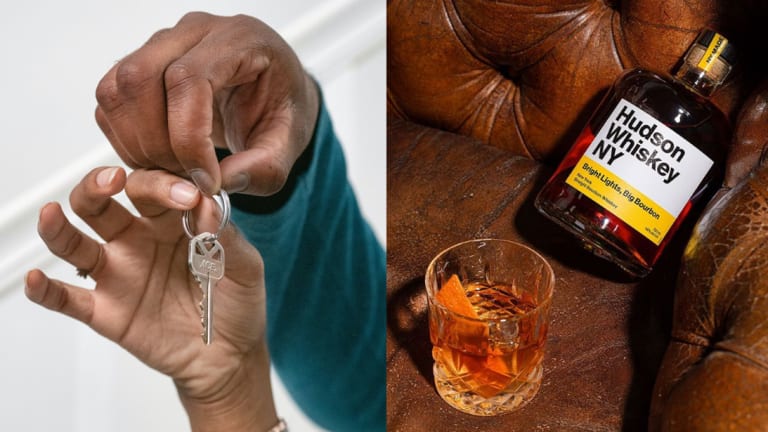 Hudson Whiskey Is a Roommate That Pays the Rent on Time & Spreads Good Cheer
Hudson Whiskey is hosting a contest to pay half the rent of five fans for an entire year, and all you have to do to enter is share an awful roommate story.
Bet you never thought your horrible roommate experience could get your rent paid? But I'm here to tell you it can, thanks to Hudson Whiskey, the first distillery to open in New York since prohibition.
To celebrate its new whiskey offerings, new packaging inspired by the NYC subway system, and distribution outside of New York State, Hudson Whiskey is ready to move into your apartment with a rent check in hand and be the best, matured roommate ever. All you have to do is share a past or present roommate horror story on Instagram or Twitter, using #HudsonRoomies, #Contest, and # your state abbreviation (ex: #NY) for a chance to win. (Full terms and conditions may be found here.) Hudson Whiskey will award five fans half of the average rent of a one-bedroom apartment in their city, according to calculations by Rentdata.com, for an entire year. Residents of all 50 states and Washington, DC are eligible for the contest that extends from June 2 to June 23.
"We're so excited to continue our national expansion, bringing fans across the country a whiskey as bold as the state it hails from," said Paul Coffey, senior brand manager of Hudson Whiskey, in a release. "Hudson Whiskey is New York attitude distilled, so as a resident, the brand feels your pain when that city lifestyle bites back! For five fans nationwide we're ready to help ... in the form of a rent check and whiskey, of course."
Along with paying half of the rent, the new roommate will also spread good cheer through its ever-evolving portfolio that includes Bright Lights, Big Bourbon and Do The Rye Thing. There's also fan favorite Short Stack, a rye whiskey finished in maple syrup casks, and Back Room Deal, a one-time limited-edition whiskey finished in peated Scotch barrels. You really can't go wrong with any of Hudson Whiskey's bold spirits.
Not having to worry about paying all your rent will certainly bring some peace of mind. Plus, the extra support could help you save money for a dream vacation or downpayment on a home, so you can stop being one of the 79 million adults across the country who currently share a living space.
Up until today, I thought my sole roommate experience of sharing a dorm with an 18-year-old woman who dropped acid, used the word "mulatto" to describe a biracial person, didn't bathe regularly, kept her space messy, let her 28-year-old boyfriend visit every weekend, and put the empty lemonade pitcher back in the fridge was just a life lesson. Learn more about Hudson Whiskey's search for a roommate by visiting the @HudsonWhiskey Instagram.