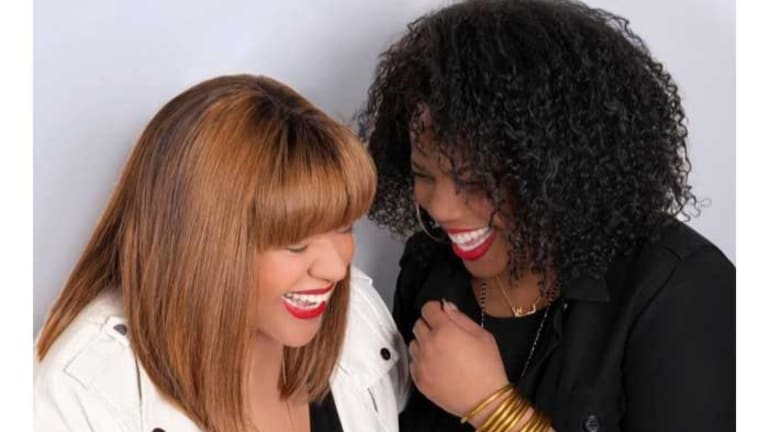 How Two Best Friends Are Changing the Cancer Conversation
Media veterans Michelle James and Danielle Brown are flipping the script on the cancer narrative with their new podcast.
By Corynne L. Corbett
How do you talk to your friends about cancer? Whether you are the patient, family member, or friend there can be so much silence, awkwardness, and fear associated with the disease. But what if you could not only find a way to talk but also laugh? That's what Michelle "MJ" James and Danielle "Dani" Brown, media veterans who have each spent two decades creating opportunities to empower and entertain Black women, hope to do by flipping the script on the cancer narrative. MJ and Dani met when they both worked at ESSENCE and quickly became best friends. Now they will use their new weekly podcast Cocktails and Cancer, which launched March 13th, to uplift, inspire, and educate others.
In 2015, MJ was inducted into an unexpected sisterhood when she received a diagnosis of breast cancer at the age of 40. She joined more than 30,000 Black women who were also diagnosed with the disease that year. She was reaching new heights in her career and wasn't going to let the stigmas associated with the "big C" impact the way she handled her business. In fact, MJ was at a business retreat when she received the news. The first thing she did was call her mom, doctor, and closest friends, including Dani who had intimate knowledge of cancer, having lost her beloved great aunt Gloria to the disease. MJ, Dani, and her team of loved ones vowed to fight.
MJ decided to approach her disease and treatment with the same passion she has always had for her life, and that included laughing through her chemo sessions. "Having a close circle of friends with me during chemo meant everything to me," she says. "They kept me laughing for six months. It was like a party in my chemo area. We would talk so much shit that the patients close by would [also] laugh and some would even pass by and say 'sounds like a lot of fun!' That was the vibe. We got this, not just I got this." It was also important for MJ to find ways to continue to feel like herself during treatment so after doing so research, she asked her oncologist, "Can I have a cocktail while having chemotherapy?" The answer was yes to one cocktail or glass a wine per week. So she chose a rose wine spritzer with a splash of tequila and lemon zest for her first drink and those weekly drinks helped ease some of the stress.
Now MJ and Dani are launching Cocktails and Cancer to help Black women have real conversations about the disease. They'll not only talk about their experiences, but also those of others including some celebrities, approaching their discussion with the realness that comes with sister-friends, so there will be laughter, tears, a whole lot of loving truths, and of course, a few cocktails. "The stigma that I want to eliminate most is that having cancer is nothing to be ashamed of, it's a mutated gene, basically genes acting up," MJ says. "A cancer diagnosis is not a death sentence, and younger women being diagnosed [with breast cancer] at increasingly alarming rates. It's not a 50+ years old disease." But the realities are also important, namely that Black women are more likely to die from a breast cancer diagnosis than any other race. "That's got to stop. Until there is a cure, we have to lean in on self-care, go to the doctor, pay attention to pains, and not self-diagnose," MJ points out.
Dani wants those close to a cancer patient to gain a new perspective about how they can help. "We move so fast nowadays and I believe we are missing the joys of experiencing each other," she says. "We are literally busy being busy. Then you get a call that someone you know is sick or has passed away and you wish you had spent more time being in the moment and consciously connecting. Being present is powerful."
Ultimately, one of the goals of Cocktails and Cancer will be to share some of the valuable lessons they've learned along the way. "What has changed is my view of myself," MJ says. "I became stronger and appreciate my family and friends more. I don't take myself too seriously and it reminded me that my career is important to me, but it's not most important. The connection and relationships I have, experiences and special moments big and small are what I cherish most."
For Dani, watching her close friend handle a breast cancer diagnosis deepened her desire to live her life with compassion and urgency. "MJ reinforces my belief that in life we can get through the most challenging times with a strong faith and the vulnerability to confide in and lean on your team," says Dani. "The manner in which she has chosen to live and pull us, her friends and family in, has inspired me to be a more conscious and present friend to others and to myself."
The Cocktails and Cancer podcast could not have come at a better time, especially since last year the American College of Radiology and the Society of Breast Imaging have recommended that Black women be included among those groups considered high risk. It's time we talk about breast cancer, it may actually save our lives.