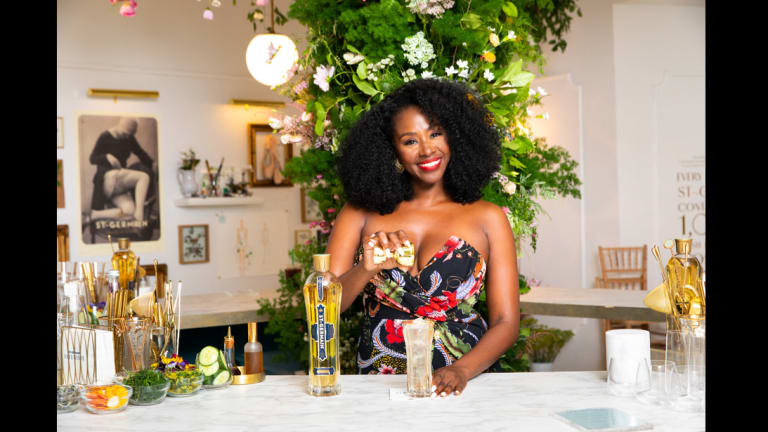 How to Mix Up Earlecia Richelle's Fleuriste St-Germain Cocktails
The Fleuriste St-Germain pop-up in New York's SoHo neighborhood wouldn't have been a success without Earlecia Richelle's mixology.
In an effort to allow New Yorkers to reconnect and spark imaginative conversations, St-Germain collaborated with Oscar de la Renta/MONSE fashion designer Laura Kim and American Ballet Theater dancer James Whiteside to create the Fleuriste St-Germain, a three-day pop-up florist and bar inspired by the French salons of the 1920s and '30s. The space located in the SoHo neighborhood was inviting and beautiful with its clean French aesthetic. While Whiteside's ballet performance and on-stage tete-a-tete with Kim provided an usual glimpse into their lives, one could also argue that Fleuriste St-Germain wouldn't have been as successful without the four St-Germain-based cocktails Earlecia Richelle created for the occasion.
Richelle is the national brand ambassador for St-Germain, and she was inspired by Kim, Whiteside, and the intention behind Fleuriste St-Germain to create four cocktails using the elderflower liqueur.
"I really researched what they like to drink, things that inspire them or colors, [and] who they are as people," said Richelle exclusively to UPTOWN. "So 'The Ballerino,' for example, is James's cocktail. And James is really irreverent and pushes boundaries, so I wanted to take that spirit and create something that really encapsulated who he was as a person. I took an old fashioned and a spritz — two cocktail that no one would ever think would go together — and I made a mishmash of those flavors, because his go-to cocktail is whiskey ginger. So I wanted to create something that was refreshing like a whiskey ginger, but also had this element of an aperitif cocktail. We top that with edible confetti, and that's that extra little you know, je ne sais quoi that only James can deliver, giving it vibrancy and life and movement."
The cocktails — the aforementioned "The Ballerino," "Laura Kim's Rosé Spritz," "The Fleurita," and "Spritz Up Your Spritz" — were as beautiful to look at as they were to taste, especially with the added flavors and visual appeal of the edible florals. Richelle says a cocktail should stimulate the other senses as well as tastebuds.
"A cocktail is not only something that you drink, but it's something that you smell and is aromatic," she explained. "It's something that you look at, that you hold. You're interacting with something, and so I think aesthetics is super important to help you set your palate to receive … I come from a fashion background, so for me aesthetics are king!"
St-Germain has shared Richelle's Fleuriste cocktails, but if the elderflower liqueur isn't your go-to spirit, Richelle has two suggestions to make it more approachable.
First, she suggests mixing a St-Germain spritz because she says it is "one of the best ways to really get a sense of what St. Germain can do in a cocktail."
She continued, "It's super light, super refreshing, and only has three ingredients so it's super easy to make. You can't really mess it up at home. So that's going to be St-Germain, sparkling water or club soda, and sparkling wine. You can use different kinds of sparkling wine, you can use champagne. You serve that over ice with a lemon twist, or your favorite citrus twist, or even edible flowers are fresher. And you have a beautiful aperitif cocktail."
The second way Richelle suggests trying St-Germain is to replace your usual spirit in a cocktail with the elderflower liqueur.
"My second way would be to take your favorite classic cocktail — think Margarita, old fashioned, a martini — and switch out whichever liquor that may be in a cocktail," explained Richelle. "For example, like a margarita, it would be tequila and using St-Germain [to replace Cointreau or triple sec]. It's super easy, and you get this beautiful, complex, dynamic cocktail that all your friends are going to be like, 'What is in this? You are the bomb!' And I think those are two super approachable ways."
If you weren't able to attend Fleuriste St-Germain, you can still bring the spirit of the pop-up to your home.
Laura Kim's Rosé Spritz
Ingredients:
1 oz St-Germain Elderflower Liqueur
2 ½ oz strawberry-infused rosé wine (infuse 4 cups of quartered strawberries into a 750 ml bottle of rosé wine for at least 3 hours, then double strain)
2 oz sparkling yuzu
Garnish: cherry blossom ice cubes
Method: Build ingredients over floral ice cubes in a wine glass.
The Ballerino
Ingredients:
1 oz Angel's Envy Bourbon
1 oz St-Germain Elderflower Liqueur
2 oz sparkling water
1 oz ginger-lemon kombucha
½ oz lemon juice
2 drops Bittercube Jamaican No 1 Bitters
Garnish: micro blossom confetti
Method: Build ingredients over pebbled ice in a Collins glass and add confetti garnish.
The Fleurita
Ingredients:
½ oz St-Germain Elderflower Liqueur
1 ½ oz Cazadores Blanco Tequila
1 oz clarified cucumber juice
½ oz orange blossom syrup (combine 1 cup of cane sugar and 1 cup water and gently heat until dissolved. Remove from the heat and add 2 tsp of orange blossom water)
¼ oz citric acid solution (whisk 10 ml or 2 tsp of citric acid - lemon or citrus juice - with 100 ml of water)
Spray of lavender bitters
Garnish: fennel pollen salt, edible flower bouquet
Method: Combine ingredients in a cocktail tin and shake, then strain over ice and add floral garnish.
Spritz Up Your Spritz
Ingredients:
1.5 oz St-Germain Elderflower Liqueur 
2 oz Martini & Rossi Prosecco
2 oz sparkling water
Garnish: flower, lavender ice cubes, or flower petals and herbs
Method: Build ingredients over ice in a tumbler or wine glass, and adorn with floral accoutrements and garnishes of your choosing.