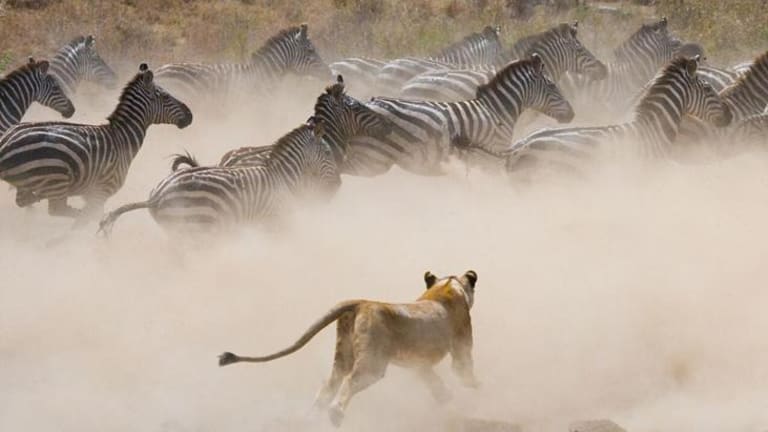 How to Experience Luxury on a Kenya Safari
Here's your checklist for a deluxe safari in Kenya—and a surprising coastal getaway.
Before you go: Since a safari experience usually includes moving around regions and between camps, try an agency such as Extraordinary Journeys, Africa Serendipity, or Abercrombie & Kent. All receive accolades for their superbly crafted, personalized itineraries that include local transportation and flights.
Download Out of Africa, the Academy Award-winning 1985 film based on the book by Danish novelist Isak Dinesen, the pen name of Karen Blixen (you can visit the Karen Blixen Museum in Nairobi), and curl up on-board with Unbowed: A Memoir, written by Nobel Peace Prize winner and activist Wangari Maathai.
What to Pack: Layers, layers, layers. Keep clothing light and comfortable for sunny days and walk with a jacket or sweater for cool mornings and nights. Keep baggage minimal — Safarilink and other carriers that fly you on 12-passenger Cessna planes from region to region, have very strict weight allowances.
Pro Tip: if you're spending time in Nairobi, you can leave your fancy city duds in a secured locker at Wilson airstrip in Nairobi, or with the hotel at which you've booked a stay. Many camps will launder your clothes daily, some complimentary.
What to Do: Your adventure starts when you touch down at Nairobi's Jomo Kenyatta International Airport, so named in honor of the country's first president, a revered and renowned Pan-Africanist. Dine at Carnivore, famous for an endless procession of delicacies that run the gamut from crocodile to ostrich and the home of Doctor Dawa (above), a roving bartender who makes table calls to mix divine dawas, a local favorite.
Where to Stay: The well-crafted furnishings and regional artwork paired with memorable dining at Nairobi's boutique Tribe Hotel will tempt you to extend your stay. Larsens Camp in the Samburu National Reserve opened nearly 20 years ago. When you're not on game drives, you'll spend endless hours on the camp's viewing platform, potent sundowners (wine or spirits) and "bitings" (finger foods) in hand, taking in the landscape and wildlife. Don't miss their champagne bush breakfast, served near majestic acacia trees.
The luxurious Olare Mara Kempinski camp (above), part of an 80-acre conservancy of five lodges that focuses on sustainability. Along with beautiful, richly designed tents, early morning and late night game drives, and coordinating breathtaking hot air balloon rides over the Mara, the Kempinski is the only property in the Mara that offers horseback safaris. Leave an impact, as recent visitor Spike Lee did, and plant an orange leaf croton on property—Lee planted a commemorative row that pays homage to Prince, MichaelJackson, and Phife Dawg, among others.
In Kisumu, lush Rusinga Island Lodge is picturesquely situated on the west coast of Lake Victoria and just a few steps from where your plane touches down.
What To See: In Nairobi, Rothschild giraffes will eat out your hands at the Giraffe Centre and you can meet and foster an adorable orphaned baby elephant at the David Sheldrick Wildlife Trust ($50).
Game drives in Samburu and the Masai Mara are led by incredibly knowledgeable and personable local driver/guides, who will take you breathtakingly close to wildlife, large and small.
Sign up for a Samburu village tour, arranged through your camp, for an intimate and respectful look at the enduring traditions and modern adjustments of the colorfully clad, nomadic tribe. The legendary Masai Mara is 580 miles of grassland and wherever you're based, you're certain to catch sight of most — all, if you're lucky — of the big five (lions, elephants, buffalo, rhinos, and leopards) and other memorable creatures during your stay.
In Kisumu, take a walking tour through Litara fishing village in Lake Victoria, the largest village on Rusinga Island. Here, women work during the day; the men rest and head out to sea at night in their mahogany boats, using lanterns to attract silvery kapenta fish. The fisher families are Luos, the tribe of Barack Obama Sr. and are nomadic, following large schools of fish and moving on when resources are depleted. From Rusinga Island Lodge, take a boat over to charming Takawiri Island Resort to get in scenic beach time.
When to Go: Throughout the year, you'll see fascinating wildlife against a backdrop of incredible vistas. From June through October, you'll get an unforgettable panoramic view of the spectacular Serengeti migration, as a horde of determined wildebeest, zebras, and other animals attempt to cross the Mara River while predators lurk around and in the water.
What to Buy: Make sure to have cash in smaller denominations, whether U.S. dollars or local shillings, before leaving Nairobi, as access to banks will be minimal to non-existent. Nairobi's Maasai Market is an open-air wonderland with an incredible range of goods from sculptures and batiks to clothing and curios. In Samburu, you'll lust after vibrant goods handmade by the women of the village, from intricate necklaces and bracelets to houseware and carvings, and all payments go into a community pot. Check gift stores at safari camps for kikois, the richly colored, textured soft cotton wore sarong-like by men and women.