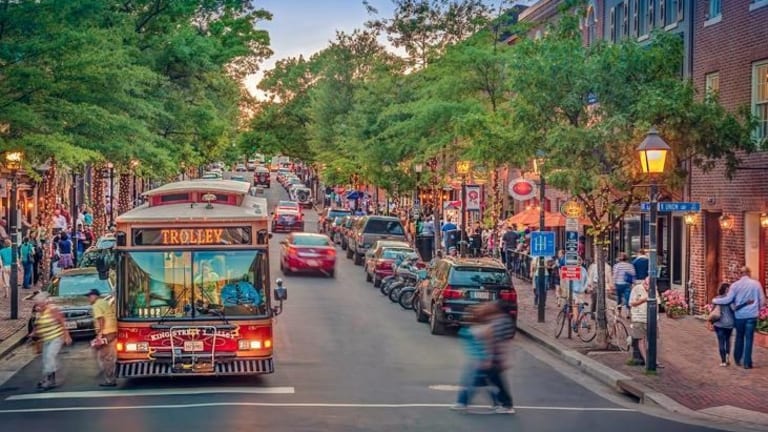 History and Hospitality in Alexandria, VA
History and Hospitality in Alexandria, VA
Nestled in Northern Virginia, Alexandria is a charming port city lined with indie shops, eateries, galleries, row houses, and cobblestoned streets. This surprisingly diverse and liberal enclave is only a 15-minute drive or Metrorail ride from the nation's capital, and offers a more relaxing and less expensive home base for a D.C. getaway. The Obamas love Alexandria, and after our weekend stay in this historic town so do we. Here's what to do and see.
Where to Explore
King Street in Old Town is Alexandria's premier destination for dining and shopping. This walkable mile-long strip boasts more than 160 independent retailers and fast fashion chains (H&M, Gap Outlet, LOFT) from the King Street-Old Town Metro stop to the Potomac River waterfront. Stroll at your leisure or hop on a free trolley.
On Saturday mornings, pick up fresh fruits, vegetables, pastries, cheeses, cut flowers, and more at the year-round Old Town Farmers Market(301 King Street). This landmark farmers market has been a staple at Alexandria's Market Square for over 260 years and is where founding father George Washington sent his produce to be sold from nearby Mount Vernon.
A few blocks from the market, at the waterfront visit the Torpedo Factory Art Center(105 North Union Street) to peruse and purchase original artwork from artists like Traci L. Turner, whose paintings reflect self-discovery and vulnerability.
Where to Eat and Drink
In Old Town, chow on creative comfort food (salads, burgers, fish tacos, pasta) and enjoy water views at Virtue Feed & Grain(106 S. Union Street). For a sweet treat, check out Nicecream(726 King Street), a new made-to-order ice cream shop that uses liquid nitrogen and locally sourced ingredients. Owned by millennial college sweethearts Sandra Tran and Gil Welsford, Nicecream offers over 80 yummy rotating flavors, including pineapple upside down cake, wild blueberry, peachy keen and the ever-popular vanilla bean. At suppertime, head to Hummingbird(220 S. Union Street), an upscale regional seafood eatery and cocktail bar with blue and white décor that gave us Hamptons' vibes.
Another idyllic area in Alexandria is Del Ray, a vibrant, laid-back neighborhood that welcomes visitors with positive messages like "Reject Hate" and "Spread Kindness, Build Community" planted in front of businesses and homes with wrap-around porches and flower gardens. Stop for lunch at Stomping Ground(2309 Mount Vernon Avenue), where co-owner and chef Nicole Jones satisfies tourists and repeat customers with Southern delights like homemade buttermilk biscuits, veggie hash and fried chicken.
Discover Alexandria's Black Roots
The massive Smithsonian National Museum of African American History and Culture (1400 Constitution Avenue, NW) is a must-see. To experience black history where it happened, however, Alexandria offers several well-preserved sites.
For an intimate look at the city's stake in slavery, visit Freedom House Museum(1315 Duke Street), the site of a former slave pen. From 1828 to 1836, the Franklin and Armfield Company -- also known as the Alexandria Slave Pen -- purchased and transported 1,800 slaves a year to Louisiana and Mississippi. The domestic slave trade was lucrative and flourished at 1315 Duke Street for more than 30 years under various slave traders. Ironically, the three-story brick building is now home to the Northern Virginia Urban League, and in 1996 the non-profit organization established Freedom House dedicated to Rev. Henry Louis Bailey—a former slave who was sold through the slave pen to a family in Texas. As depicted in the movie 12 Years a Slave, Solomon Northup was one of the freemen deceived, kidnapped, and forced into slavery, and he probably passed through this site. Using harrowing video narratives and educational exhibits, the museum commemorates Northrup and other men, women, and children sold into domestic slavery.
Between 1864 and 1869, the Contrabands and Freedmen Cemetery served as the burial place for about 1,800 African Americans who fled to Union-occupied Alexandria to escape from slavery. The awe-inspiring Contrabands and Freedmen Cemetery Memorial(1001 S. Washington Street) pays homage to the free Black people interred on its grounds. Entitled "The Path of Thorns and Roses," the Rodin-esque memorial by artist Mario Chido features twisted and tortured human forms. Another part of the memorial depicts the flight to freedom in cast bronze bas-reliefs by local sculptor Joanna Blake.
Originally the segregated library for the city's African-American residents, the volunteer-operated Alexandria Black History Museum(902 Wythe Street) documents local and regional Black history and culture. One of the two exhibition galleries, the Robert H. Robinson Library, was originally constructed in 1940 following a sit-in at the segregated Alexandria Library. Adjacent to the museum, the Watson Reading Room is a non-circulating research repository and museum staff and volunteers are available by appointment to assist visitors with research.
Where to Stay
Get a room at the centrally located Kimpton Lorien Hotel & Spa(1600 King Street) – an urban retreat with a luxe, full-service spa and stellar suites. In the Kimpton tradition, guests are literally wined and dined with a complimentary wine happy hour each evening from 5 p.m. to 6 p.m., featuring flatbread bites from the hotel's adjoining BRABO Tasting Room. The more formal side of the Belgian-French restaurant, BRABO Dining Room and Brasserie, is an Old Town hot spot.