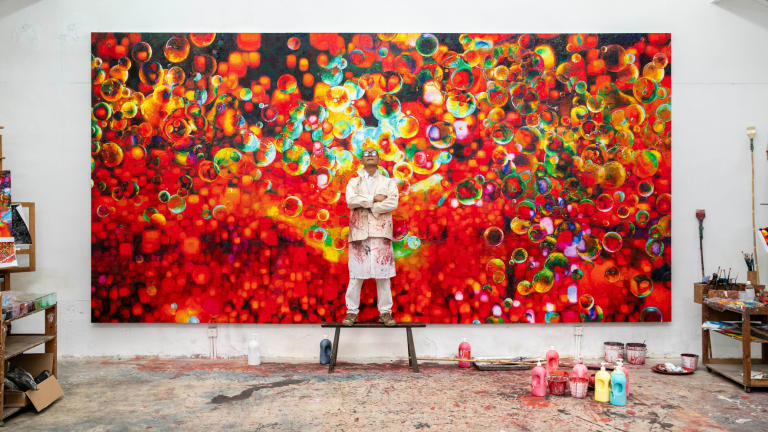 Hennessy Ushers in the Year of the Rat with Zhang Huan Collab & Epic Party
The collaboration with Chinese artist Zhang Huan is the first time Hennessy has commissioned a monumental work of art.
On Jan. 28th, Hennessy Cognac celebrated the Lunar New Year with an epic party at New York's Public Arts. In addition to honoring the start of a new cycle, the evening also celebrated Hennessy's groundbreaking collaboration with Chinese artist Zhang Huan, who unveiled his five meters-long original painting, Eaux-de-Vie, and the special Lunar New Year editions of the Hennessy Collection at an event in Cognac last October.
To usher in the Year of the Rat, Hennessy tapped Chinese Hip-Hop artist Bohan Phoenix for a live performance that got revelers on their feet. Hennessy even modernized the classic dragon dance with an LED light show set to a soundtrack created by DJ Toy, who also spun the 1s and 2s for the night. There was Chinese cuisine, an atmosphere draped in red, and of course all the Hennessy and Moët & Chandon a guest could responsibly want.
Hennessy connecting with Huan makes perfect sense when you consider that both believe "modernity lies in honoring one's heritage while always seeking to explore new frontiers." For Hennessy, that means maintaining the tradition of transmitting savoir-faire for eight generations. For Huan, it means honoring the artist he became while living in New York during the 1990s.
"Being abroad gave me a deeper understanding of my tradition, perhaps because I had to see myself from far away," Huan says in press materials. "I believe that Chinese and Western cultures are meant to integrate with each other, which is why I sought to incorporate a sense of movement in this work. We never know where life may take us, but I do believe that everything that has gone before leads up to the present moment. That is what I want to celebrate in my creations."
Along with incorporating a sense of movement, Huan's Eaux-de-Vie expresses joy and the optimism one feels at the start of a new year. The painting also recasts Hennessy's world-famous library of eaux-de-vie as a mystical metaphor with layers of meaning, according to press materials.
Here's how Hennessy describes it:
"Distilled through the artist's signature visual language, Hennessy's precious eaux-de- vie appear like individual cellules that come together in a unique whole. Upon closer viewing, red lanterns, grapes and amber cognac become apparent within each cellule. The longer the viewer gazes at the work, the more the cellules seem to take on a life of their own, floating freely through space like so many symbols of each individual's place in the universe. A strong color palate underscores the season's joyful mood."
To honor the collaboration with Huan, Hennessy will be hosting a series of exceptional experiences around the world, like the Lunar New Year fête in New York. In addition, Hennessy has released a special Lunar New Year Limited Edition Collection featuring its V.S.O.P and X.Ocognacs in a vibrantly designed container based on Huan's original artwork Eaux-de-Vie.