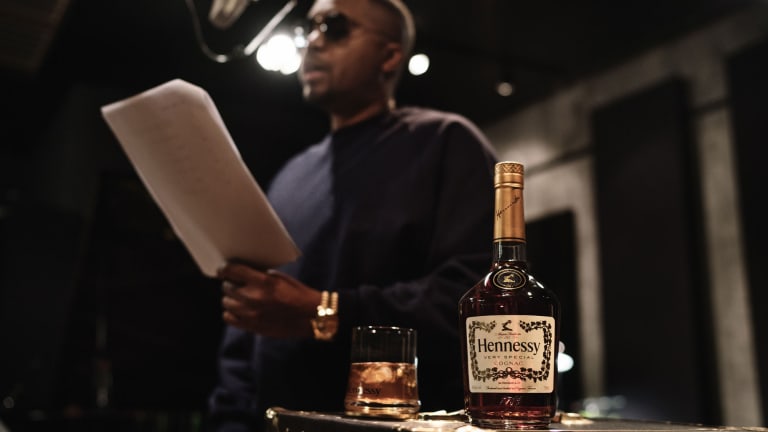 Hennessy & TMCF Announce Hennessy Fellows Application Process
Hennessy Fellows aims to equip the next generation of leaders with the skills and connections to make a difference.
Hennessy Cognac and the Thurgood Marshall College Fund (TMCF) tapped "The Voice of Hennessy" and Hip Hop artist Nas to announce the application process for the Hennessy Fellows program.
The Hennessy Fellows program was announced earlier this year and has committed $10 million over the next 10 years to the Thurgood Marshall College Fund. Through the program, 10 "high-achieving, high-potential" graduate students attending an accredited HBCU or PBI Graduate program will receive financial assistance towards their graduate level education and one-on-one time with corporate executives, as well as access to training forums, networking events, and the annual Hennessy Fellows Boot Camp.
"Hennessy's mantra is all about pushing the limits of one's potential and breaking down barriers. 'Never stop. Never settle,' is more than a slogan," explains Nas in press materials. "It is the creative engine driving our partnership and the motivational compass directing me to push for new limits every day — in the studio, on the stage, and in business. Thurgood Marshall College Fund's mission of 'changing the world … one leader at a time' is right in line with pushing those same boundaries. As a partner with Hennessy, I'm proud to lend my voice to encourage enrollment in the Hennessy Fellows Program, a new graduate program created for students who want to blaze their own trails and pursue their dreams, regardless of the challenges."
Through this partnership with TMCF and graduate student level program, Hennessy is maintaining its legacy of supporting the Black American community, dating back to the late 1800s. According to press materials, "Hennessy leadership … was among the founders of what would ultimately become the National Urban League, paving the road for Hennessy's involvement as [the] first corporate sponsor of milestone organizations like the NAACP and Tuskegee Institute." 
Hennessy Fellows is accepting applications for Fall 2020 at TMCF.org through December 31st. There are additional details about the program below.
ABOUT HENNESSY FELLOWS: Hennessy has committed $10 million dollars over the next 10 years to the Thurgood Marshall College Fund (TMCF) – the preeminent national organization dedicated to promoting educational excellence among students attending Historically Black Colleges and Universities (HBCU).
Following a thorough application process, the Hennessy Fellows program selects ten high-achieving, high-potential graduate students per year and offers them a one-of-a-kind opportunity.
Recipients will be awarded financial assistance towards collegiate graduate level education programs, as well as curated corporate development experiences, including training forums and networking to enhance the exchange of ideas, and provide direct exposure to the inter-relatedness of corporate, social and economic systems.
Hennessy Fellows will accept applications through December 31st, 2019. The 10 selected Fellows for Cohort II will be announced in early next year to receive benefits ahead of the Fall 2020 term.
The program is open to students enrolled in accredited HBCU or PBI Graduate programs, and offers the following:
Scholarship up to $20,000 per academic year
$10,000 annual stipend for other educational expenses
Opportunity to compete for a community-related project grant up to $10,000
1:1 executive coaching
Access to online training forums, networking events, and professional advancement experiences
Development of leadership and soft skills via exclusive opportunities and experiences
Attend an immersive boot camp in the summer of 2020