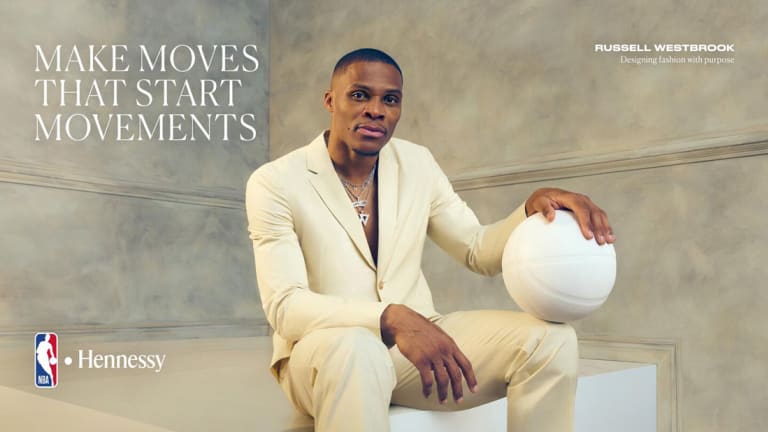 Hennessy, Russell Westbrook, and the NBA Have Unfinished Business
Hennessy and the NBA have teamed up to support Black, Asian, and Latinx small business owners through the Unfinished Business initiative.
Hennessy, the official spirit of the NBA, has partnered with the basketball league to help BIPOC communities through the cognac brand's Unfinished Business initiative. The league-wide partnership has been titled "Make Moves That Start Movements," and will highlight NBA superstar Russell Westbrook, artist Victor Solomon, and entrepreneur Alex Taylor of Hoop York City through a new short film directed by Joshua Kissi, as well as institute league-specific activations.
Hennessy's Unfinished Business should be familiar if you're an avid reader of UPTOWN. But if you're not, Hennessy launched the initiative in response to COVID-19 exacerbating the inequities found among Black, Asian, and Latinx small business owners. To date, Unfinished Business has distributed $5 million to small entrepreneurs from these communities. Under the "Make Moves That Start Movements" partnership, NBA players and teams will raise funds for the small business owners. In addition, Hennessy will offer fans the opportunity to win swoon-inducing NBA memorabilia, like Westbrook's game-worn Black History Month warm-up shorts, basketballs signed by teams, and more. Westbrook will also make a donation to Unfinished Business.
To celebrate "Make Moves That Start Movements," Hennessy released the new film Take It Far. Kissi directed the "film that depicts the journey of a basketball to demonstrate the places the game can take us" and then pivots to highlight the way Westbrook, Taylor, Solomon, and Kissi are starting new conversations and making waves. Kissi is a first-generation Ghanaian-American creative entrepreneur. Literally Balling artist Solomon can be seen in the film crafting a Kingtsugi-style project in his Los Angeles studio. Community activist Taylor is planning future endeavors for the women's basketball collective, Hoop York City. And Westbrook is captured in Take It Far directing the creations of his cause-based fashion line, Honor the Gift.
"Make Moves That Start Movements" debuts during the 2021 NBA Playoffs and will then hit digital and social channels. To celebrate and cheer on your favorite team in the Playoffs, sip on a cocktail inspired by Russell Westbrook. Recipe below.
Triple Double - Pineapple Basil Lemonade
Ingredients: 
2 parts Hennessy VS
2 parts pineapple juice

2 parts soda water

Half part simple syrup

1 part fresh lemon juice

Garnish: Basil leaf and pineapple wedge

Glass: Collins
Method: Shake all liquid except soda water and strain into a Collins glass with fresh ice. Top with soda water and garnish with a basil leaf and pineapple wedge.
Check out more Hennessy X NBA Cocktails here.