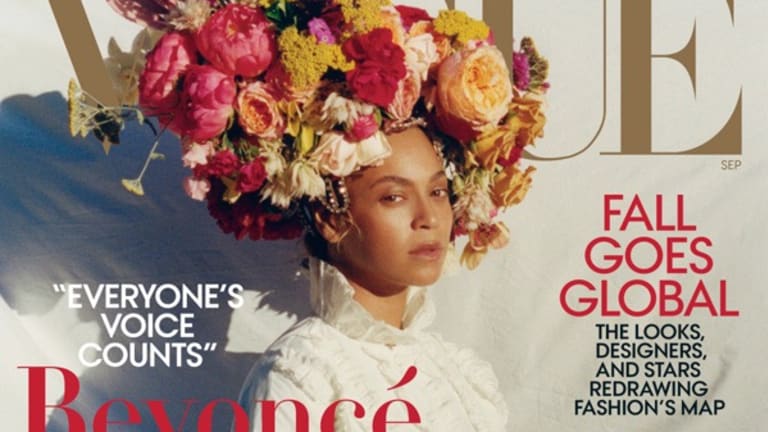 Heard on the Street: Inside the Mind of Beyoncé
In the September Issue of Vogue, Beyoncé seemed truly authentic and comfortable in that authenticity.
"It's important to me that I help open doors for younger artists. There are so many cultural and societal barriers to entry that I like to do what I can to level the playing field, to present a different point of view for people who may feel like their voices don't matter ... If people in powerful positions continue to hire and cast only people who look like them, sound like them, come from the same neighborhoods they grew up in, they will never have a greater understanding of experiences different from their own. They will hire the same models, curate the same art, cast the same actors over and over again, and we will all lose. The beauty of social media is it's completely democratic. Everyone has a say. Everyone's voice counts, and everyone has a chance to paint the world from their own perspective."
*************************************************************************
"I had a clear vision for Coachella. I was so specific because I'd seen it, I'd heard it, and it was already written inside of me. One day I was randomly singing the black national anthem to Rumi while putting her to sleep. I started humming it to her every day. In the show at the time I was working on a version of the anthem with these dark minor chords and stomps and belts and screams. After a few days of humming the anthem, I realized I had the melody wrong. I was singing the wrong anthem. One of the most rewarding parts of the show was making that change. I swear I felt pure joy shining down on us. I know that most of the young people on the stage and in the audience did not know the history of the black national anthem before Coachella. But they understood the feeling it gave them ... It was a celebration of all the people who sacrificed more than we could ever imagine, who moved the world."
*************************************************************************
"My mother taught me the importance not just of being seen but of seeing myself. As the mother of two girls, it's important to me that they see themselves too—in books, films, and on runways. It's important to me that they see themselves as CEOs, as bosses, and that they know they can write the script for their own lives—that they can speak their minds and they have no ceiling. They don't have to be a certain type or fit into a specific category. They don't have to be politically correct, as long as they're authentic, respectful, compassionate, and empathetic. They can explore any religion, fall in love with any race, and love who they want to love.
I want the same things for my son. I want him to know that he can be strong and brave but that he can also be sensitive and kind. I want my son to have a high emotional IQ where he is free to be caring, truthful, and honest. It's everything a woman wants in a man, and yet we don't teach it to our boys.
I hope to teach my son not to fall victim to what the internet says he should be or how he should love. I want to create better representations for him so he is allowed to reach his full potential as a man, and to teach him that the real magic he possesses in the world is the power to affirm his own existence."
*************************************************************************
"I think it's important for women and men to see and appreciate the beauty in their natural bodies. That's why I stripped away the wigs and hair extensions and used little makeup for this shoot ... To this day my arms, shoulders, breasts, and thighs are fuller. I have a little mommy pouch, and I'm in no rush to get rid of it. I think it's real. Whenever I'm ready to get a six-pack, I will go into beast zone and work my ass off until I have it. But right now, my little FUPA and I feel like we are meant to be."
-- Beyoncé gives us a glimpse into her mind and reveals what she thinks about making a path for other Black creatives; celebrating the activists who paved the way for her; Black masculinity and femininity; her hopes for children Blue Ivy, Rumi, and Sir; and her FUPA in her own words in an article for Vogue's September Issue. Bey tapped Tyler Mitchell, 23, to shoot the cover, making him the first Black photographer to shoot the magazine's cover in its 126-year history. Initially, there were reports Beyoncé would caption each of the images, but she definitely shared more than was expected and more than she has in the past. She seemed truly authentic and comfortable in that authenticity. The September Issue of Vogue is available for pre-order on Amazon, will hit newsstands in NYC and LA on Aug. 14th, and will be released nationwide on Aug. 21st. Read the entire article, "Beyoncé in Her Own Words: Her Life, Her Body, Her Heritage," here.