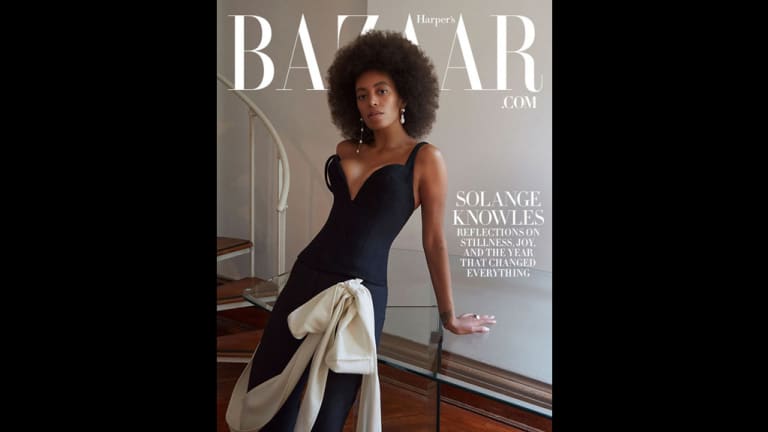 Heard on the Street: Get to Know Solange Knowles Through Her Own Writing
Solange explains that introducing her to a "tribe" was one example of her mother loving her a "million different ways."
"I was raised by a beauty salon.
My mother loved me a million different ways. One of the ways my mother loved me was by surrounding me with many a tribe who could care for me; my mom's deliberate choice to make "the shop" my after school care.
All of the women had their own stories to tell. Women from every background, name, and face in Houston, Texas came to transform within the safety of themselves. Boyfriends and husbands waited in their cars or in the front reception, and women ran the show. They talked shit, cackled, shrieked, cried, or read and contemplated quietly—thrilled to escape their lives as mothers, sisters, teachers, and healers. Regulars would greet me with a big hug and ask me how school was, to get them a glass of wine from the back, or ask me to show them the latest dances. I took dance classes weekly, but it was in that shot that performance really began. The theater of the shop and I. It was there that my storytelling became more vivid, elaborate, and exaggerated! It was there that my gestures became language. I watched and studied my favorite women—the way they walked, dressed, moved their nails when they turned pages. They paid attention to me, celebrated me, and always made me feel safe. My dances soon turned into monologues, and soundtracks soon followed. It was there that performance thrived and became alive. It was there. The shop became my theater. I was raised by a beauty salon."
— Solange Knowles reminisces about growing up in her mom Tina Knowles-Lawson's former salon in Houston, TX, while sharing an entry from her journal from April 8, 2020 with Harper's Bazaar. The artist and activist penned the story that accompanies her digital cover, "Solange Knowles: Reflections on Stillness, Joy, and the Year That Changed Everything," and "shares a series of powerful personal essays and poems that lay bare the private challenges and collective pain, the hard-won triumphs, and, yes, the joy that propels us all ever-forward," especially during this tumultuous year. Solange styled herself in clothing from mostly independent, BIPOC designers she hand-selected. She also tapped friend and collaborator Naima Green to shoot the cover and accompanying photo spread while in isolation. See another image from Solange's shoot below.
​