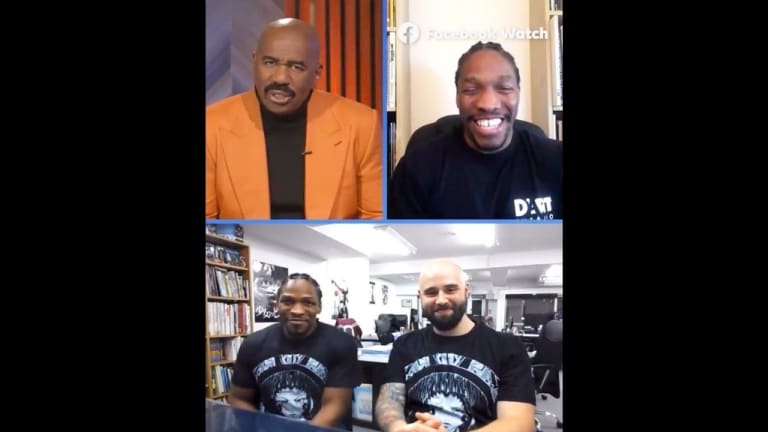 Heard on the Street: Arthell Isom on Buzz for the 1st Black-Owned Anime Studio
Steve Harvey interviewed the co-founders of the first Black-owned anime studio, twin brothers Arthell and Darnell Isom.
"I think now there's just so much going on, I think there's just like this perfect storm that is the culmination of many things. One, there's just this huge boom with anime becoming popular, just the culture of anime in general is starting to be popular all over the world. Then the second thing I think also contributes to it is that there's this major focus on diversity or shining a spotlight on voices that we haven't been hearing, both with race and minorities, as well as y'know different genders. I think the world has kind of got to this point where we want to hear everyone's voices."
— Arthell Isom discusses the attention his and his twin brother Darnell Isom's anime studio, D'ART Shtajio, has received with Steve Harvey during a recent interview on STEVE on Watch. Theirs is the first Black-owned anime studio. In addition to discussing the buzz for D'ART Shtajio, the Isoms also discussed how they started the studio, the ways they embrace inclusivity within the studio, and what it's like being Black in Japan, which is quoted below.
"There's not a lot of like Black people, particularly Americans, in Japan and not any in the animation industry, there's probably like two or three. So because I came here specifically for that, yeah I stood out ... You kind of stand out in general in Japan, but because I was in this niche industry you really stand out. And so I think whenever we kind of travel to any country ... I feel like we always think that we need to be diplomats for our people and we have to kind of represent — we try to represent a good side and try to show them that we're not all rappers, and we're not all sports players, and I really felt that when I came, so that's the thing that stands out." — Arthell Isom
Watch the full interview with Darnell and Arthell Isom here.