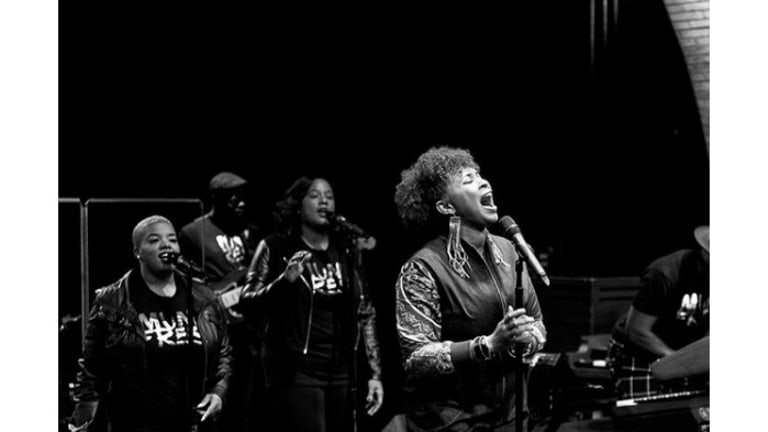 Harlem Stage's Uptown Nights Are Good Music
Harlem Stage is a sanctuary space for contemporary artists of color and audiences alike.
New York City is such a cultural center that sometimes we New Yorkers aren't even aware of all the city has to offer. So I'm only slightly embarrassed to admit that I hadn't heard of Harlem Stage until about two months ago, even though it has been connecting Harlem's cultural legacy with contemporary artists of color for over 35 years. My introduction came during the performing arts center's Uptown Nights featuring Maimouna "MuMu Fresh" Youssef.
While the name Maimouna Youssef may not sound familiar, you've definitely heard her voice. She lent her vocals to The Roots's 2007 hit "Don't Feel Right," which was nominated for a Grammy. The singer, emcee, songwriter, activist, and mentor says Black Thought actually bestowed the name MuMu Fresh on her, and that's nothing to sneeze at. You also may have caught Youssef and her band performing for NPR's Tiny Desk concert series.
Youssef's Uptown Nights performance was soulful, stirring, humorous, familiar, and heart-pounding. She performed songs from her latest album Vintage Babies, body of work, and covers. She and her band of talented musicians even made up a song for the latecomers on the fly. It was hot too!
"This season Harlem Stage will continue to be a 'sanctuary space' for dialogue, bridge building and transcendent theater, music, and dance," said Monique Martin, director of programming, in press materials. "Artists from down the block, around the way, and across the globe will present bespoke programs to ignite our imaginations, pose disrupting questions, and ground us in our collective commitment to a world that honors everyone. We look forward to holding space with you and honoring our collective humanity."
The fall season of Uptown Nights ends this month, and will feature Elio Villafranca Afro Caribbean Trio (Dec. 6th); Christian Scott Atunde Adjua Presents Braxton Cook at Silvana (Dec. 14th); and Weedie Braimah and the Hands of Time with Special Guests Christian Scott Atunde Adjua and Pedrito Martinez (Dec. 15th).
Tickets are only $25 a pop for a night of soul that's sure to also be a relieving therapy session because I know you probably deserve some self-care. Executive Director Patricia Cruz said it best: "During a time in America and the world in which many of us feel impotent against the oppressive forces of the state, art enables us to respond, to speak truth to power, to resist and to attempt to transform. The time is now and the doors to the Harlem Stage Gatehouse are open."