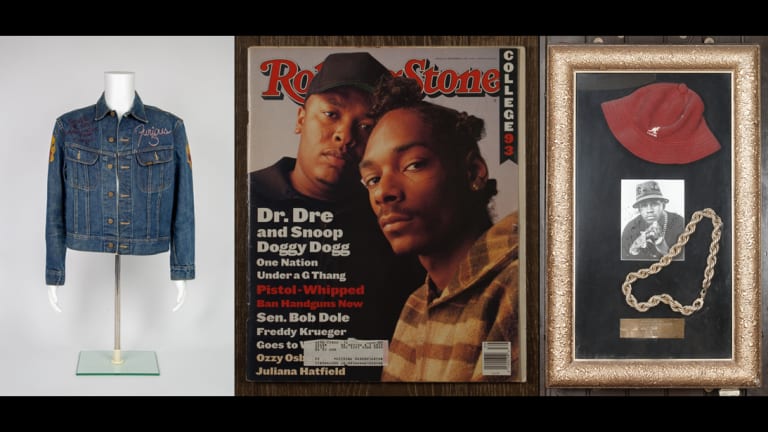 Hard Rock Celebrates the First-Ever Hip-Hop History Month
Hip-Hop History Month was a long time coming, but the impact the genre has had across the country and world can't be denied any longer.
To honor the impact Hip-Hop has had on history and culture throughout the U.S., and abroad, Hard Rock International is highlighting the genre in its cafes, casinos, and hotels for the month of November. From memorabilia to merch to happy hour to city guides compiled by hometown Hip-Hop heroes, here's how to celebrate the first-ever Hip-Hop History Month with Hard Rock.
DJ Kool Herc is credited with sparking the sound of Hip-Hop at his "Back to School Jam" on Aug. 11, 1973 at 1520 Sedgwick Avenue in the Bronx. Forty-eight years later, we finally have a month to celebrate one of the United States' most popular exports, after the U.S. Senate unanimously passed a resolution in July 2021 to name November Hip-Hop History Month. It should come as no surprise that Hard Rock, a brand with an entire vibe centered around music and entertainment, has answered the call to fête Hip-Hop this November.
If there's one thing Hard Rock is known for, it's the collection of music memorabilia. While some may assume the walls of the cafes only feature iconic objects from Rock 'n' Roll history, those folks are wrong. There are 70 different pieces of memorabilia currently on display throughout Hard Rock Cafes, Hotels, and Casinos. The collection includes a poem handwritten by Tupac Shakur, Run-D.M.C.'s classic Adidas sneakers, Busta Rhymes's blue jean overalls from the "Fire" music video, the bathing suit Megan Thee Stallion wore as the first rapper to cover Sports Illustrated, several outfits Nicki Minaj wore during "The Pinkprint Tour," and DJ Khaled's Miami jersey from Hard Rock's commercial shoot for Super Bowl LIV. The rest of Hard Rock's Hip-Hop-focused memorabilia includes pieces Eminem, Ice-T, JAY-Z, Lisa "Left Eye" Lopes, LL Cool J, MC Hammer, Post Malone, Snoop Dogg, Tone Loc, and more.
The Hip-Hop memorabilia is for sure best appreciated while Hip-Hop is playing. Throughout November, all Hard Rock Cafes, Hotels, and Casinos will host daily Hip-Hop Happy Hours at 6 p.m. local time during which the playlists will be exclusively Hip-Hop. You can even take home a piece of Hip-Hop merch to keep the festivities going long after you've left the bar, devoured your burger, or checked out. The online Rock Shop has added exclusive Autograph series merchandise celebrating the late and legendary Hip-Hop artist Tupac Shakur. The collection includes a limited-edition pin, sweatshirt, and T-shirt.
Since there's so much more to Hip-Hop than just the music, Hard Rock is inviting music fans, locals, and out-of-towners to explore the culture of the genre in Atlanta through the REVERB City Guide. If you're unfamiliar, REVERB is a new hotel concept Hard Rock launched in 2020 to be an energetic cultural hub where visitors will connect, create, and inspire each other. Hard Rock tapped local Hip-Hop musicians Big Boi, CeeLo Green, Sa-Roc, and Boregard to curate their own City Guides, exclusively for REVERB Downtown Atlanta, to highlight their top Atlanta hangout spots so guests can grub, learn, dress, and party like a Hip-Hop star too.
Hip-Hop History Month was a long time coming, but the impact the genre has had across the country and world can't be denied any longer. "At Hard Rock, we believe music is a language that brings the world closer together. It's part of our DNA," says Keith Sheldon, President of Entertainment at Hard Rock International, in a release. "As Hard Rock continues to evolve, just as music does, it's unmistakable how Hip-Hop has impacted our brand over the years. We look forward to celebrating acclaimed artists from the genre – from past to present – this first Hip-Hop History Month."