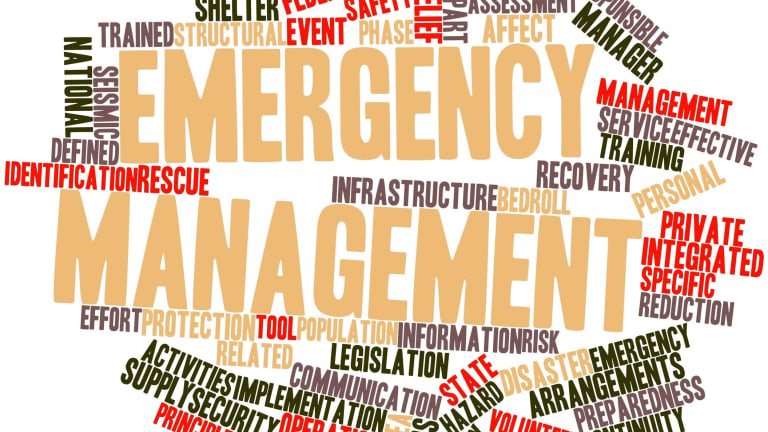 Grabbing a Seat at the Table: Women of Color in Emergency Management
Dr. Nicolette Louissaint discusses her career journey and the challenges she's faced, and gives advice for young women.
If you're a young woman trying to forge a path in an industry dominated by men, it's likely you've encountered many challenges to your success along the way. For young women of color, the challenges are likely tenfold. Dr. Nicolette Louissaint walks us through her career journey and the challenges she's faced along the way, and provides advice for other young women looking to make a name for themselves in an industry with little representation of women of color.
When did you first become interested in emergency management?
Nicolette Louissaint: I had always been interested in disease outbreaks, strangely enough. And understanding the cause and routes of transmission for those outbreaks led me to become very interested in disasters and the cascading public health effects associated with disasters. Pursuing this interest led to an even greater passion for the field of emergency management, where I find myself today.
Do you have a female role model you look up to in the field?
NL: Dr. Brenda Phillips, easily one of the greatest disaster science researchers to have ever lived. She was a major driver in our current understanding of disaster recovery for socially disadvantaged communities. She co-wrote Women and Disasters: From Theory to Practice, which integrates feminist theory into emergency management, and is a critical piece of literature everyone in this field should read. In her pursuit of this concept, Dr. Phillips was one of the first to examine the intersection of women and disasters, and how women are disproportionally affected by disasters. This concept still rings very true today and without Dr. Phillips, we may have little to no understanding of the global impact on women in relation to some of the greatest disasters of our time.
What aspect of your work do you find most rewarding?
NL: Our organization is able to assist those in need of healthcare access during disasters, so it is rewarding to know that our work can have a direct impact on someone's life. Knowing what my team and I do and how it's changing the world has been important to me. There is no greater motivation to me than knowing lives will be improved because of what we do. In addition, being able to support the next pipeline of leaders in the field is important, and I am honored to do so with the amazing group of individuals I work with on a daily basis.
Why does equal representation of women, especially women of color, matter in national security?
NL: It matters immensely because there are very few women of color in this space. I struggle to find other Black women in this field who are working alongside me and my peers. This is so important to call out because the perspectives and insights from Black women (and generally, other women) are missing in the emergency management and national security fields. This is particularly frustrating because women of color and their communities are disproportionally affected by disaster, yet their needs will remain misunderstood until there is increased representation in this space.
I see an ongoing struggle within this space to realize and act on the lack of representation and diversity of perspective to accurately reflect the communities we support. It is critical we include everyone's voices if we are truly going to help the communities who are most affected by disaster.
Do you feel there are misperceptions about women in national security and/or emergency management?
NL: Absolutely. We either treat everyone the same during disasters, or we treat women as "vulnerable and protected," which is a clear disconnect to our reality. What's actually happening is that women and communities of color often have different needs during a disaster or disease outbreak. For example, women are often the warriors during a crisis -- focusing on taking care of their families and ensuring their care continues during and after a disaster. There is a need to broaden the lens in how we perceive capabilities of women. We need to think about how women come to the table, meaning the role of class and geography, socioeconomic status, and gender -- are all factors we must consider as we adjust our country's approach to disaster preparedness.
As an emergency management leader, what can others in your industry do to encourage more women to pursue careers in the field?
NL: To start, there is no linear path in this field. We must make it known to women that they have options for how they come to and stay in this field. It's also important to understand that disasters impact communities in a multitude of ways. Therefore, the field needs to appreciate the depth to which various communities are impacted by disaster to be more effective drivers of mitigation, preparedness, response, and recovery.
Women have so many options to serve in critical roles within emergency management and national security because they bring with them experiences and knowledge not currently being fully absorbed in the field.
What kinds of obstacles did you encounter throughout your career as a young woman of color?
NL: None of my career has been easy. There is an illusion that because you are operating in leadership, the path must have been easy. However, almost every step in my professional career has been complicated. I've been challenged to absorb and learn critical information, while combating bias from those in leadership and my peers, some of whom didn't want to work with me because of who I was or what I looked like. As a young woman of color, the challenges were multiplied. The nexus of age continues to be a challenge. I'm younger than most of my peers, which can make it difficult for those who are older to listen or take me seriously.
A lot of professional relationships and rapport are developed in social settings and can set you up for long-term success in your career. However, I was often stonewalled from these social settings because I didn't identify with my colleagues on a personal level. Most people gravitate toward those with whom they can relate. So, as a Caribbean-American woman, I didn't have much of a foundation to connect with my peers on a personal level. This can be a significant challenge for many women across a variety fields, and something many of my peers continue to navigate on a daily basis.
While this was not the path I originally intended, it has been a natural progression of my capabilities, despite the challenges posed.
What advice would you offer young women looking to pursue a similar career?
NL: Find your community, which may not necessarily be in your fields. It's important to have a "professional village," or a group of people who support your professional development and goals. Why? Because you need people to challenge you and help you grow. Those who are going to hold you accountable and help you navigate challenges throughout your career are indispensable and critical. While you may not work in the same office, you will progress together throughout your careers and can one day serve as each other's allies should you need it.
What is the call to action for organizations who have the capacity to support young girls of color in their pursuit of careers in STEM-related fields, such as emergency management?
NL: It's very important that we not just add STEM as tag on to curriculum but highlight it as a viable career path for women. Furthermore, we must continue building a pipeline of students interested in the field. To do so, organizations must take into consideration the experiences and resources of Black women in this country. Encouraging women to pursue these career paths early in education, and then fostering environments where they can grow and thrive is essential. When we remove the bias and make a concerted investment in attracting women of color, we all benefit.
What would you like to see change as the national security space evolves in the coming years?
NL: I would like to recalibrate how we view STEM and non-traditional STEM paths in this country. STEM-related careers should be seen as rewarding options for those looking to make a difference in emergency management, national security, or anywhere in-between. To sum it all up, a wise professor once said that STEM-related curriculum teaches us how to think analytically and with intention – a skillset that you can do anything with.
Dr. Nicolette Loussaint is the executive director of [Healthcare Ready](https://www.healthcareready.org/ "Healthcare Ready").